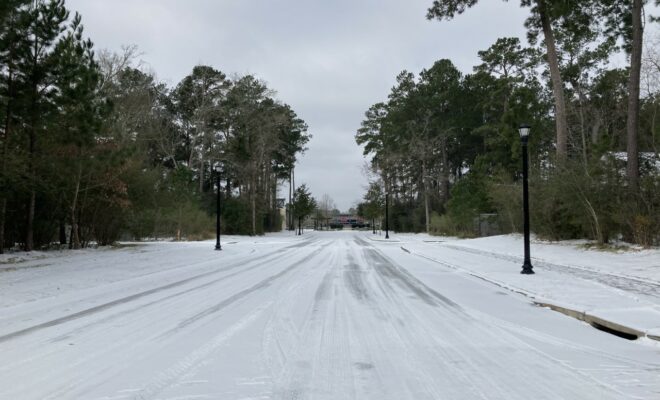 Photo by Hello Woodlands
News
Warming Centers open in Montgomery County
By |
Per Judge Wayne Mack, Montgomery County currently has four (4) warming centers open and operational within Montgomery County. The warming center locations are as follows:
OverUnder Church, 600 S. Frazier St. Conroe, TX 77301
Lone Star Convention Center, 9055 Airport Rd. Conroe, TX 77303
Church Project, 602 Pruitt Rd. The Woodlands, TX 77380. Per The Woodlands Township it is open 24/7 until no longer needed. Cots and blankets are available for those who need to rest or stay overnight provided by American Red Cross through Montgomery County Office of Emergency Management. Water and snacks provided by Montgomery County Food Bank. There are wellness checks, COVID screenings and PPE equipment available if needed.
Madeley Ranch Elementary 3500 Madeley Ranch Rd. Montgomery, TX 77356
Per Judge Wayne Mack, "They do not currently have resources to provide transportation to these warming centers. We are providing information to citizens and encouraging them to utilize their own vehicles, family, or neighbors to get them to the respective centers. All centers have bedding, food, water, etc. on hand."
UPDATE 2/17 11am: The Lone Star Convention Center & OverUnder Church warming centers have been closed due to water loss at the facilities. The Church Project in Spring and Madeley Ranch Elementary in Montgomery are still open at this time.
Source: Judge Wayne Mack, The Woodlands Township