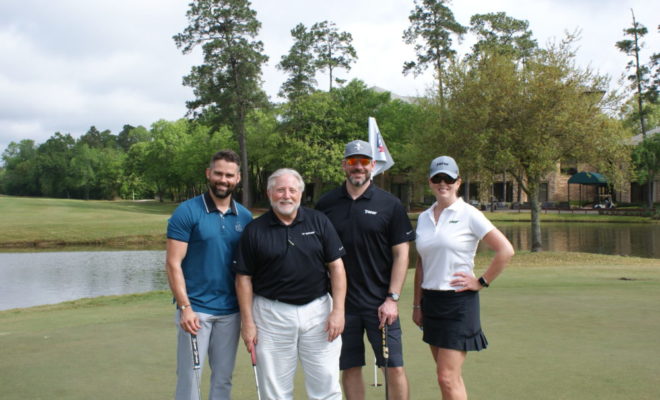 News
Waste Connections' Golf Classic for Kids Nets Over $1 Million for Charities
By |
THE WOODLANDS, TX – Waste Connections, Inc. announced that this year it raised over one million dollars to benefit specific non-profit organizations focusing mostly on youth and our military. Its annual Golf Classic for Kids and VIP Poker Experience was held on March 24th and 25th at The Woodlands Resort and Conference Center. The company welcomed vendors and friends who support the event from across North America to The Woodlands, home to Waste Connections' principal administrative offices and the headquarters for its Southern and R360 Regions.
"We are grateful to everyone who has made this tournament the success it has become. To have netted over one million dollars in the event's 11th year was simply amazing, and to have topped last year's results makes it even more special," noted Michelle Little, Waste Connections' Vice President–Accounting and Golf Tournament Chair. "Waste Connections takes care of event expenses, so all money raised goes directly to our charities. Our founder, Ron Mittelstaedt, instilled our culture of Servant Leadership, and this charity event continues to build on the mission of our company—to give back to the communities in which we operate."
Little continued, "The success of our event is a testament to our employees, volunteers and vendors, and we are grateful for their support."
This year the over $1 million raised will be distributed to the event's beneficiaries, which include:
CASA Child Advocates of Montgomery County
HOPE, The Will Herndon Research Fund
Interfaith of The Woodlands
Yes 2 Youth (Montgomery County Youth Services)
Panther Creek Inspiration Ranch
The Monarch School
The Roger Clemens Foundation
Angel Reach
Big Brothers Big Sisters
All Eagles Oscar
The event kicked off with the Player's Cocktail Reception on Sunday, March 24th, where attendees could meet with the Waste Connections leadership team. A sports bar themed evening with March Madness on the big screens, poker and competitive bar games rounded out the evening.
On Monday, the Golf Classic for Kids teams enjoyed different side games and food on the course, and attendees were able to meet Roger Clemens and Josh Beckett—retired Major League Baseball players, Dan Pastorini – Retired NFL player, along with Bronson Burgoon, PGA TOUR Pro Golfer and resident of The Woodlands.
For non-golfers, the VIP Poker Experience was an event in itself, as they played alongside Erin Ness, professional poker player and member of the GSN's Team PokerStars™.
The awards dinner highlighted the day's winners, and the live auction helped push the proceeds to over one million dollars.
Waste Connections is an integrated solid waste services company that provides non-hazardous waste collection, transfer, disposal and recycling services in mostly exclusive and secondary markets in the U.S. and Canada. Through its R360 Environmental Solutions subsidiary, Waste Connections is also a leading provider of non-hazardous oilfield waste treatment, recovery and disposal services in several of the most active natural resource producing areas in the United States, including the Permian, Bakken and Eagle Ford Basins. Waste Connections serves more than six million residential, commercial, industrial, and exploration, and production customers in 41 states in the U.S., and six provinces in Canada. The company also provides intermodal services for the movement of cargo and solid waste containers in the Pacific Northwest. For more information about Waste Connections visit www.WasteConnections.com.