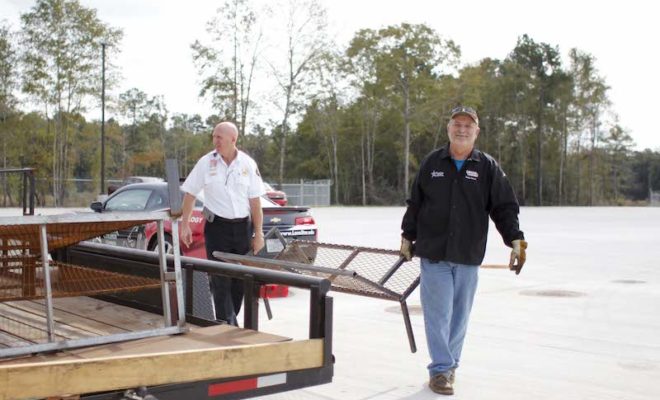 News
Welding Students build and donate furniture for fire training facility
By |
CONROE, TX – Welding students at Lone Star College-Conroe Center designed and built prop furniture and a prop appliance for the new seven-story City of Conroe Fire Training Facility. Students made a bed, table, chairs, sofa, coffee table, end tables and a refrigerator out of scrap metal. The donated props will help fire fighters learn how to search and maneuver around obstacles during fires.
"This furniture is going to make training more realistic," said Ken Kreger, City of Conroe Fire Department Chief. "Firefighters have to learn how to move around obstacles. When we go into a burning building there is usually all types of things in the way."
During a training drill at the new facility, firefighters will burn pallets and wet hay, which will produce a lot of smoke drastically decreasing visibility. Trainees will rush inside with their full gear on and run into the props built by LSC-Conroe Center.
"I thank LSC-Conroe Center for bringing welding furniture to make obstacles inside our new fire tower," said Conroe Mayor Toby Powell. "It will be a great asset for training firefighters. These are great tools for the City of Conroe and our firefighters."
"It has been a great partnership between the Conroe Fire Department and LSC-Conroe Center," said Kreger. "We are really excited for our firefighters, but also for all the students who helped us with the project, they are just as much a part of this as our guys."
"LSC-Conroe Center students and faculty are proud to partner with the City of Conroe Fire Department to advance training opportunities for firefighters," said Dr. Rebecca Riley, President at LSC-Montgomery. "As first responders, firefighters play such an important role in the community. We depend on them to be experts in an emergency and we want them to depend on us for any support we can provide."
The furniture has solid metal legs with a chain link fence-like metal for the tabletop and seat cushions. The refrigerator looks like a large metal cage. These props are made to withstand high temperatures, fire and smoke.
The official opening of the facility will be on Thursday, Jan. 18 at 2:30 p.m. For more information on the Conroe Fire Department visit cityofconroe.org/departments/fire-department-home-page.
For more information on the welding program at LSC-Conroe Center visit lonestar.edu/welding-technology-dept-conroe.
PHOTO: (from left to right: Conroe Fire Chief Ken Kreger and LSC-Conroe Center Professor Bobby Pecore) Welding faculty from Lone Star College-Conroe Center deliver donated prop furniture designed and built by welding students for the new seven-story City Of Conroe Fire Training Facility.
Source: Stacey Hewitt, Lone Star College-Montgomery