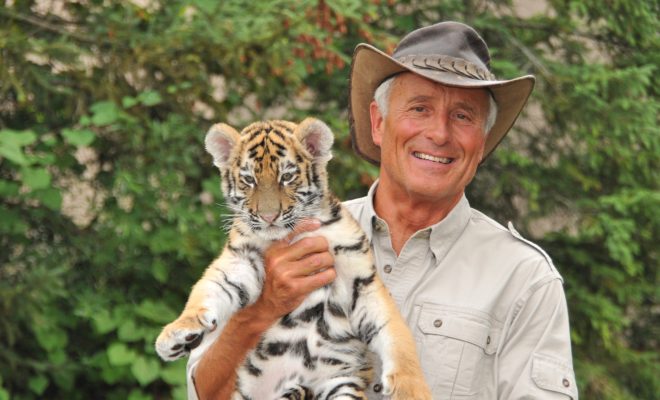 News
A Wild Experience at the 22nd Annual Children's Festival
By |
The Woodlands, Texas – Explorers of all ages are invited to come out and play as The Cynthia Woods Mitchell Pavilion is transformed into a wild safari for the 22nd Annual Children's Festival presented by ExxonMobil on November 11 and 12, 2017. With performers on multiple stages, character meet and greets and wild adventures looming all around the venue, there's something for everyone to enjoy.
"This year's event at The Pavilion will be even bigger and better," says Jerry MacDonald, president & CEO for The Pavilion. "The performances on the Strike Main Stage and the activities throughout the venue are certain to entertain every member of your family."
On Saturday, Jack Hanna's Into the Wild, presented by Nationwide, will take viewers on excursions around the world through the eyes of America's most beloved animal adventurer and his family. The unscripted and action packed show on the Strike Main Stage is sure to leave you with a renewed appreciation for all creatures, great and small. The fun will continue on Sunday with a family-friendly musical for mamas, papas and young cubs, The Berenstain Bears LIVE! In Family Matters the Musical will give boys and girls of all ages the chance to fall in love with these characters, just as their parents did when they were growing up.
In the Meet & Greet area, kids have the opportunity to meet Peppa Pig, Jack Hanna, The Berenstain Bears and other characters at various times per day. For meet and greet times, visit our website at www.woodlandscenter.org.
In the Accenture STEAM Zone (Science, Technology, Engineering, Arts & Math), kids can launch into space with Janet's Planet, create their own snow with Nutty Scientists and enjoy a whole slew of adventurous demonstrators and activities.
Kids are encouraged to unleash their inner artist and create their own masterpieces in The Pavilion Event Center at Where the Wild Things Art. They will learn about lines, colors, shapes, patterns, unity, balance and more by using these elements to make imaginative creations.
Coming to the festival with a little one? Then you won't want to miss Cub Corner, a "festival-within-a-festival" for our youngest festival-goers, ages 4 and under. This new area will feature storytelling, musical performances, interactive animal presentations, arts and crafts, free exploration and a special toddler inflatable! Cub Corner will offer scheduled performances as well as flow-through activities throughout and because Cub Corner is completely fenced in your toddlers can explore at their leisure! The Event Center will also be home to the Cub Lounge, a quiet and comfortable place to relax, feed baby, catch your breath and get organized complete with a baby/toddler diaper change area and a private area for nursing mothers.
Just around the corner from the Main Stage is the Pepsi Base Camp which will feature, The Woodlands Children's Museum, at-making, face painting, free balloons from Fidelity Investments, performances on the Community Stage and more.
Take a walk through the Anadarko Alligator Adventure Zone for wild outdoor activities including a petting zoo, rock climbing wall, bungee jumpers and inflatables. Interact with professional sports teams like the Houston Texans and test your speed with Bubble Runners. Stop by the Texas Children's Hospital Rumble in the Jungle Zone, where kids can learn about health and physical fitness in a fun, interactive way from a variety of local businesses and organizations. Your kids will love having the chance to karate chop, dance, tumble and so much more on their way to learning what an active life-style looks like.
A fan-favorite at last year's Children's Festival, Touch-a-Truck is coming back bigger and better than ever. Learn about the inner-workings of some of the best trucks, tractors and automobiles that The Woodlands area has to offer. Afterwards, they can take it easy on a fun "Animal Tracks" safari train ride!
At the top of The Pavilion hill is the Skyfari Zone where kids can build and fly their own kite, dig for gold and participate in parachute races. For all information about Children's Festival, please visit www.woodlandscenter.org or call 281-364-3010.
Admission is $8 per person in advance or $10 per person at the door. Children age 2 and under are free of charge. All activities and performances are included in the price of admission. Tickets can be purchased at The Pavilion Box Office Monday through Friday from 10 a.m.-5 p.m., online at www.ticketmaster.com, by calling 800-745-3000 or the day of the event.
Preferred parking is available in the on-site Town Center Garage, located along Six Pines Drive. Parking is $10 per vehicle and tickets for on-site parking can be purchased in advance at all Ticketmaster locations and The Pavilion Box Office. Guests also may park in any of the five free parking lots on the southwest side of The Pavilion. The free, color-coded lots are connected to The Pavilion by corresponding pathways with signs leading across The Waterway.
Source: The Cynthia Woods Mitchell Pavilion