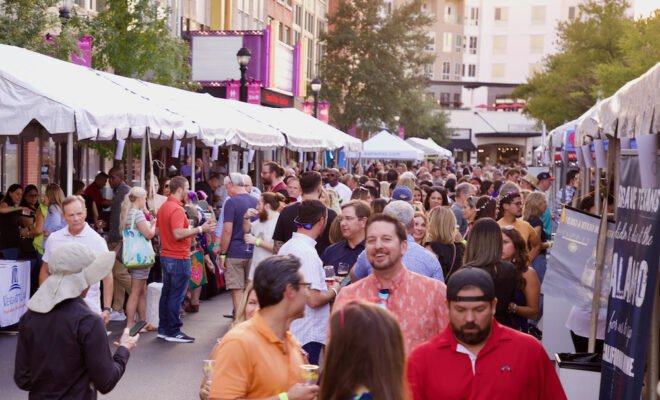 Photo Credit: Rod Prado, Hello Woodlands
Food & Drink
Wine and Food Week's 18th Annual H-E-B Wine Walk illuminates Market Street
By |
On Thursday, October 6, 2022, Wine and Food Week's 18th annual H-E-B Wine Walk illuminated Market Street in The Woodlands with wine tasting experiences, craft beers, live music, and culinary creations from area restaurants, chefs and caterers.
View photos from the event on the Hello Woodlands Facebook page and on Instagram:
The theme this year was "Illuminated" and encouraged attendees to put on their favorite bling, light up attire and enjoy a night of illumination. Light sticks, glow necklaces, flower crowns and headbands were also given away during the event at booths throughout Market Street.
The sold out event featured H-E-B Culinary Cantinas, Bayway Cadillac Fun Zone, Volante Integrated Planning VIP Premium Lounge, Goya Foods Pantry, "Your Happy Place" Space Relaxation Lounge presented by Aruba Tourism featuring massages, Ben E. Keith Craft Beer Collection, evamor Hydration Station, Stella Rosa Liquid Lounge Trailer, Capriccio Sangria Station, First Pour Bubbly with Freixenet-Mionetto, Palm Bay International 360 Photo Booth, Southwest Airlines Ticket Giveaway, Live Music by the JoiLux Band, and much more.
Food & Vine Time Productions, producer of Wine & Food Week, celebrated 20 years in 2022 and has raised over $2 million dollars through the years across multiple platforms for deserving non-profits. This year Wine & Food Week also celebrated an 18-year commitment to raising funds for New Danville and continued to support the arts by assisting The Woodlands Arts Council. H-E-B Wine Walk Attendees had the opportunity to meet both local nonprofit organizations at their booths and participate in wine pulls to raise funds and awareness at the H-E-B Wine Walk.
Learn more about Wine and Food Week by visiting wineandfoodweek.com.