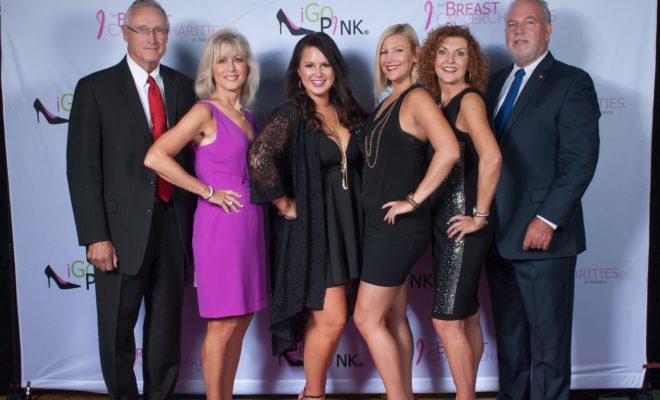 Photo taken by Mindy Harmon Photography
Events
Wine Women & Shoes Returns to The Woodlands
By |
The Breast Cancer Charities of America has announced that Wine Women & Shoes Houston is returning to The Woodlands this fall season. Sponsored by EXIT Lone Star Realty, Wine Women & Shoes will be held on September 29, 2016 at The Woodlands Waterway Marriott.
"We're very fortunate to have EXIT Lone Star Realty back as our presenting sponsor for Wine Women & Shoes," said Erica Johnson, Founder and Executive Director of The Breast Cancer Charities of America. "Just as breast cancer has touched each of us, it has directly touched them as well, and we appreciate their passion for helping to educate and empower women to prevent and survive breast cancer."
"EXIT Lone Star Realty is excited to be the presenting sponsor again for Wine Women & Shoes. It touches home even more that both my niece as well as a dear friend/client (both breast cancer survivors) will be modeling in the runway show as survivors," said Susan Mack, Owner/Broker of EXIT Lone Star Realty. "BCCA is such a worthy cause and it is wonderful to see how the event is growing. It's going to be even more fabulous than last year if that's possible!"
The New York-Style Runway Show will be spotlighting the night this year with local and name-brand designers. For the third annual event, Dillard's will be the Exclusive Fashion Show Sponsor, showcasing their newest fall fashions; Kendra Scott will be the Exclusive Jewelry Sponsor as well as hosts of the popular 'Sip & Sparkle' station; Uptown Park's custom shoe designer, LUCHO, is back as the Exclusive Shoe Sponsor and will be displaying their fabulous stilettos. Other marketplace vendors are Rhinestone Leopard, Magnolia Mey, Armarillo de la Bella, and Marmi, who will all be selling their new fall lines.
This year, Wine Women & Shoes is honoring those touched by breast cancer in a very special way. All of the runway models will be women who have been affected in some way by breast cancer: survivors, family members, medical personnel and more will be showcasing every look and sharing their inspiring stories of hope.
Tickets for Wine Women & Shoes are available now. VIP tickets and Platinum VIP tables are available on a first come first serve basis. Sponsorship opportunities also remain. To find out more information visit: WineWomenandShoes.com/Houston  or www.iGoPink.org
Sponsors of the event also include: Maserati, CHLOE Wine, Tiff's Treats, H-E-B, Dr. Lind Plastic Surgery, Stephens Gatewood & Associates Dentistry, Woodforest National Bank, The Woodlands Compounding Pharmacy, Pinnacle Insurance, Avanti Senior Living, Four Seasons Veterinary Hospital, Massage Heights Panther Creek & Spring Creek, The Woodlands Waterway Marriott, Morgan Stanley, Shag Salon, Style Revival, DJ Hollywood Steve, Mindy Harmon, My Wallet My Style, Tara Flannery Photography, J Stacy Photography, Woodlands Photo Co., AGB Videography, SpeedPro Imaging, The Woodlands Lifestyles & Home, PKWY Magazine, PR Luxury Media/reviewit.Flair.Vida Social Magazines, Woodlands Monocle, The Woodlands Journal, Hello Woodlands, Woodlands Online, FOX 26, and KSTAR Country Radio.
The Breast Cancer Charities of America (BCCA) is a non-profit organization with new global headquarters in The Woodlands, Texas.  BCCA is dedicated to educating and empowering women to prevent and survive breast cancer.  Through their numerous program services and resources, BCCA is able to partner with over 450 hospitals nationwide to serve women.