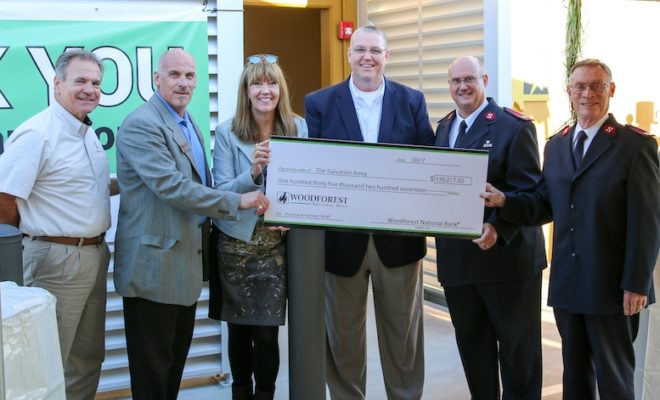 Hurricane Harvey
Woodforest National Bank donates $135,000 to Salvation Army
By |
The Woodlands, TX – Woodforest National Bank recently presented a donation of $135,000 to The Salvation Army for their ongoing support of Hurricane Harvey relief efforts in Texas.
As Hurricane Harvey caused widespread damage across the state, Woodforest employees and customers wanted to help. They quickly organized fundraising efforts in the bank's 740 branches throughout 17 states during the month of September and designated all donations to be given to The Salvation Army to assist them in providing ongoing physical, emotional and spiritual care to survivors and relief workers in Texas. The Salvation Army has remained in communities impacted by this terrible storm, supporting long-term disaster recovery efforts and providing ongoing assistance to those in need.
"Many times the best way to help after a disaster is to make a financial contribution to a charity like The Salvation Army to help them stay on the front lines and help as many people as possible," said Julie V. Mayrant, President-Retail Division for Woodforest National Bank. "We are extremely grateful to our employees and customers for their generous support in these efforts."
"Since Hurricane Harvey made landfall on August 25 The Salvation Army has coordinated a massive response along the Texas coastline spanning from Corpus Christi more than 300 miles to Orange," said Major Don Wildish, The Salvation Army Officer in Conroe. "Officers, staff and volunteers from throughout the United States have diligently served hurting communities, working from our mobile feeding units, and have delivered more than 900,000 hot meals, drinks and snacks to those affected by the storm. More than 50,000 Texans have received emotional and spiritual care from our teams. As the needs of survivors have gradually changed, The Salvation Army service has transitioned from emergency assistance to intermediate and long-term recovery. We have established multiple Points of Distribution in warehouse facilities in affected areas and anticipate beginning case work with individuals and families in the near future. We are so grateful for the support of Woodforest National Bank as The Salvation Army continues to meet the needs of those affected by Hurricane Harvey."
Woodforest will continue to designate donations collected in its branches located throughout Texas to hurricane relief efforts through the end of the year. Organizations selected to benefit from these donations include The Texas Association of Community Development Corporation (TACDC), Houston LISC, PeopleFund, and BCL of Texas, all of which will positively impact small business rejuvenation in Texas.