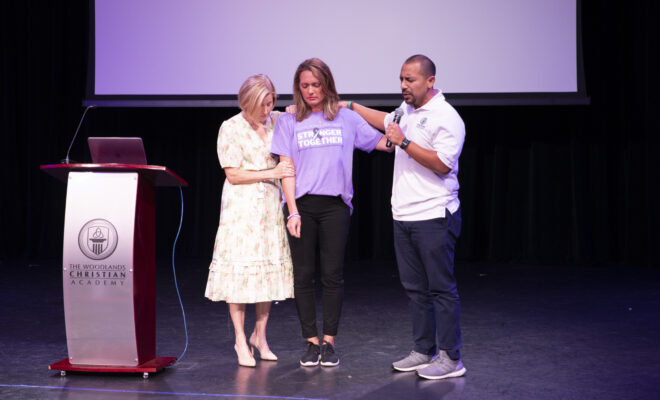 Lifestyle
Woodlands Christian Hosts Cassidy Joined for Hope
By |

THE WOODLANDS, TX – In conjunction with National Suicide Prevention Week, the Psychology Club at The Woodlands Christian Academy invited Mrs. Kim Hess, founder of the local non-profit Cassidy Joined for Hope, to speak to high school students. Established in 2016, Cassidy Joined for Hope is focused on teen suicide prevention by providing resources, support and education to schools and communities.
Using details from her own family tragedy, Mrs. Hess presented the startling facts and figures surrounding teen suicide and encouraged the group to remove the stigma and break the silence surrounding the topic to help save lives. Students left with resources that outlined ways to find and/or give support to individuals struggling with suicidal ideations.
"I really want other students to know that they are not alone," TWCA senior and president of the Psychology Club Lily Jadlot explained, "the sanctity of life is so important — we have to be able to share our struggles without fear of being judged."
Lily and the 30 other group members organized different opportunities throughout the week to shed light on the topic, including Mrs. Hess' visit. Signs were posted throughout the Micah Academic Center motivating students to reach out for help, check in on loved ones and lend their voice to the conversation. Students were given wristbands with words of affirmation and uplifting phrases, and lessons in Bible class that week reinforced God's love for us in times of darkness.
"We have a unique environment that gives us the ability to know everyone and love on everyone," Lily said. "I'm hopeful that with more opportunities to recognize and share our feelings, and help each other through tough times, we can be a part of seeing a decline in teen suicides."
Woodlands Christian offers a rigorous academic program with faith integrated in the curriculum and co curricular activities, providing students with a unique college prep experience. Courses are taught from a Christian worldview and students are reminded that their true hope is in Christ.
The Woodlands Christian Academy is an independent, Christ-centered college preparatory school that integrates learning with Biblical faith and spiritual growth, and challenges students to reach their highest potential – intellectually, creatively, physically and socially – for the glory of Jesus Christ. For more information visit twca.net.