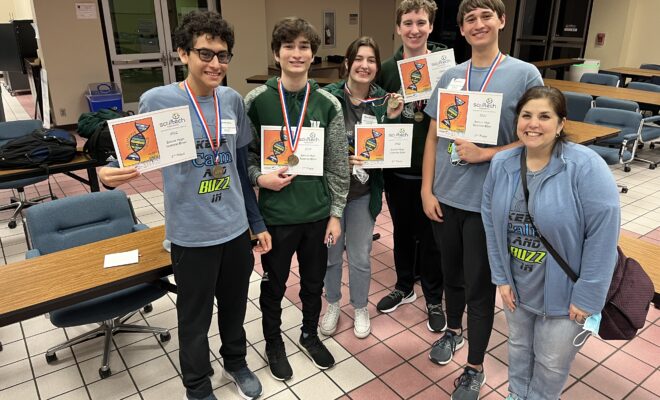 Lifestyle
Woodlands Christian Quiz Bowl Team Places Second in SCI://TECH Competition
By |
THE WOODLANDS, TX – The Woodlands Christian Academy (TWCA) Quiz Bowl Team competed in the annual SCI://TECH Exposition put on by Education for Tomorrow Alliance (EfTA) of Montgomery County. The SCI://TECH Competition gives students the opportunity to take learning beyond the classroom and test their knowledge on STEAM subjects.
Students answered questions in rapid-fire style spanning topics such as biology, chemistry, physics, energy, and space sciences. TWCA finished in second place, finishing ahead of fierce competitors including John Cooper, The Woodlands High School, College Park and Academy for Careers in Engineering and Science.
Club sponsor and science teacher Pam Masau has been working with the team during weekly morning practices since September. "I am proud of them and their teamwork," she said. "I couldn't be more pleased with their performance."
Woodlands Christian recently completed building out a new state-of-the-art lab this past fall, dedicated to expanding the STEAM program. New courses in engineering and biotechnology will be added this upcoming year.
Known for its rigorous academic program, the school offers college preparation starting in 8th grade and SAT/ACT test prep for 9th-11th grade. One hundred percent of graduating seniors are admitted to colleges or universities. TWCA is now enrolling grades PreK – 12th for the 2022-2023 school year.
The Woodlands Christian Academy is a PreK – 12th grade college preparatory school that integrates learning with biblical faith and challenges students to reach their highest potential – spiritually, academically, physically and socially. For more information visit twca.net.