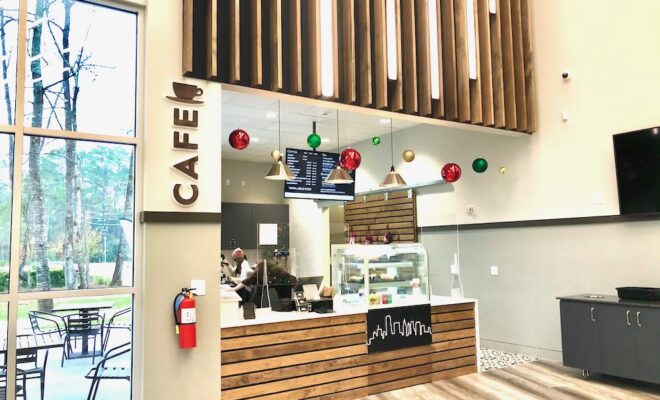 Photo Credit: Jennifer Bruse
Food & Drink
WoodsEdge Coffee House now open in The Woodlands
By |
WoodsEdge Coffee House, located on the beautiful wooded campus of WoodsEdge Community Church in The Woodlands, is now serving hand-crafted espresso drinks, teas, pastries and desserts for all to enjoy.
The Woodlands's newest coffee spot opened on November 2, 2020 in the WoodsEdge Community Church's new Pavilion building (that opened in October 2020) and fulfills the church's vision of having a coffee house on the campus located at 25333 Gosling Rd. When you walk into the building, you will be instantly greeted with heartwarming signs that read "Love Jesus, Journey Together, Bring Hope" and a wall decal with the familiar Houston skyline and the words "Our Vision is to see Houston become a city of God."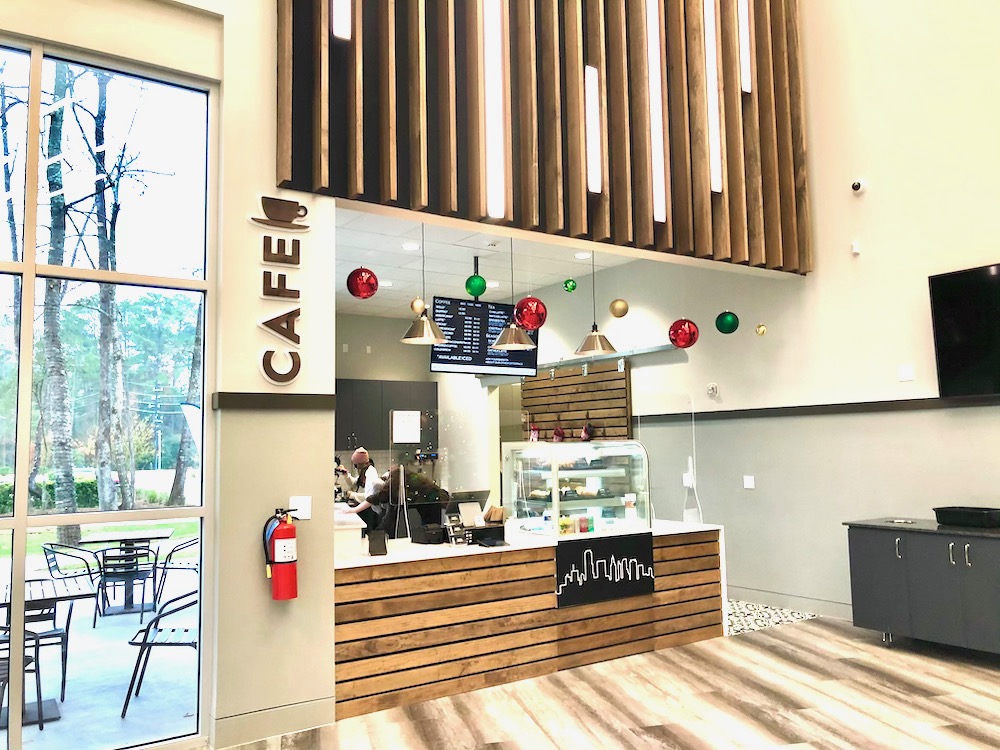 The WoodsEdge Coffee House is open to the public during business hours, Monday through Thursday from 7 a.m. to 4 p.m.
"We wanted to create a space where the community can come, be comfortable, and be taken care of. It's a place where people can feel safe." said Andrea Austin, WoodsEdge Coffee House Manager. "It's a space for everyone where you can just be loved on, get an oat milk latte, and enjoy espresso."
Guests can come to relax, recharge, and hang out by sitting inside in the spacious lobby with high ceilings or outside on the patio. Social distancing practices are in place with spaced seating, masks and hand sanitizer stations are readily available, and customers are asked to wear masks when ordering and moving about the facility, unless eating or drinking at a table.
The WoodsEdge Coffee House serves coffee, tea, a full menu of espresso beverages – both hot and iced – including lattes, mocha and white mocha, coldbrew, and even seasonal offerings. Andrea Austin shared that new drinks will be featured every season and they currently offer the Silverlining (Calmmango Beach Tea Lemonade) and Christmas Spice Oat Milk Latte.
And don't miss the pastry case! With your hot or iced beverage of choice, enjoy a croissant, danish, muffin, scone, or a delicious item from the ENDless bakery, an allergy-friendly, gluten-free and vegan bakery dedicated free from the top eight major food allergens, such as a cinnamon roll, doughnut, or chocolate bundt cake.
The WoodsEdge Coffee House team looks forward to welcoming the community and what the future holds, including how they can continue to give back. "I hope in the future we can use profits [from the WoodsEdge Coffee House] to bless future missions and ministries here at WoodsEdge."
Take a trip to the WoodsEdge Coffee House by going to the WoodsEdge Community Church at 25333 Gosling Rd and follow the signs (for the Pavilion and Coffee House) to park in the parking lot outside the new Pavilion building, right off of the north entrance. Enjoy!
Follow WoodsEdge Coffee House on social media: Instagram at @WoodsEdge_Coffee and on Facebook.
Learn more about WoodsEdge Community Church by visiting their website at www.woodsedge.org.