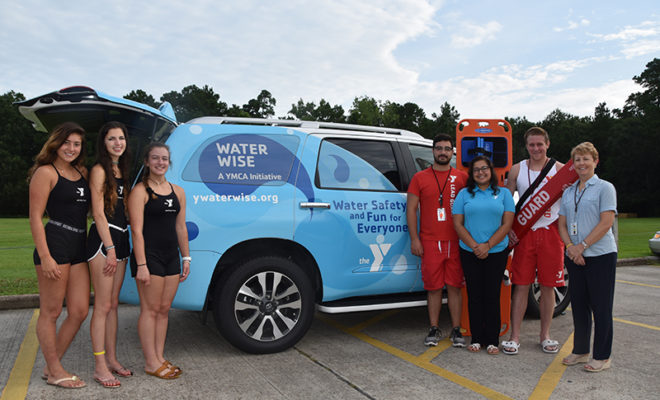 News
YMCA Offers Free Water Safety Classes for Economically Disadvantaged Children
By |
THE WOODLANDS, TX – In Texas, drowning is the second leading cause of death for children under the age of 14. Many drownings occur at apartment swimming pools, which typically have no lifeguards on duty.
In its effort to eliminate drownings, the YMCA of Greater Houston and The Woodlands Family YMCA offered free swim classes and water safety techniques this summer to economically disadvantaged children at 127 Greater Houston-area apartment complexes. The YMCA has a long history of teaching swim lessons. The YMCA is credited for being first to develop a group swim instruction program in 1906.
In a program called Safety Around Water (SAW), the YMCA served 3,500 children, ages 3-12. Locally, the YMCA visited 19 complexes and served more than 266 children in Montgomery County and surrounding communities. "The YMCA takes drowning very seriously," said Christine Chapman, Center Executive Director of The Woodlands Family YMCAs. "The more children who learn how to swim, the fewer drownings we will have." The free classes focus on personal safety techniques that include: Jump-Push-Turn-Grab, which teaches children to push off the bottom of the pool as they are submerging to get back up to the surface while turning to grab the side of the pool, and Swim-Float-Swim, which teaches children to swim a short distance on their fronts, roll over onto their backs to float and rest, and then roll on their fronts to continue swimming to safety.
In its 11th year, the growing program has served over 20,000 children. The week-long sessions ran five days a week, Monday through Friday. Partners in the program included the Houston Apartment Association, Toyota, USA Swimming and the Houston Coalition for Drowning Elimination. Swimming is a life skill with no seasons. As summer transitions to fall, the SAW program will be working with local school districts.
For more information, please contact Cristina Lucero, YMCA Aquatics Director at 281-367-9622 or visit www.ymcahouston.org/programs/drowning-elimination.