Photo Credit: Tiffany Marascio
Events
10th Annual 2022 WISE Conference inspires, gives back, and presents scholarships
By |
The 10th Annual 2022 WISE Conference was held on Wednesday, September 28 at Church Project in The Woodlands. The WISE (Women Inspiring Supporting Empowering) 2022 Conference is a cooperative effort between WOAMTEC and MCABW and is committed to the empowerment of women through personal and professional development and focused on giving back to local charity organizations in our community.
View photos and videos from the conference on the Hello Woodland Instagram page:
Local businesses and entrepreneurs showcased their services and products at the Small Business Market open throughout the event while guest could enjoy coffee, drinks and snacks from Good City Coffee.
The WISE Conference with emcee is Missy Herndon, President & CEO of Interfaith of The Woodlands, catered to professionals with a desire to learn more about work-life balance through motivational speakers and educational demonstrations:
Tanya Bugbee, Leadership Coach & Business Strategist, about "Moving the Needle!" (it is time)
Sylvia Brown, M.S.N, R.N., O.C.N, C.N.L, O.N.N-CG, Nurse Navigator at the University of Texas MD Anderson Cancer Center, talking about speaking up and shared "5 Tips to Being an Effective Self Advocate"
YGC Relationship Coaches Yvette and Geovanna on "Creating a Life-Work Balance"
Shaundra Dineen, Best-selling author, award-winning motivational speaker, podcast host, and founder of Rubyz Global Coaching and Consulting, LLC., encouraged women to "Do It Afraid"
Keynote Speaker Aimee Copeland, Licensed Clinical Social Worker, shared an inspiring message of courage and survival in the face of all the odds and it highlights courage, compassion, determination, perseverance, and connecting with the self, understanding the self, and self-awareness.
A portion of the net proceeds raised through The 2022 WISE Conference will be awarded to the nonprofit organization, Sleep in Heavenly Peace (SHP) of Montgomery County. Mike Fortner, co-founder of the Montgomery County SHP chapter, shared a powerful presentation on how child bedlessness is a national and local problem and how SHP provides the solution to help ensure "No kid sleeps on the floor in our town!" The volunteer-led organization has built and delivered over 300 beds (as of April 2022) to families in need through an application process that allows each child to pick out the bedding they want on what is often their first own bed.
WISE also awards scholarships to women with a desire to further their careers through education, expanding their current business, or starting a new one. Scholarship winners were announces and awarded on stage at the conference, will be matched with a mentor, and given scholarship funds that must be used by August 31, 2023 and will be reimbursed for marketing, designations, and new certifications. The 2022 WISE Scholarship winners are:
Melody Fraser, Blissful Waters Float Center
Cair Scalise, Twisted Oak Photography
Lila Taylor, The Landry Fairy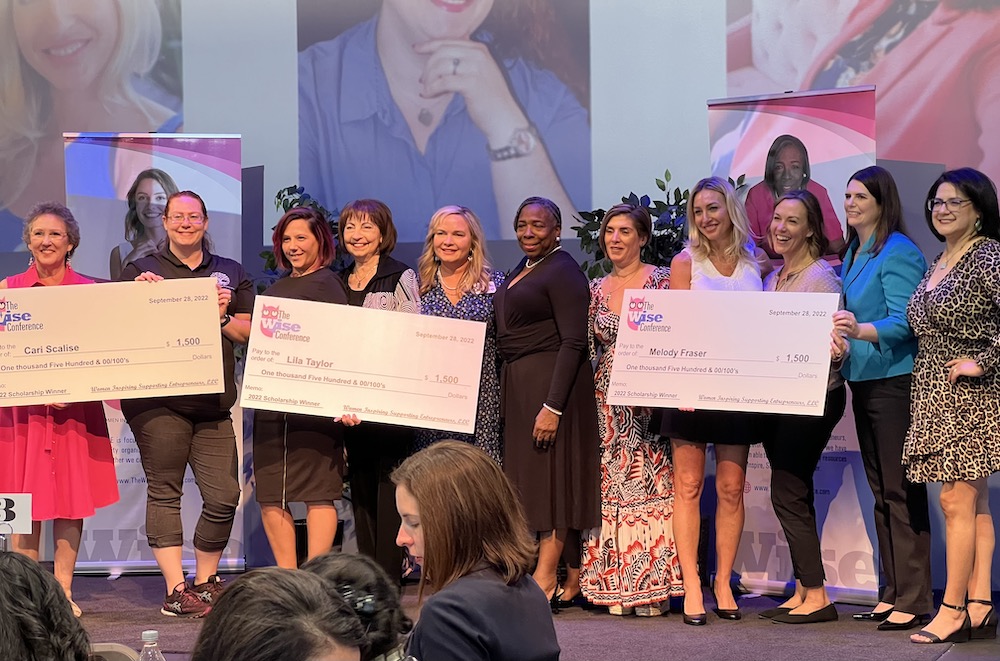 Hosted by MCABW and WOAMTEC, the 2022 WISE Conference was sponsored by The University of Texas MD Anderson Cancer Center, The Seiler Law Firm, The Bihm Firm, PLLC, Generations Concierge, Amazing Winder Cleaners, Interfaith of The Woodlands, Bayway Cadillac of The Woodlands, Ezee Fiber, Prince Health and Wellness, Wham & Rogers Trial Attorneys, Consultants in Dental Aesthetics, Proven Results Marketing, Ride N Go, Calvillo JC Designs, Hello Woodlands, Community Impact, Shannon Gougenheim Mirror Me Photo Booth, One Olive Photography, Crown Brand-Building Packaging, and Frontier Title.
Save the date! The 11th Annual WISE Conference will be held on Wednesday, September 27, 2023.
Learn more about The WISE Conference at TheWiseConference.com.