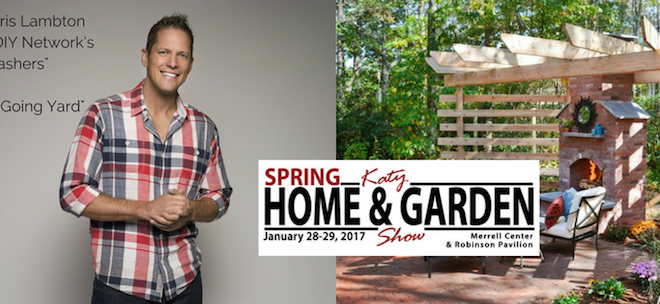 Calendar
11th Annual Spring Katy Home & Garden Show + Ticket Giveaway
By |
Get inspired and ready to renovate at the 11th Annual Spring Katy Home & Garden Show, the largest home show in west Houston. With over 10 years of delivering the most current and creative trends in the home design industry, this two-day show on January 28-29 features two buildings packed with more than 300 exhibits of endless inspiration. Meet celebrity landscape expert Chris Lambton from HGTV's "Going Yard" and DIY Network's "Yard Crashers" and cast your vote for the People's Choice Awards for Outstanding Outdoor Living Retreat presented by Community Impact News. Whether you are looking to revamp, remodel, or finally create the ultimate outdoor entertaining hub, the Katy Home & Garden Show is the perfect place to cultivate your creativity.
In a place that is as vibrant as it is innovative, Houstonians appreciate the creative culture of their Bayou City. With its plethora of home design experts, local vendors at the Décor Marketplace, and the Garden, Landscape and Outdoor Extravaganza, it is no wonder that the Katy Home & Garden Show is a favorite place for Houston residents and visitors alike to seek out the best home design trends.  Learn how to turn a bustling family room into an un-plugged oasis, or discover why gold hardware is the new quick-fix to spruce up a kitchen and instantly add value to a home. From statement mirrors to must-have outdoor fireplaces, the Spring Katy Home & Garden Show provides tangible inspiration in an atmosphere that is overflowing with originality.
TICKET GIVEAWAY
Enter to WIN 4 Tickets to the Katy Home and Garden Show! Simply enter your name and email address below and click "Enter" by Thursday, January 26 at 11:59pm CST. One winner will be selected, contacted by email, and receive 4 passes to the show at the Merrell Center in Katy. Good luck!
CONTEST ENDED – Thank you to all who entered and participated in the Hello Woodlands giveaway!
Outdoor entertainment remains a top home renovation trend. She's dreaming of a French country backyard. He's happy with just grass. He wants an outdoor fire pit. That sounds too messy. Sound familiar? Bring all those ideas and meet celebrity landscape superstar Chris Lambton who tackles challenges like that every day.  When it comes to sharing the best tips and trends in home design, Chris Lambton knows how to deliver Texas-sized inspiration to attendees at the Spring Katy Home & Garden Show. He appears with his wife Peyton on HGTV's "Going Yard" where they transform backyards into one-of-a-kind living spaces, one house at a time.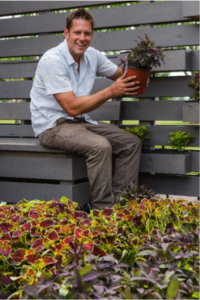 Chris first won hearts onscreen in season six of ABC's "The Bachelorette," where he was ultimately named runner-up. In a Hollywood twist, wife Peyton appeared on season ten of "The Bachelor" and season one of "The Bachelor Pad." The two Bachelor Stars finally found love with each other when a friend introduced them to each other off camera, and the rest is history. Meet Chris at the show on both Saturday and Sunday and learn how you can transform a drab yard into a spectacular family-friendly outdoor living area.
Chris joins a host of other outdoor and home design and renovation experts who'll be on hand all weekend to help you shop and compare. The Spring Katy Home & Garden Show is the go-to source to hear from a wide-range of reliable experts about the latest tips and trends for every part of the home including: decorating; remodeling; window treatments; blinds & shutters; kitchens & baths; granite; heating & cooling; home theaters; do-it-yourself; flooring; landscaping; pools; outdoor entertainment and more.
"We're really excited about holding this show right before Houston hosts the big game," remarked RJC Productions President and show producer, Robyn Cade. "While everyone is excited about the game being held in Houston we realize most people won't be able to attend. They will more than likely be entertaining at home and our Spring show will give them lots of new ideas about how they can spruce up their home and yard just in time for kick-off," added Cade.
The Spring Katy Home & Garden Show is held at the Merrell Center in Katy, Texas. Tickets are $9 for adults; $8 for seniors; $5 with a military ID.  Kids 12 and under are FREE.  Hours are Saturday January 28, 10 a.m. – 6 p.m. and Sunday, January 29, 11 a.m. – 5 p.m.  For additional information, directions and hours visit www.katyhomeandgardenshow.com or call 832-392-0165. *Facility charges a $1 per ticket fee, which is added at time of purchase. Parking is FREE.