Events
12th Annual Duck Race Benefit to Help Families in Need
By |
CONROE, TX – Rubber duckies will be swimming to the finish line in the Rob Fleming Aquatic Center Saturday, August 24th from 6:30pm-8:30pm to help our Montgomery County neighbors in need. Each $5 donation to "adopt" a duck can make a difference in the lives of those who are struggling to provide basic needs for their families. Rubber ducks will swim, bob and splash around the pool raceway for a chance to win prizes for their adopted parents while supporting critical assistance programs through Community Assistance Center.
The public is invited to attend the 2019 12th Annual Charity Duck Race at the Rob Fleming Aquatic Center at 6535 Creekside Forest Drive, The Woodlands, 77389. This free family friendly event is a blast to watch. Guests are invited to enjoy the wonderful pool amenities and booth activities during the event and of course, cheer on the ducks during race time! Community Assistance Center will launch 5,000 rubber ducks from the top of the slide and into the pool. The crowd watches the ducks float through the lazy river to the finish line where someone will win the Grand Prize of a $1,000 Visa gift card! Many other fabulous prizes will be awarded to additional winning ducks. All ducks are assigned random numbers at the time of adoption to ensure that all duck parents have an equal chance to win a prize no matter when they adopted their ducks.
Proceeds from the Duck Race will support Community Assistance Center (CAC) programs which provide immediate basic needs assistance with food, clothing, utilities, rent/mortgage payments as well as long term case management, providing support services and resources to promote self-sufficiency for those CAC serves. Additionally, CAC offers disaster recovery assistance, ID restoration ministry, education classes, homeless care kits, back to school assistance and a summer feeding program for children. CAC honors and restores the dignity of individuals and families, providing opportunities to attain greater levels of responsibility and financial independence by delivering assistance and life lasting strategic solutions.
"We are so excited for community members to join us for our 12h Annual Duck Race! This family friendly event is a fun and unique way for people to support their neighbors in need. There is no other event like this in our county for kids and adults to have a splashing great time while giving back to the community. All levels of support can make a difference to the folks we serve at CAC. Contact me at kathy@cac-mctx.org for sponsorship opportunities and you can 'adopt' as many ducks as you wish on our event site DuckRace.com. You can even start a Duck Team to participate in the friendly duck sales competition to win a duck trophy. Everyone who adopts ducks for the race will have a chance to win great prizes," said Kathy Rifaat, Director of Development at CAC.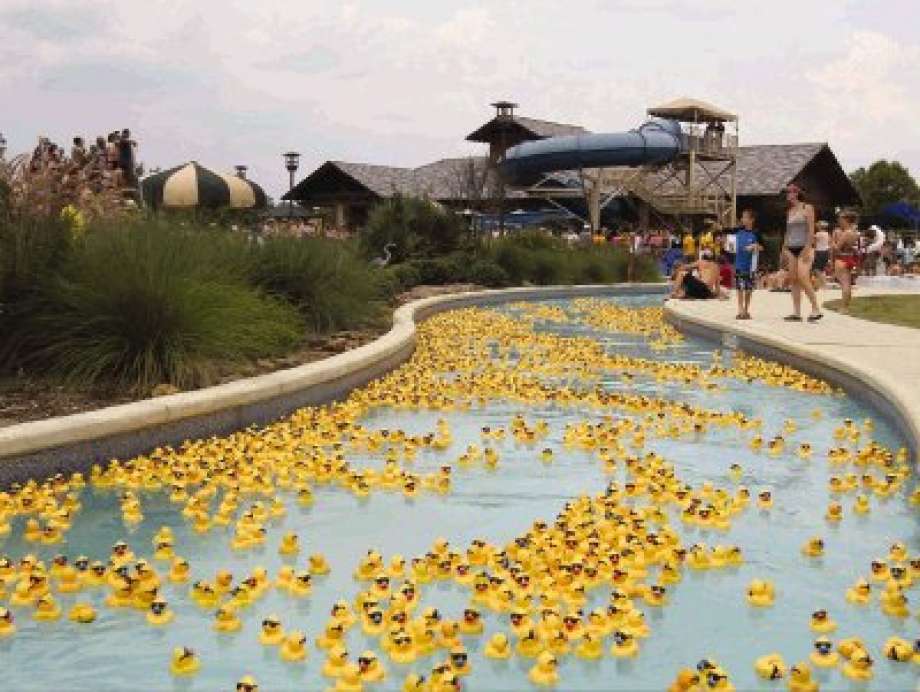 Presenting sponsor Praxair has been a huge supporter of CAC and very involved with the Annual Duck Race for many years. They also embrace the opportunity to engage fun activities each year promoting duck sales amongst their staff at the corporate campus in The Woodlands to generate increased funds overall for CAC from Praxair.
"We encourage individuals and businesses to support this fundraising event by setting up a team to sell (adopt) ducks similar to how Praxair has done this in the past to be part of a friendly competition to sell the most ducks. We are grateful for the generous support from all over Montgomery County. The Duck Race is a fun way to support CAC programs. Adopt a duck and help your neighbors in need," said Vanjia Thomas, HR Director, Global Hydrogen, Praxair, Inc.
Wiesner Buick GMC, longtime supporter of CAC and generous Duck Race sponsor, rallies their whole team together every year to promote duck sales amongst their close knit team as another way they support our community.
"Being a part of the Conroe community is a legacy that we continue today on behalf of our mentor Mr. John Wiesner," said Brita Tarver, Controller, Wiesner Buick GMC. "He was passionate about many things and giving was important to him. Doing things local were his words of encouragement to use Montgomery County/City of Conroe businesses in order to give back to those who have given to us for 45+ years. Our employees enjoy our annual Duck Race party. We decorate with lots of ducks and also serve snacks while we talk about the awesome 'Hand Up' program, this is our way to support the people in our own community."
Other sponsors for the Duck Race include Buckalew Chevrolet, Waste Connections, Wiesner Buick GMC, Consolidated Communications, First Financial Bank, Kevin Brady for Congress, the Michel Family, Woodforest Bank, Braintek, Carr, Riggs & Ingram, LLC, James and Janet Stilwell, IcepackStore.com, Woody and Debbie McOmber, and many in-kind sponsors from the community. Sponsorship opportunities are still available for this wonderful community event.
Ducks can be adopted at www.DuckRace.com/TheWoodlands. A single duck is $5, a Quack Pack is $25 for 6 ducks, a Flock of Ducks can be purchased for $50, and The Big Splash offers 28 ducks for $100. Additional Duck Race event information is available at www.cac-mctx.org/duck-race. Contact Kathy Rifaat at kathy@cac-mctx.org or 936-494-4412 for sponsorship information or to create a new duck adoption team.


Community Assistance Center has a mission to provide resources to meet basic needs and improve quality of life for our neighbors in Montgomery County. CAC is a non-profit 501(c)3 organization. Located at 1022 McCall in Conroe, information for volunteering or client services can be obtained by visiting website www.cac-mctx.org or calling 936-539-1096. Client assistance appointments can be made at 936-539-9211.