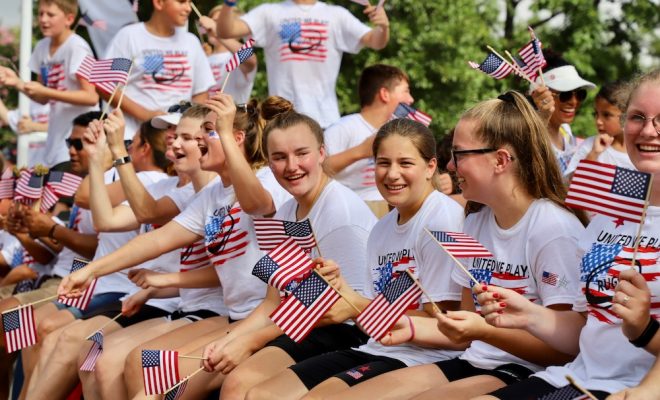 Events
VIDEO: South Montgomery County 4th of July Parade
By |
The 44th Annual 4th of July Parade, "United We Stand," held on Thursday, July 4, 2019 began at 9:00 a.m. with the singing of the national anthem in Market Street and Town Green Park in The Woodlands.
150 entries paraded along the 1.3-mile route through The Woodlands Town Center, including four five marching bands and federal, state and local dignitaries, Color Guard, fire engines, horses, street performers and military.
Watch Hello Woodlands LIVE coverage and video of the parade on Facebook: https://facebook.com/HelloWoodlands/videos/2541485475875425/
View photos from the 2019 parade on the Hello Woodlands Facebook page.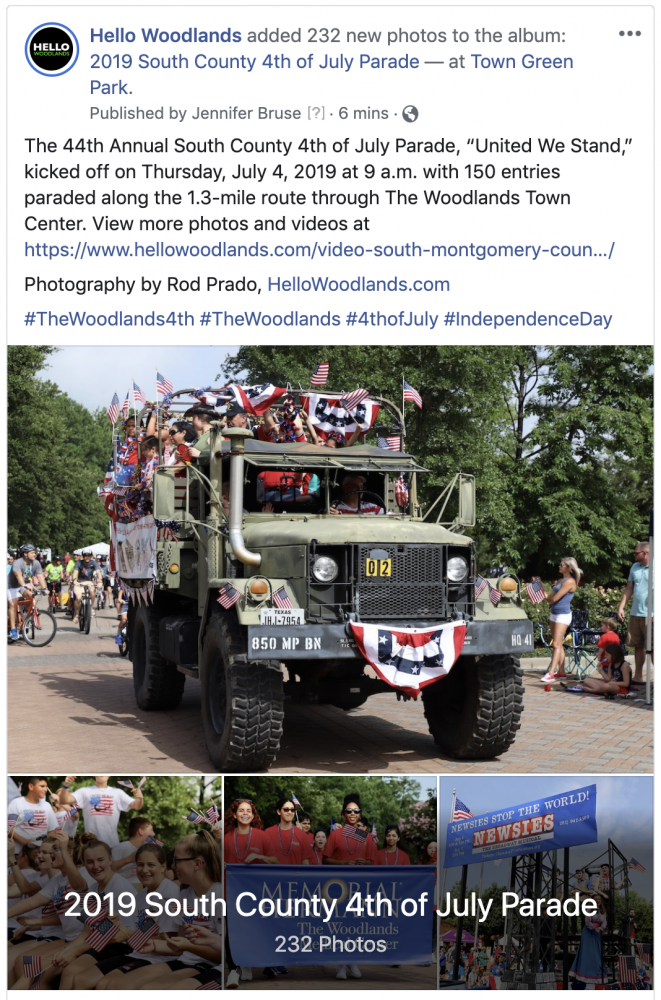 In accordance with this year's parade theme, "United We Stand," the coveted Parade Grand Marshal position was awarded to two residents of The Woodlands. Christine Clinkenbeard was named Community Grand Marshal for her efforts in helping Hurricane Harvey victims and Charles Abell, retired Lt. Commander of the US Navy, was named Military Grand Marshal.
Prior to the parade, street performers and The Woodlands Concert Band entertained parade goers in Market Street.
The parade is funded through community donation and the support of The Woodlands Township. The parade is produced with help from 200 volunteers, including special guest announcers Nick Wolda, President of Visit The Woodlands, and Ramon Torres.
Announcer booths were also located in front of Town Green Park, The Cynthia Woods Mitchell Pavilion and 24-Hour Fitness. The parade will be live streamed from the three announcer locations. Community Judges score the entries to culminate in 12 Parade Entry Awards.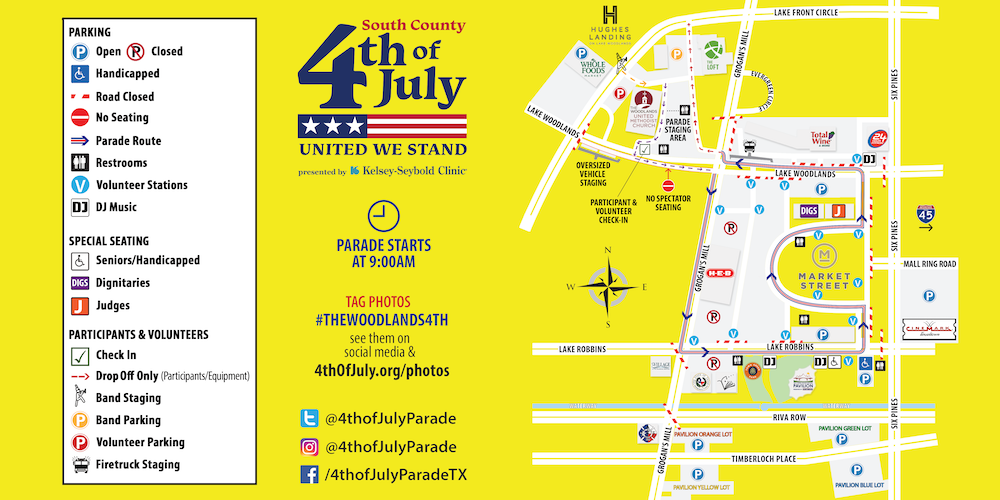 This year's presenting sponsor was Kelsey-Seybold Clinic – The Woodlands, that has 20 clinic locations, including The Woodlands Clinic and The Woodlands OB/GYN and Women's Health, and more than 400 providers representing 50 medical specialties caring for patients in the Greater Houston area.
The committee hosts an annual Marching Band Scholarship Program. This year four marching bands will be in the parade:
Hempstead High School – Hempstead ISD
Willis High School – Willis ISD
College Park High School – Conroe ISD
The Woodlands High School – Conroe ISD
View more photos, videos, and information about the South County 4th of July Parade on their Facebook Page, (4thofJulyParadeTX), Twitter (@4thofJulyParade) and Instagram (@4thofJulyParade).
The South County 4th of July Committee is an organization of nine dedicated volunteers responsible for the 4th of July Parade in The Woodlands area and is designated as a 501(c)(3) corporation funded through donations and sponsorships. The parade would not occur without the support of The Woodlands Township. The parade dates to the late 1970's when it was originally organized by The Woodlands Lions Club. The South County 4th of July Committee was organized in the early 1990's. Learn more at www.4thofjuly.org.
View past coverage from the 2017 parade captured by Hello Woodlands in the full Video Replay and the 2017 Photo Album.