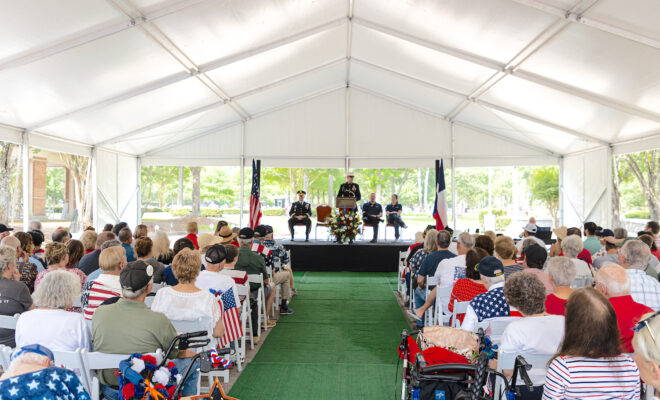 Photo Credit: Rod Prado
Events
15th Annual Memorial Day Service pays tribute to Heroes and Freedom at Forest Park The Woodlands
On Memorial Day, Monday, May 29, 2023, Forest Park The Woodlands Funeral Home and Cemetery hosted their 15th annual Memorial Day event, a tribute to Heroes & Freedom, in honor and celebration of those who have proudly served our country. The event included a service of remembrance, guest speakers, live music, and complimentary hot dogs, snow cones and refreshments.
View photos from the ceremony on the Hello Woodlands Facebook page:
The Memorial Day Service was dedicated to the brave men and women of the United States Armed Services and public servants. The service included the Presentation of Colors by The Woodlands Professional Firefighters Association, Pledge of Allegiance by Shane Baker, Funeral Director, live music including "Star Spangled Banner and "God Bless America" by Felix Lyons and Kelley Peters, and a singing and ukulele performance by Maggie Blattel. Melissa Wright, Funeral Home Manager, welcomed attendees and shared opening remarks, Reverend Margarita J. McCarthy, Pastor of Caring and Prayer Ministry at The Woodlands Methodist Church, led the invocation, and Shane Baker, Funeral Director, shared the recognition of the Armed Services of the United States. Debbie Blattel on behalf of VFW Auxiliary 12024 read "In Flander's Fields", and guest speakers Josh Cherry and E.A. "Buddy" Grantham each shared thoughts on Memorial Day. The service concluded with the Parade of Wreaths, "Taps", and Rev. Margarita McCarthy shared the closing prayer.
Forest Park The Woodlands Funeral Home and Cemetery is located at 18000 I 45 S The Woodlands, Texas 77384. For more information, please call 936-321-5115 or visit online at www.forestparkthewoodlands.com.