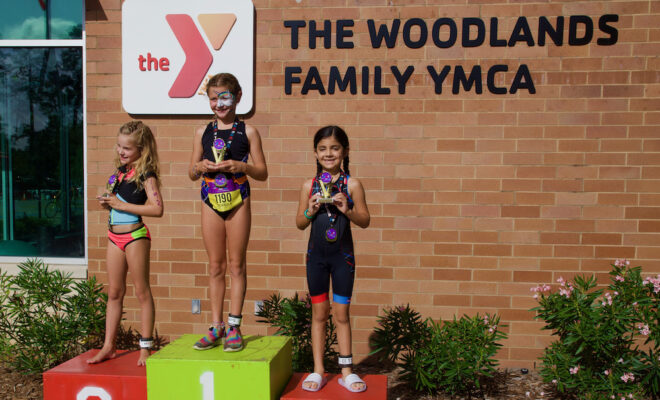 Photo Credit: Rod Prado, Hello Woodlands
Fitness & Sports
19th Annual YMCA Kids Triathlon held at Branch Crossing YMCA as part of Summer Race Series
By |
The 19th annual YMCA Kids Triathlon was held on Saturday, July 16 at 7:30 a.m. at the Branch Crossing YMCA location. Youth, ages 6-12, were able to experience the fun and excitement of triathlon. The event was designed for all levels and was a morning of friendly competition and physical activity.
View photos from the event on the Hello Woodlands Facebook page and on Instagram:
Presented by Texas Children's Hospital The Woodlands, the Kids Triathlon benefits the YMCA Annual Campaign, which ensures everyone, regardless of age, income, or background, has the opportunity to learn, grow, and thrive at the Y. Proceeds from the event will help the YMCA to create a stronger community, multiply impact, and bring about meaningful change.
The Triathlon involved three activities – swimming, cycling, and running – with segments running consecutively until all three elements are completed. Distances varied per age group: Children ages 6-9 years swam 50 meters, cycled for 1 mile, and ran ¼ mile. Children ages 10-12 swam 100 meters, cycled for 2 miles, and ran ½ mile. Previous triathlon experience was not required.
The 2022 event featured timing straps/tags for faster and more accurate finish line results and featured seven age divisions: 6, 7, 8, 9, 10, 11, and 12 years. Boys and girls competed separately in their age groups and the top three finishers, male and female, in each age group received a special award. All participants received a goodie bag, t-shirt, finisher medal, and refreshments at the conclusion of their race.
Post-race activities included refreshments, face and balloon art, mascots, music, games, photo booth, awards ceremony, sponsor booths, and concessions were available for purchase.
The event was sponsored by Texas Children's Hospital The Woodlands, SelecTRI, Kelsey-Seybold The Woodlands, Raising Cane's, Alight Solutions, Haynie & Company, Two Men & a Truck, The Woodlands Township, Swim Labs The Woodlands, Hunter Family Orthodontics, Valorem Insurance, The Woodlands Chamber of Commerce, and H-E-B.
Kids Triathlon is Race #2 of the new YMCA Summer Race Series for Kids and Teens. Registration is now open for the inaugural YMCA Kids Duathlon, scheduled for August 13. For more information and online registration, visit ymcahouston.org/ymca-kids-tri. Sponsor and volunteer opportunities are still available. For more information, contact Roxanne Davis at 281-367-9622 ext 230.