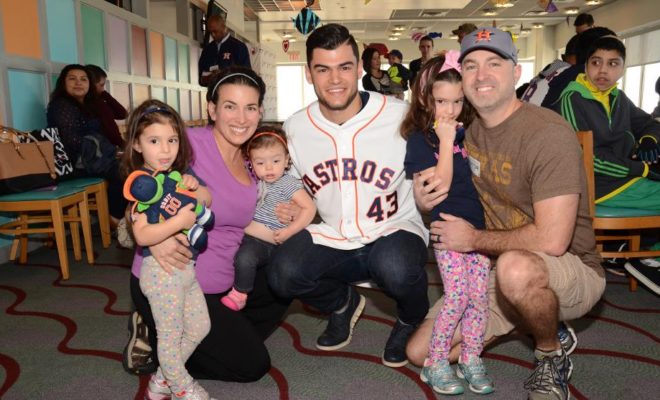 Photo by MLB Houston Astros
Events
2018 Astros Caravan to visit The Woodlands January 12
By |
The Houston Astros are ready to travel around Southeast Texas for the 2018 Astros Caravan, presented by Academy Sports + Outdoors. The Caravan week kicks off Wednesday, January 10th and goes through Friday, January 12th with stops in cities across the area with a combination of community outreach and public appearances. 
Astros Players Carlos Correa , AJ Hinch and Forrest Whitley will be joining the caravan as well as Astros TV Broadcaster Geoff Blum. AJ Hinch will not be attending the stop in The Woodlands.
Locations in North Houston – The Woodlands:
Academy Sports + Outdoors Autograph Signing
Time: Friday, January 12 at 5:00 p.m. – 6:00 p.m.
Address: 1360 Lake Woodlands Dr., The Woodlands, TX 77380
Details: One (1) hour autograph session. Player(s) and times subject to change. Autograph passes will be distributed 2 hours prior to the start of the event. One autograph pass per person and must be present to receive. Passes do not guarantee an autograph and only acts as a place holder in line. Players will only sign the commemorative World Champion autograph card provided at each Academy Sports + Outdoors location at the time of signing.
Caravan Jam at the Fountains at Waterway Square
Time: Friday, January 12 at 5:00 p.m. – 7:00 p.m.
Address: 31 Waterway Square Place, The Woodlands, TX 77380
Details: Join us at our Caravan Jams in The Woodlands where fans will have the opportunity to enjoy live music, inflatables, food trucks, face painters, caricaturists, and more! Players will make a 30 minute appearance at the 2-hour Caravan Jam and will participate in a Q&A and take on some of the fans in attendance in some fun interactive games.
The 2018 Caravan includes stops in Houston and surrounding cities (January 10th-12th), Corpus Christi (January 11th), Beaumont (January 10th), Austin (January 10th) and San Antonio (January 11th).
To end a week of appearances, visit at Minute Maid Park for the annual FanFest on January 13th from 11:00am to 4:00pm.

Learn more about the 2018 Astros Caravan and the Houston Astros at https://www.mlb.com/astros/fans/caravan
Source: MLB, Houston Astros