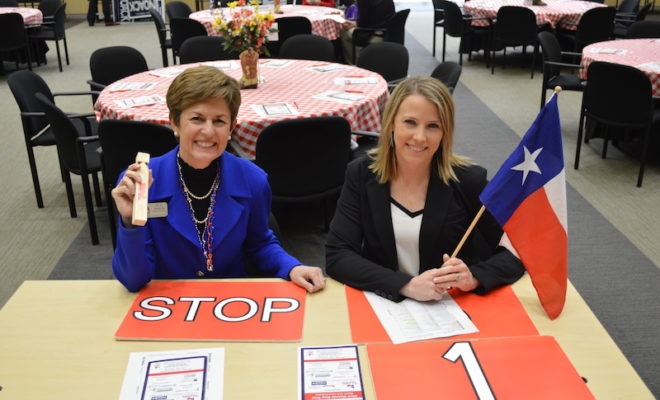 Events
2018 Candidates to attend Whistle Stop Tour on February 2
By |
THE WOODLANDS, TX – The Woodlands Area Chamber of Commerce will host the 2018 Meet the Candidates: Whistle Stop Tour on Friday, February 2, 2018 from 11:00am to 2:00pm at The Lone Star College System Office Community Building, 5000 Research Forest Drive, The Woodlands.
The Whistle Stop Tour is an old fashion political campaign stop hosted by The Woodlands Area Chamber of Commerce every even year. This patriotic event's mission is to inform the community and its members about candidates running for office. All candidates appearing on the Montgomery County ballot are invited to participate in the event. Attendees will enjoy lunch, while having the opportunity to meet and greet with candidates and enjoy a modern take on this nostalgic experience.
The following candidates have confirmed their participation in the February 2 Whistle Stop Tour:
Commissioner of Agriculture: Trey Blocker, Sid Miller; County Clerk: Jeanie Stewart, Mark Turnball; County Commissioner Pct. 2: Brian Dawson, Greg Parker, Charlie Riley; County Judge: Craig Doyal, Mark Keough, Jay Stittleburg; County Treasurer: Melanie Bush, Stephanne Davenport, Mandy Sunderland; District Clerk: Cynthia Jamieson, Melisa Miller, John-Brandon Pierre; District Judge, 284th Judicial District: Kristin Bays, Jo Anne Linzer; Justice of the Peace Pct. 3: Matt Beasley, Ronnie Yeates, Daniel Zientek; Justice, 9th Court of Appeals District, Place 3: Leanne Johnson; State Representative District 15: Lorena Perez McGill, Jackie Waters; U.S. Representative District 8: Kevin Brady, Steven David; U.S. Senator: Stefano De Stefano; Republican County Chair: Terrence Boggs, Dr. Walker Wilkerson.
J.J. Hollie, president & CEO of The Woodlands Area Chamber of Commerce shared, "Encouraging voter turnout and voter awareness is a key way that we can fulfill our mission to be an effective catalyst for the economic growth and prosperity of our community. The Whistle Stop Tour is an exciting way to meet our candidates from all levels of government and drive voter turnout on election day for the primaries on March 6."
The Whistle Stop Tour is produced by The Woodlands Area Chamber of Commerce with the Business Advocacy Council team. The Business Advocacy Council (BAC) is a team of dedicated volunteers that meet monthly to discuss key topics related to The Chamber's legislative priorities. BAC volunteer leadership team includes Stuart Lapp of Stibbs & Co. P.C. Attorneys, Vice President of Government Affairs and Board Member of The Woodlands Area Chamber of Commerce, Kevin Kastor of Consolidated Communications and Team Leader for the Business Advocacy Council and Melissa Bochat of Entergy Texas, Inc. and Co-Team Leader for the Business Advocacy Council.
Tickets are on sale at www.WoodlandsChamber.org/WhistleStop which include admission and lunch. Tickets are $25 for chamber members, $35 for non-chamber members, and can be purchased in advance or at the door.