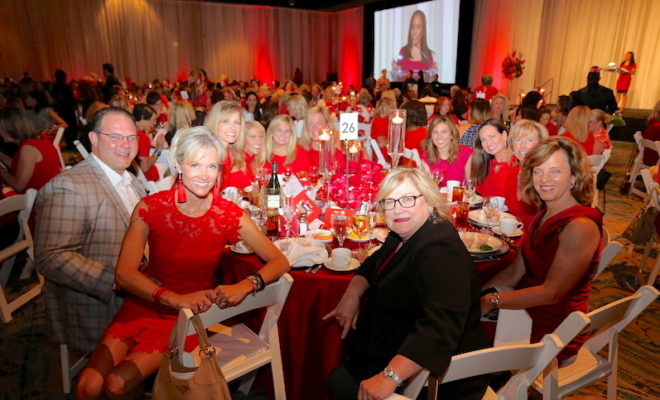 Events
Go Red For Women Luncheon in The Woodlands
By |
THE WOODLANDS, TX—  The American Heart Association's Montgomery County Go Red For Women® Luncheon welcomed guests dressed in red as they raised funds and awareness for cardiovascular disease on Friday, May 11, 2018 at The Woodlands Waterway Marriott.
View moments captured inside the event by Hello Woodlands:
Why Go Red? As the No. 1 killer of women – claiming the lives of one in three women – cardiovascular diseases affect women of all ages, races and ethnicities. While cardiovascular diseases kill nearly 1 woman every 80 seconds, 80 percent of these cases may be prevented with education and action, research shows.
Tiffany MacPherson was the Chair of the 2018 Montgomery County Go Red For Women® Luncheon. Carla McDaniel, who was born with a congenital heart defect and had her first heart surgery at age four, shared her story as the Open Your Heart honoree and to help bring awareness to the seriousness of heart disease. Market Street, a mixed-use town center featuring retail, hotel, restaurant, cinema, and office venue, was selected and highlighted as the 2018 event honoree for its continued commitment and dedication to the Montgomery County community.
Cardiovascular disease, listed as the underlying cause of death, accounts for nearly 801,000 deaths in the US. That's about 1 of every 3 deaths in the US.  About 2,200 Americans die of cardiovascular disease each day, an average of 1 death every 40 seconds.  Cardiovascular diseases claim more lives each year than all forms of cancer and Chronic Lower Respiratory Disease combined.  About 92.1 million American adults are living with some form of cardiovascular disease or the after-effects of stroke.
View photos from the event on the Hello Woodlands Facebook page!
Learn more about the American Heart Association of Montgomery County and Go Red For Women at montgomerycountygored.heart.org.