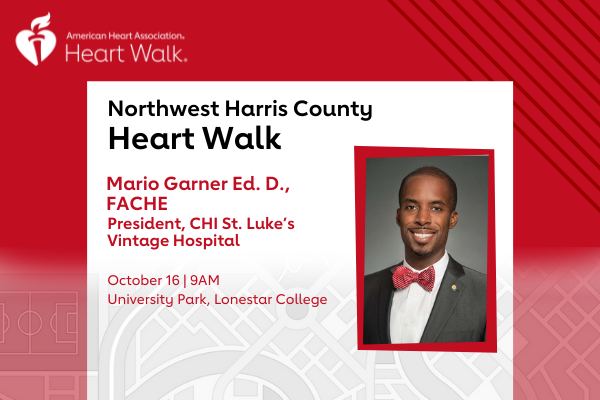 Events
2021 Northwest Harris County Heart Walk Chair leads Heart Challenge Campaign
By |
The American Heart Association (AHA), the world's leading nonprofit organization focused on ensuring longer, healthier lives for all has named Mario Garner, PhD, President, CHI St. Luke's Vintage Hospital, as Chair for the Northwest Harris County Heart Walk. Garner is charged with stewarding a $300,000 campaign fundraising goal to support the lifesaving work of the American Heart Association.
Mario Garner serves as president of CHI St. Luke's Vintage Hospital in Houston, TX. He previously served as vice president and chief operations officer of the Southeast Market Hospitals of Memorial Hermann Health System Houston. Garner joined Memorial Hermann Health System in 2015 as the CEO of Memorial Hermann Pearland Hospital, overseeing completion of the new hospital which opened in March 2016. Originally from Lake Charles, LA, Garner graduated from Louisiana State University with a bachelor's degree in microbiology. He earned a master's degree in healthcare administration from Tulane University and a Doctor of Education degree in administration and supervision from the University of Houston. He is a member of the LSU Alumni Association Global Board of Directors and holds an assistant adjunct professor appointment at Tulane University School of Public Health. Mario has also received numerous industry accolades, including the 2016 Young Alumnus of the Year by the LSU National Alumni Association and induction into the LSU Alumni Hall of Distinction.
The Northwest Harris County Heart Walk is bringing us back together to reinvigorate heart healthy lifestyles. Heart Walk, which will be held in person on Saturday, October 16 at Lonestar College – University Park, unites the community in celebrating health and honoring survivors. Davis will be joined by other likeminded county executives working to increase physical and mental health, combat burnout and promote community engagement.
The funds raised through the Heart Walk campaign further the mission of the American Heart Association to be a relentless force for a world of longer, healthier lives. Locally, the funds support community impact work to address nutrition security, hypertension and women's health. These have been identified as key priorities in North Houston and the propel work to accomplish the Association's 2024 Health Equity Impact Goal, reducing barriers to health care access and quality.
Register by visiting NorthwestHarrisCountyHeartWalk.org, download the Heart Walk mobile app to launch your personal fundraising page. Encourage friends and family to join in via e-mail and/or social media (Facebook/Instagram/Twitter: @AmericanHeartTX). Everyone is encouraged to dress in their Heart Walk best and come out to move more with their community!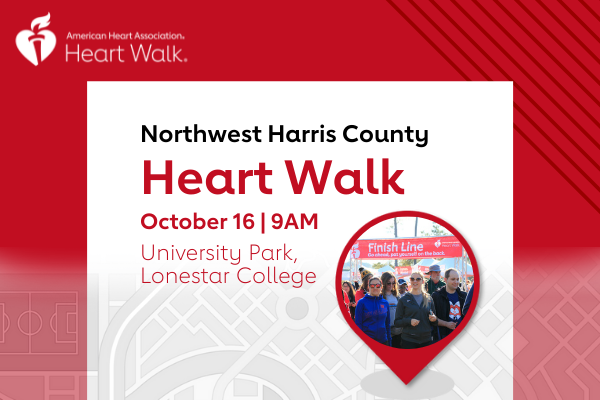 About the American Heart Association
The American Heart Association is a relentless force for a world of longer, healthier lives. We are dedicated to ensuring equitable health in all communities. Through collaboration with numerous organizations, and powered by millions of volunteers, we fund innovative research, advocate for the public's health and share lifesaving resources. The Dallas-based organization has been a leading source of health information for nearly a century. Connect on heart.org, Facebook, Twitter or by calling 1-800-AHA-USA1.