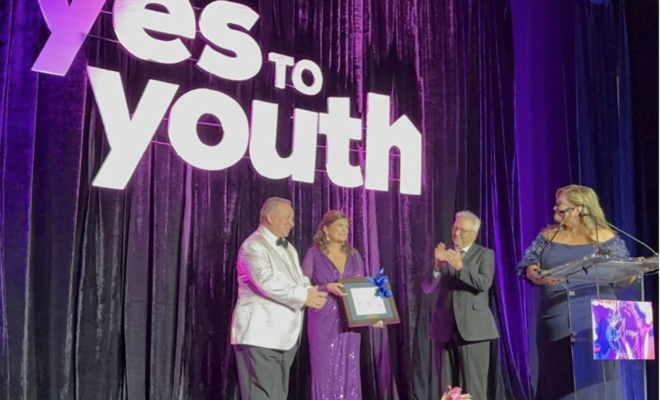 Events
2023 YES to YOUTH Bloom Gala Raises Record Funds
By |
THE WOODLANDS, TX – The Woodlands Waterway Marriott Hotel and Convention Center was the setting for the 2023 YES to YOUTH Bloom Gala, where 600 guests, dressed in an array of colorful formal wear, enjoyed a night of record-setting fundraising for the children and families they serve.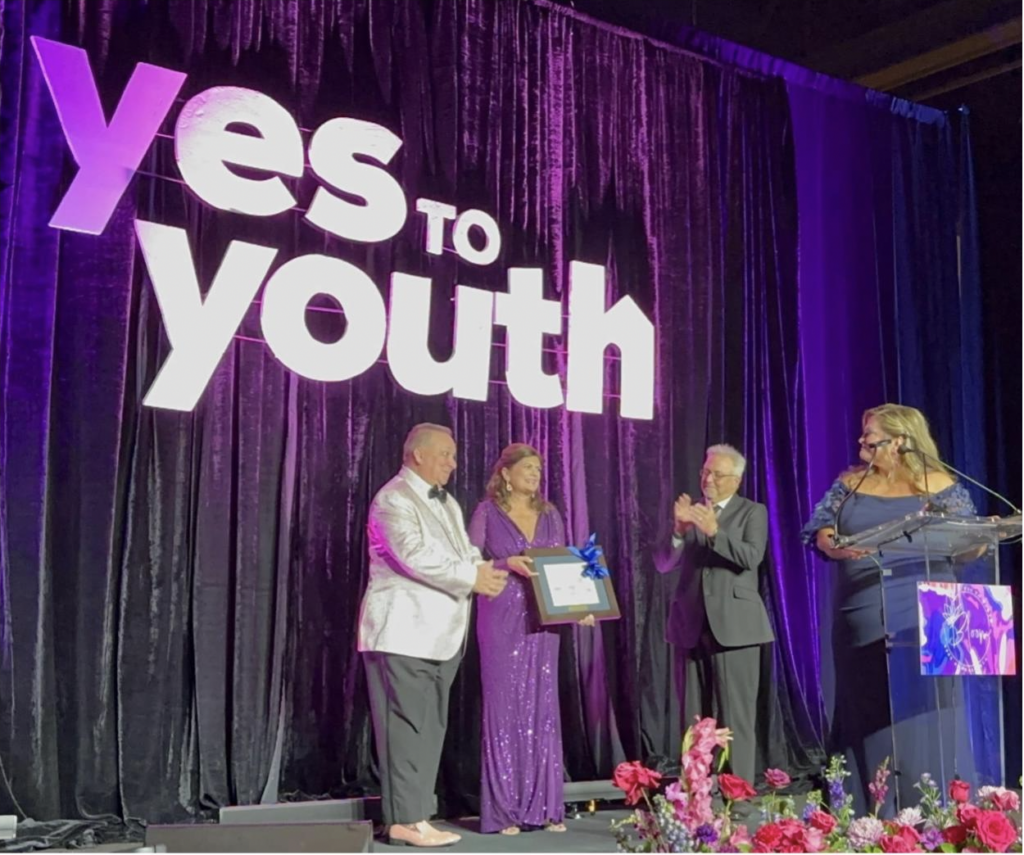 Michele Kooken, YES to YOUTH Chief Executive Officer, along with event chairs Andrea Aertker, Tiffany Baker, Kristin English, and Bethany Shrewsberry, welcomed guests and thanked them for their support.
Life-sized clusters of flowers adorned the entryway, inviting guests into the beautiful reception where the jazz sounds of the Bell Tones beckoned them into the room. Above the musical trio was a screen that showed children from the BridgeWay Emergency Youth Shelter holding up signs displaying their dreams. Dreams ranged from children wanting to play high school football to wanting to see their brother and sister again to being a chef.
Auctioneer Pat Tully manned the bid board where a spectacular 24 items were displayed. Offerings ranged from children's camp packages to fly fishing trips to chef-inspired dining experiences from Truluck's and Kirby's. Not only were people in attendance vying to be the highest bidder, but bidders off-site used the mobile bidding platform to stay in the game!
When the bells chimed, it was time to woo the revelers into the dining space, surrounded by hues of pink, purple and blue, bringing the Bloom theme to life. Bret Strong, a longtime friend and supporter of YES to YOUTH served as emcee. Reverend Pierce Drake from The Woodlands Methodist Church opened the event in prayer.
A series of videos played throughout the night told the story of a 14-year-old boy named Jason who ends up homeless after his father is arrested for drug possession. He ends up at BridgeWay Emergency Youth Shelter and is ultimately adopted by a loving family. There weren't many dry eyes in the place as the story unfolded about his struggle, one that many children will face this year alone through no fault of their own.
Each year, YES to YOUTH selects honorees who have made an indelible mark on the program through their generous donations of time and treasure. This year, the honoree was Kristin L. Young, and the corporate honoree was The Howard Hughes Corporation, represented by Dan Kolkhorst. Each honoree has served YES to YOUTH in countless ways. Michele Kooken, CEO, made eloquent remarks sharing the impact they have made on the lives of children and families through their support and leadership of YES to YOUTH. She presented both with a framed artist watercolor painting of the newly constructed Bridgeway Shelter.
Kooken then welcomed the event chairs, Andrea Aertker, Tiffany Baker, Kristin English, and Bethany Shrewsberry to the stage and thanked them for their leadership. "It's not without great thought and consideration when we ask volunteers to step into a gala chair role. We ask a lot of our chairs and in return, they give a lot." She commended the chairs on going "above and beyond" to make the event a success.
Kristin English reminded guests about the importance of the YES to YOUTH mission that serves the battered and abused, and exploited youth. She implored guests to be generous to transform the tomorrow for these children. Andrea Aertker thanked the committee for all of their contributions to the gala, and Tiffany Baker and Bethany Shrewsberry thanked the many sponsors. Special thanks were given to Presenting Sponsor, Tricia and Jack Futcher; Diamond Sponsors, Richie's Specialty Pharmacy/Private Luxe Travel; Kristin L. Young and Associates – Ameriprise; Richmond Realty Group; and Waste Connections.
Finally, the lights went up and Pat Tully kicked off the Live Auction where top sellers were the Everson Wine Cellar Dinner catered by Mastros, and a stunning pink sapphire and diamond earring and necklace set, custom-designed by John Robichau from Robichau's Jewelry.
Tully concluded the fundraising portion of the event with Fund a Need, asking guests to open their hearts and wallets to support YES to YOUTH's Emergency Youth Shelter, Crisis Hotline, Suicide Hotline, and Mental Health Counseling services. The mood in the room was electric as paddles were raised enthusiastically around the room at all levels of giving.
To find out how you can support the life-giving services of YES to YOUTH, please go to www.sayyestoyouth.org.