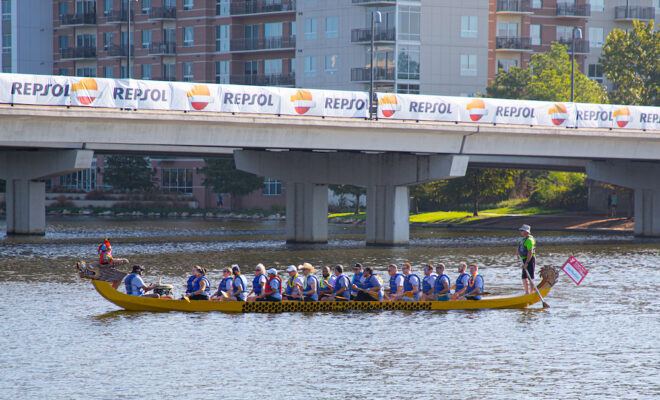 Photo Credit: Rod Prado
Events
24th Annual YMCA Dragon Boat Team Challenge returns to The Woodlands
By |
The YMCA Dragon Boat Team Challenge presented by Repsol is taking place September 28-30, 2023 at Northshore Park in The Woodlands. For the 24th year, teams are racing colorful, dragon-headed boats across Lake Woodlands, participating in games and enjoying friendly competition in support of the community-strengthening programs provided by The Woodlands Family YMCA.
View photos from the race day on Friday, September 29 on the Hello Woodlands Facebook page:
This year, 75 teams are Rowing for a CAUSE to help raise funds for the YMCA so they can deepen the Y's impact in the community and serve more families that need help. The YMCA strives to turn no one away due to the inability to pay.
Spectators are encouraged to stop by and cheer on their favorite team and admission is free for spectators at the 24th Annual YMCA Dragon Boat Team Challenge. The three-day event that started on Thursday, September 28 and goes through Saturday, September 30 is taking place at Northshore Park in The Woodlands. Teams will participate in a single 4-hour bracket, 8 a.m. to Noon or 2-6 p.m.
The event features different team activities, but the Dragon Boat races are the main event. Dragon boats are 40 feet long, colorful dragon headed canoes weighing over 1,800 pounds each! This exciting team-building event is designed to build community spirit among corporations, civic groups and community organizations. The activities are designed to bring individuals together to achieve a single goal – to have fun and build relationships. They achieve this by becoming a team and working together as a synchronized unit. It's much more than "beating the other team" – it is the camaraderie and team spirit, connecting with old friends, meeting new friends and laughing. Along with improving health, whenever teamwork is involved, there's the added benefit of being linked to others.
Learn more at https://ymcahouston.org/join/dragon-boat.