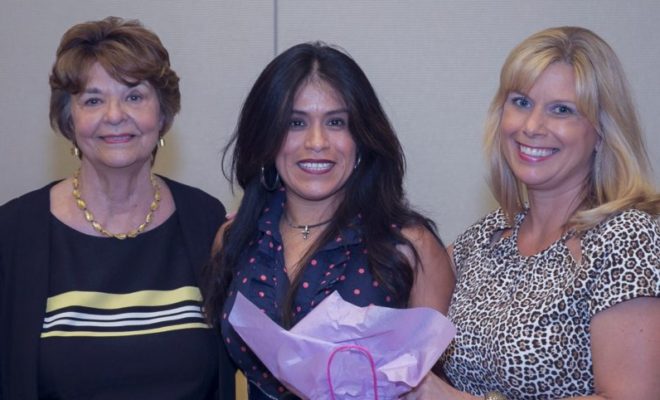 Events
26 Scholarships Awarded to Survivors of Domestic Violence
By |
Montgomery County, Texas – The Montgomery County Women's Center recently held its annual Scholarship Awards Ceremony during which 26 higher educational scholarships were awarded to its clientele.
Dr. Alicia B. Harvey-Smith, Executive Vice Chancellor of Lone Star College, generously donated the venue at the Lone Star College System's Community Building in The Woodlands and also donated the dinner catered by Catering Delights.
Whether taking remedial classes to begin college or taking the final courses to earn an undergraduate with plans for a master's degree, each woman exuded courage and a fierce determination to make a better life for themselves and their children.
Adorning the evening's printed program was the quote by B.B. King, "The beautiful thing about learning is that no one can take it away from you." That quote certainly set the tone for the awards ceremony as several of the recipients shared their sentiments.
One woman said, "There's been some changes and some hard times I didn't foresee. Eventually, I began to believe that my opinion and self-worth didn't matter and that my goals were silly because that's what I was told. But that was the old me. Thanks to the help and counseling I got at the Women's Shelter, I've gained so much self-confidence as well as friendships that have been invaluable. Whether you've endured physical, verbal, or sexual abuse, it means a lot to know someone is out there – someone who has your back and believes in you, even though you may have made some bad decisions. My case manager kept pushing me to never give up."
Another shared, "I got away from an abusive household and reached out for help. I learned that school is a way out of never ending-poverty. By sharing knowledge, love, and compassion as I've experienced at the Women's Center, I know I can truly make a difference in other peoples' lives. I've learned that in order to help others, I have to help myself."
Yet another said, "It is a challenge pursuing goals to get where one can breathe. This is the point where I can be in the here and now, and not fear the future. With the help of generous donors, I can move closer to my degree and hopefully pay it forward by helping those who cannot afford to help themselves. The Montgomery County Women's Center and the donors make it part of their mission to pay it forward. Every day is a challenge, but every day is also a triumph."
Lastly, a recipient expressed, "Having attended Lone Star College, I am now working on completing my Bachelor of Science degree in Human Development and Family Studies at the University of Houston. Thanks to the Women's Center, today I stand before you a little braver and a little bolder, and can say fearlessly a survivor of sexual abuse. I learned that depriving others of my story is a disservice to the one in four women who struggle to speak up and get help. This program gives women a voice. It equips them with valor, turns a victim into a survivor and a single mother into a warrior and the proletariats into graduates."
Nearly all the women are working while going to school with future career goals from their educational endeavors to include human resources management, nursing, law, business administration, early childhood education, social work, criminal justice, health care administration, psychology, music therapy, computer network administration, human development and family studies, accounting, teaching, and health and nutrition.
Sarah Raleigh, MCWC President and CEO, who officiated the scholarship presentations along with Marion Fischer, MCWC board member and scholarship committee member, said, "Starting or going back to college later in life can be a daunting task. But as we read the applicants' essays and conducted one-on-one interviews, we were so awe-inspired at the dreams and ambition they had toward their educational goals. We knew these scholarship donations would be well used in making a positive impact in their lives."
Fischer added, "Many of these women are still facing struggles but these are people that are overcoming them. The generous scholarship donations are unlocking doors. For our returning recipients, we are so proud of the progress these ladies are making, especially as they work hard to set an example for their children, and we look forward to seeing them again next year."
The 2017 scholarship donors included the Kathy and John Agee, Alden Bridge Village Association, Inc., Nell and Ed Belanger, Tom Cox, Sr., Susan and Mike Crabbs, Judy Drummond, Marion and John Fischer, Jerry Hantman, Cindy and Rob Hardin, Aletha and Jeff Harris, Jean and Andy Hruby, Brynn and Peter Huntsman, Indian Springs Village Association, Jan and Jim Larson, The Manley Family Foundation, Ally and Mike Seder, Debbie Stanford, Maya and Datren Williams, Amy and Steve Wolford, and Kathie and Scott Wolford, as well as the MCWC board of directors.
Serving on the MCWC scholarship committee were Nell Belanger, Susan Crabbs, Marion Fischer, Linda Manley, and Phyllis Ocheltree.
The Montgomery County Women's Center is a 501(c)(3) nonprofit organization and is a United Way agency whose mission is to end domestic violence and sexual assault in Montgomery and surrounding counties through assistance, advocacy, empowerment and education. Services include a 24-hours crisis hotline, emergency shelter for those fleeing abuse, counseling, transitional housing support, legal services, advocacy through the medical and legal process, and education and outreach in the community and schools.
To make a scholarship donation, contact Deana Germany at 936-441-4044, ext. 29 or email deanag@mcwctx.org.
For more information, call (936) 441-4044 or the 24-hour crisis hotline at (936) 441-7273 or visit www.mcwctx.org.
PHOTO: Marion Fischer (MCWC board member, donor, and scholarship committee member), Norma Rangel (scholarship recipient), and Sarah Raleigh (MCWC President and CEO)