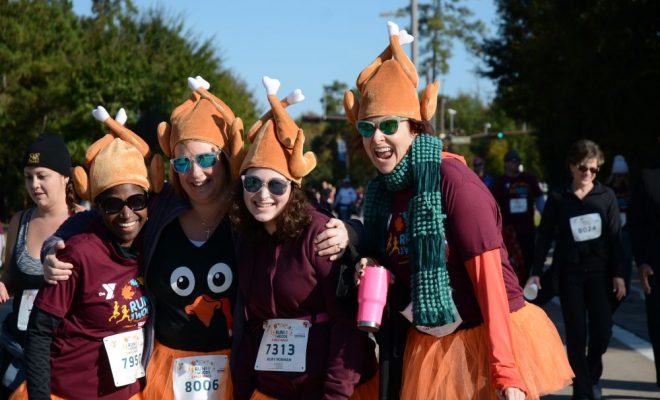 Events
30th Annual YMCA Run Thru The Woods – Running for a Cause Since 1989
By |
THE WOODLANDS, TX – In celebration of 30 years running for a cause, Huntsman Corporation has generously taken the lead as presenting sponsor for the annual YMCA Run Thru The Woods charity event held on Thanksgiving morning in The Woodlands, Texas.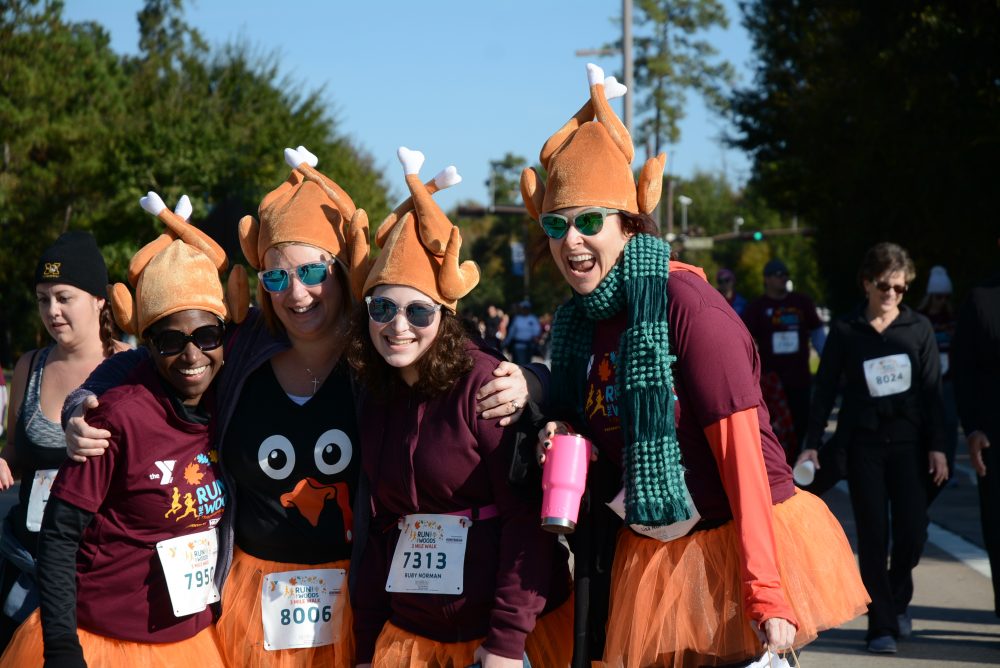 For three decades, Run Thru The Woods has been one of the premier running and walking family events in Texas. This year, the charity event expects to attract more than 4,600 participants from around the country. Registration is still open but don't delay as registration will end at Noon on November 27th. There is no race day morning registration. This holiday tradition began as a small fun run in the city of Oak Ridge North in 1989 to benefit Oak Ridge High School's Operation Graduation.
In 1994, the committee reached out to the YMCA and other community partners to expand participation throughout South Montgomery County. The Woodlands Mall opened in fall of 1994, and the race was titled Run to The Mall with the start and finish line located at the mall. The first year with the YMCA involved, the race attracted more than 200 participants and raised $4,000 for youth charities.
In 1995, the race committee moved the race to Thanksgiving Day and called it The Gobbler 5 Miler. The first Thanksgiving race, at The Woodlands Mall, attracted more than 500 participants and raised $10,000.
In 1996, the event attracted a title sponsor, BetzDearborn, and adopted the current name, Run Thru The Woods. Relocated to the Cynthia Woods Mitchell Pavilion, that year's race had more than 900 participants and raised $23,000.
Over the years, Run Thru The Woods continued to grow in popularity and in money raised for youth organizations. In 2001, participation topped 2,500 and the race raised $60,000!
BetzDearborn was purchased by GE and the event became known as the GE Run Thru The Woods in 2006. In another benchmark year, participation exceeded 4,000 and the race raised $100,000.
In 2007, The Egg & I restaurant joined in on the fun and began offering free pancakes for breakfast on race day to all participants. A 3 Mile Run was added.
Fast forward to 2019, where event planners are preparing for 4,600 participants and hope to raise more than $180,000.
The annual event has raised more than $2.5 million since it began. Thank you to our major sponsors who support running for a cause: Huntsman, The Woodlands Township, Texas Children's Hospital The Woodlands, Memorial Hermann The Woodlands Medical Center, Houston Methodist Hospital The Woodlands, Alight Solutions, CWM Pavilion, Gullo Dealerships, MD Anderson Cancer Center, Fleet Feet, Spectrum Events, Bayside Printing, Market Street, Papa John's Pizza, Pepsi Beverages, Raising Cane's and Repsol.
The event is November 28, 2019, at the Cynthia Woods Mitchell Pavilion in The Woodlands Town Center. Designed for a wide variety of participants, categories and start times include a competitive one-mile Children's Race for ages 12 and younger starting at 7:30 a.m.; a five-mile race at 8:15 a.m.; and a three-mile race and three-mile walk starting at 8:25 a.m. Wear your favorite Thanksgiving costume. Strollers are welcomed but please leave your pets at home. Awards include special prize package to the overall top three finishers, male and female, in both the five-mile run and three-mile run. Awards will be awarded to the first-, second- and third-place finishers, male and female, in each age group including five-mile, five-mile masters division, three-mile race, and three-mile masters division. In the one-mile children's race, first- through fourth-place awards will be distributed to the top four finishers in each age group, male and female. A special 30th anniversary finisher medal will be handed out at the finish line to all participants.
"Over the years, this popular holiday event has never lost touch with its mission: To provide a fun community event for all ages and all levels, promoting youth development, healthy living, community service and social responsibility as well as raising awareness and funds for the deserving youth organizations the event supports," said Roxanne Davis, race director and community liaison of The Woodlands Family YMCAs.
"Give back, give thanks, let's run and have fun! YMCA Run Thru The Woods is a great way to begin Thanksgiving Day and kick off the holiday season. There's the excitement of thousands of people pulling together with purpose, and it's a great way to spend time with family and friends, to encourage each other, and give thanks and support local nonprofits, including the YMCA. I have had the privilege to be involved and watch the event grow since 1994! We live in a very generous and caring community."
Register early and save. Fees increase November 20th. Registration ends at Noon on Wednesday, November 27th. There is no race day morning registration. To learn more and register for YMCA Run Thru The Woods, visit runthruthewoods.org.
Volunteer opportunities available. Contact Roxanne Davis, Race Director, at 281-681-6730.
First organized in 1886, the YMCA of Greater Houston is one of the city's leading nonprofits dedicated to strengthening communities through youth development, healthy living and social responsibility. The YMCA, a United Way of Greater Houston agency, seeks to serve all – regardless of age, income, faith or background and we welcome everyone. In the greater Houston area, 29 YMCA centers, one overnight camp and hundreds of program sites nurture the potential of children and teens, improve the city's health and well-being, and provide opportunities to give back and support neighbors. Anchored in the Houston community, the Y has the long-standing relationships and physical presence not just to promise, but to deliver lasting personal and social change. To learn more, call 713-659-5566 or visit us on the web at ymcahouston.org.
Huntsman Corporation is a publicly traded global manufacturer and marketer of differentiated and specialty chemicals with 2018 revenues of more than $9 billion. Our chemical products number in the thousands and are sold worldwide to manufacturers serving a broad and diverse range of consumer and industrial end markets. We operate more than 75 manufacturing, R&D and operations facilities in approximately 30 countries and employ approximately 10,000 associates within our four distinct business divisions. For more information about Huntsman, please visit the company's website at www.huntsman.com.