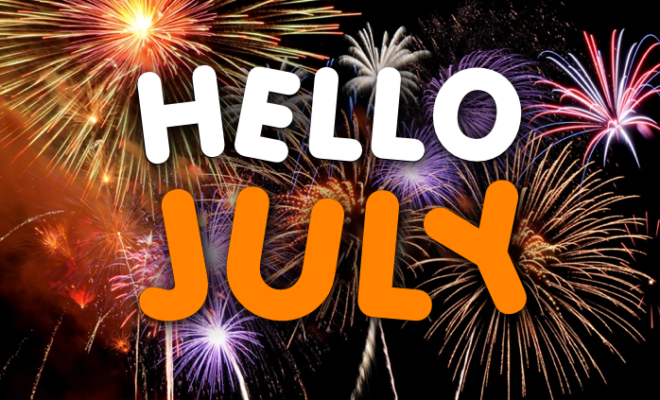 Calendar
31 Things To Do in July
By |
Hello July! Discover what's happening with the Hello Woodlands' new monthly guide called "31 Things To Do" featuring events, activities, locations, and ways to get involved in your community.
Join us this July by trying new activities and attending events in and around The Woodlands, Texas. Be sure to follow us on social media at @HelloWoodlands and subscribe to our email newsletter to stay updated for upcoming events, ticket giveaways, live videos, photos, and so much more!
31 THINGS TO DO – JULY 2018
FEATURED EVENTS
July 2 – Sacrifice Has A Name and A Face Exhibit – Glade Gallery is hosting the nationally acclaimed exhibit The Conflict Zone and a display of the first 30 dog tags from the Afghanistan & Iraqi war. The open house is from 10 a.m. until 1 p.m. with a special reading of the Declaration of Independence at 11 a.m. by Jose Palafox of Starfox Financial Services. At 6:30 p.m. the Freedom to Laugh Comedy Show benefitting the Glade Arts Foundation will begin, starring Phil Palisou and Andy Higgins (as seen on America's Got Talent). Hors d' oeuvres will be provided by Kirby's and there will be a cash bar. 18 and older only. Tickets are $35, Free admission for Veterans. Purchase Tickets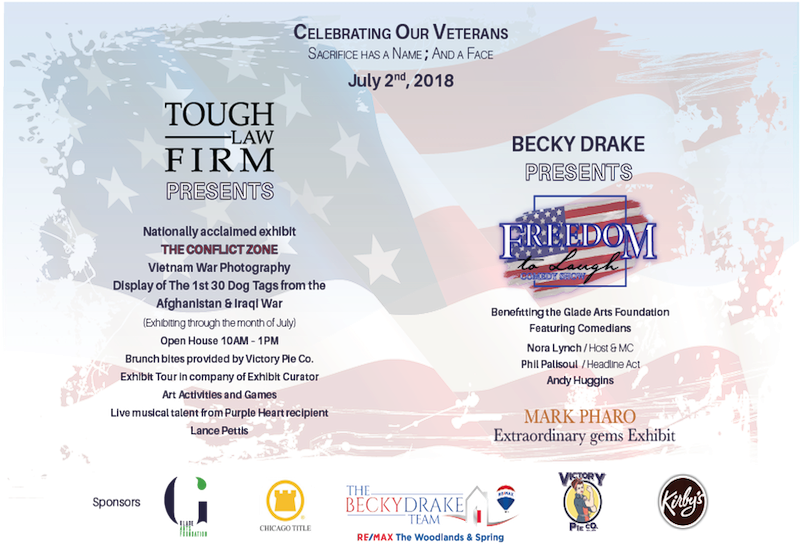 July 8 – Woodforest Birthday Bash – Woodforest is celebrating nine years of home sales with a Birthday Wishes Home Tour and a free Birthday Bash 11 a.m. to 2 p.m. Sunday, July 8! Stop by the Homefinder Lodge, 101 Elk Trace Parkway, to help celebrate with cake, snow cones, music, inflatables, a game truck and birthday surprises. Birthday goodies also will be available Saturdays and Sundays throughout July at the lodge where people can pick up tour maps and register to win a $1,500 staycation. Learn more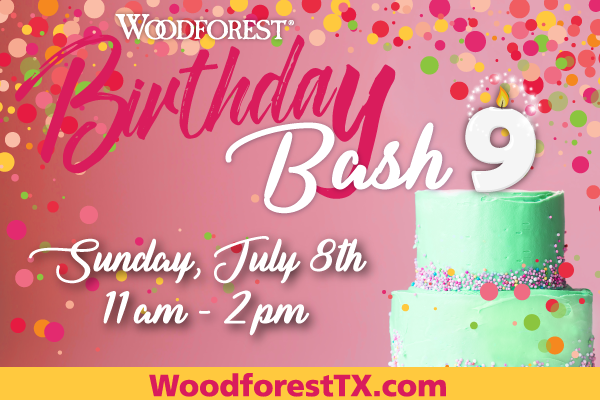 July 27 – "Final Friday" Dance Party – Bring your friends, family, and neighbors and experience social dance on Friday, July 29 at 7:30 p.m. at Country Dance X! Age 21 and up only. No cover or admission fee! Includes group classes, dancing, open bar with beer, wine and cocktails, food and free parking. Sign up for your FREE dance lesson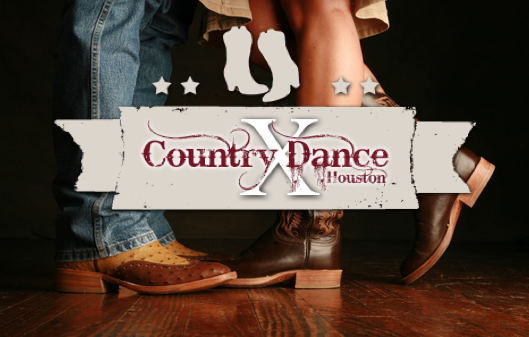 July 28 – Health, Beauty, & Wellness Expo – Bring the whole family to the 2018 Health, Beauty & Wellness Expo on July 28th hosted by The Truly Natural Company. This free, fun-filled event will be inside The Recreation Center at Rob Fleming Park from 9:30 a.m. to 2:00 p.m. Open to the public, it will be a great opportunity for the entire community to connect with and support small businesses in The Woodlands area offering services and products for sale. Additionally, we will be collecting new school supplies on behalf of Interfaith Young Professional's Kits 4 Kidz program. Learn more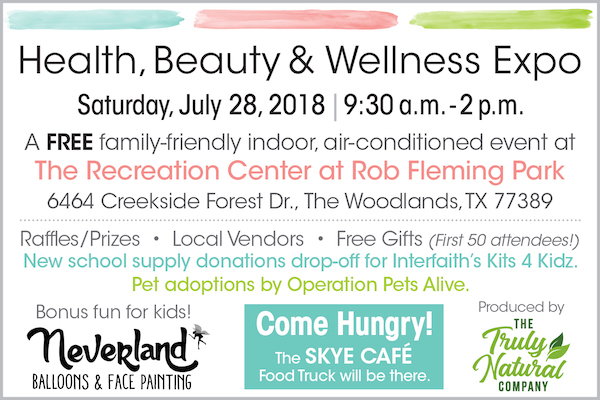 Visit the Hello Woodlands Calendar for MORE events, event information, details, directions, and links!
JULY EVENTS
June 30 to July 1 – Chadillac's Summer Music Festival 2018 – Don't miss Cory Morrow, Sam Riggs, Jason Cassidy, Rich O'Toole, Bri Bagwell, & Jesse Raub Jr. live at Chadillac's Backyard Waterpark June 30th – July 1st! Enjoy two days of Texas country music, camping, sun, fun, Louisiana's finest crawfish, tasty beverages, & games. Chadillac's Backyard Waterpark is a family oriented waterpark new to Conroe, Texas. It offers swimming, slides, volleyball, washers, camping, horseshoes, beer pong, BBQ pits, camping, and more. Slayer's Reptile Ranch will have an exotic animal ranch at the event with giant snakes, lizards, turtles & more. This event is kid-friendly & BYOB for 21+. Tickets range from $20.00 – $65.00. Learn more
July 3 – Houston Symphony Star Spangled Salute – This free independence eve spectacular, which has been a tradition at The Pavilion for 28 years, features The Houston Symphony in a selection of patriotic favorites. Tickets are not required. Learn more
July 4 – 15th Annual "Burn Your Buns" Charity Bike Ride – More than 400 cyclists are expected to take to the streets through the rolling hills of northern Montgomery County on Wednesday, July 4th at the 15th Annual "Burn Your Buns" Charity Bike Ride benefiting Bridgewood Farms starting at 7:30 am at 11680 Rose Road in Conroe. Learn more
July 4 – South County Fourth of July Parade – The parade begins at 9 a.m. with marching bands, fire engines, clowns, horses and floats. The 1.3-mile parade begins and ends at The Woodlands United Methodist Church. A tent will be set up in front of The Cynthia Woods Mitchell Pavilion for senior citizens and the physically challenged to obtain relief from the summer heat. Join us
July 4 – Red Hot & Blue Festival – Celebrate freedom in The Woodlands with great food, live entertainment, children's activities and family fun at multiple locations around The Woodlands! The event culminates with one of the largest fireworks displays in the Greater Houston area. The following locations will have fun and free entertainment:
Rob Fleming Park will have food trucks, face painting and the country musical stylings of Keeton Coffman throughout the day.
Hughes Landing will feature musical entertainment from the '70s to the '80s by Phatso.
Waterway Square Parkwill have concessions, face painting, a balloon artist and entertainment by the Willow Creek Junction.
Town Green Park will have a wide variety of activities, including strolling entertainers, face painters, balloon artists, inflatables, a kids' zone, food vendors and two stages for music from the Pictures Band and Uptown Drive.
Northshore Park will feature face painting, food trucks and musical entertainment by Klockwork Band. This will be the site of the primary fireworks launch location.
Fireworks Launch – The 18-minute Fireworks Extravaganza will take place at approximately 9:30 p.m. The primary fireworks display will be located in Lake Woodlands adjacent to Northshore Park, with secondary close-proximity (special effects) display at Town Green Park. The 2018 Fireworks Extravaganza will also feature a fireworks display in the Waterway Square District near Timberlock Place and Waterway Avenue and Rob Fleming Park in the Village of Creekside Park. Enjoy both the sights and sounds of the Fireworks Extravaganza by tuning into WoodlandsHits.com, which will be broadcasting the choreographed patriotic soundtrack for the 2018 event.
 Learn more about the Red Hot & Blue Festival at https://bit.ly/RedHotBlue2018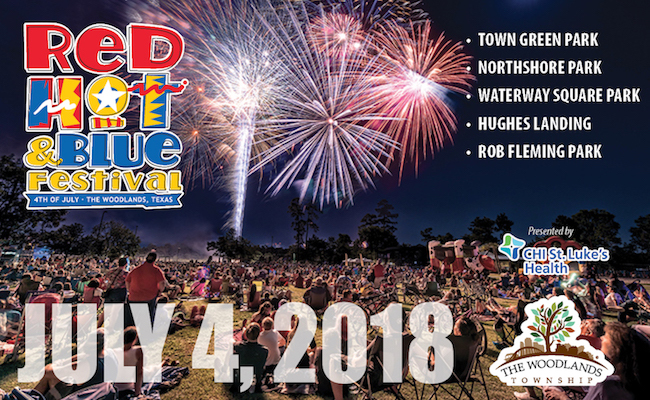 July 4 – Splash Day at all Township Pools – Cool down from 10:00 a.m. to 6:00 p.m. with no charge for admission at all Township pools. The lifeguards at each pool will select a unique, family-oriented theme and provide fun activities and games from noon to 4 p.m. Light refreshments will also be available while supplies last. Learn more
July 4 – July 4th Celebration & Street Festival of Tomball – Celebrate American independence at one of Harris County's largest July 4th celebrations on Business Highway 249 just north of FM 2920 from 5:00 p.m. to 11:00 p.m. There will be live music by The Mambo Jazz Kings, food from Pecos Grill, a kids' zone, and fireworks around 9:30 p.m. Admission and parking are free. Learn more
July 4 – Fourth in Unity Park –This free celebration includes gospel music at 5:00 p.m., bicycle/tricycle/scooter parade, live music by Lonely Road, and fireworks at dark. Festivities are from 5:00 p.m. to 10:00 p.m. Learn more
July 6 – Willy Wonka – Roald Dahl's Willy Wonka follows enigmatic candy manufacturer, Willy Wonka, as he stages a contest by hiding golden tickets in five of his scrumptious candy bars. Watch the performance at the Crighton Theatre in Conroe from Friday, July 6th until Sunday, July 22nd. Learn more
July 7 – The Woodlands Farmer's Market – The Market is open Saturdays from 8:00 am – 12:00 pm at the Grogan's Mill Center.  The Market adheres to high standards requiring that all agricultural and artisan vendors grow or produce the good they sell.  Each of the prepared food vendors is required to use a commercial kitchen when preparing their product. Profits from our Market are returned to the community through the Grogan's Mill Village Association's philanthropic programs. Learn more
July 7 – Harvest Day & Grape Stomp – Join Wild Stallion Vineyards for their annual Harvest Day and Grape Stomping Event. See the process from the very beginning, learn about Wild Stallion Vineyards and help pick the grapes right off the vine! Wild Stallion Vineyards will be picking them right alongside you and helping every step of the way. Learn more
July 8 – Public Safety Open House at Fire Station 8 from 3 to 5 p.m. – Each of the eight fire stations in The Woodlands will host a Public Safety Open House during June/July to get an up-close look at fire apparatus, rescue units and the fire station where it all happens. This is an especially good opportunity for children to learn about fire safety and meet the firefighters who help keep our neighborhoods safe. View Schedule
July 9-11 – Youth Indoor Golf Summer Camp – Sign-up for a fun and interactive indoor golf camps taught at Swing Zone Golf by teaching pros using state-of-the-art , HD golf simulators! From July 9th through August 9th Swing Zone Golf is offering weekly half day camps for youth ages 6 to 12 years. With a low teacher-to-student ratio the camps will focus on developing golf skills including full swing, short game, rules and etiquette while keeping the experience engaging with games and activities. Sign Up
July 11 – Summer Indoor Golf League – Swing Zone Golf's Wednesday Summer Golf League includes 9 hole stroke handicap play with 12 teams of two players. Each team of two will play head to head against another team of two during the 6 week league for chance to win cash prizes. Join in the fun and sign-up today! Sign Up
July 13 – The Woodlands Children's Museum's 8th Birthday Celebration – The birthday celebration, including singing and cake, will take place at 11:50 a.m. and will repeat at 1:10pm and 2:50pm. Andy Rooniverse will present silly songs for children at 10:30 a.m., 11:20 a.m. and 12:10 p.m. Silly Songs with Gabe will take place at 12:40 p.m., 3:10 p.m. and 3:50 p.m. Children also will get to hear a real fairy tale princess, Rapunzel, read stories at 1:30 p.m. and 2:20 p.m. Each story will be followed by a meet-and-greet photo opportunity. In addition, Storybook Theatre, set for 11am will have a special birthday theme. Throughout the day of the party, from 10 a.m. to 5 p.m., children can play in the Houston Rockets inflatable in the museum atrium. Learn more
July 13 – Family Bingo Night – Unplug and tune in to old-fashioned family fun at a monthly Family BINGO night. Enjoy a fun-filled evening with your family and friends playing BINGO for various fun prizes! Snacks and water provided. Location: 6464 Creekside Forest Drive. Fee: $5 per person, per night. Learn more
July 14 – Mosaic Art Class – The Mosaic Art class is open to kids ages 7 – 12.  Students will learn about and create their own mosaic art work using smooth, shaped glass and ceramic pieces that will be provided. Students may also use any personal items they would like to bring to work in to their picture. (No cutting of glass is involved) For this class, several kid-friendly shapes and sizes will be available to choose from, ensuring those who participate have a fun, creative and successful piece of art when the class is complete. Kid-friendly snacks will be available! Sign up
July 14-15 – MCAS National Ice Cream Day Adoption Event – To help celebrate National Ice Cream Day, the Montgomery County Animal Shelter is having an offsite adoption event Saturday and Sunday July 14-15th from 12-4pm at the Portofino PetSmart – I-45 feeder just south of the shelter. Learn more
July 14 – Free Family Movie Night: Coco – Enjoy the movie Coco for free with your friends and family at Creekside Park Village Green. Grab a bite to eat beforehand at one of the many restaurants in the area. For maximum comfort, please bring blankets and lawn chairs. Glass is not permitted. Learn more
July 14 – Dive-In Movie Night: Leap! – "Leap!" into the new Bear Branch Pool and cool off on a hot night. The facility closes for normal hours of operation at 8 p.m. and gates will re-open for movie-goers to enter by 8:15 p.m. The movie will start at about 8:30 p.m., or dusk. Free for season pool pass holders. Admission is $5 per person at the gate; children 3 years old and under are free. Lifeguards are on duty. Concessions will be available. Learn more
July 14 – 8th Annual Fire up the Bands 2018 – Saturday, July 14 5 p.m. until 1 a.m. at the Pacific Yard House. Since 2011 Fire up the Bands has donated over $150,000 back to the community. Proceeds will benefit the Conroe Firefighters Foundation, a 501c3 organization. Tables and seats will be available for purchase. Learn more
July 16 – Houston Symphony: The Music Of David Bowie – Concert with the Houston Symphony at The Cynthia Woods Mitchell Pavilion at 8 p.m. Free Mezzanine and Lawn seating. Learn more
July 18 – David Ball Concert Supporting TWRC Wildlife – Grammy winner David Ball will be singing his #1 songs along with all his other tunes. Montgomery County's own Charlie Riley Band will be opening for David playing your favorite country classics. Iris the Owl and Olive the Opossum will be on hand from 6:00 pm to 7:00 pm to greet you. Learn more
July 20 – Foreigner with Whitesnake Jukebox Heroes Tour – Responsible for some of rock and roll's most enduring anthems including "Juke Box Hero," "Cold as Ice," "Feels Like The First Time," "Urgent," "Head Games," "Say You Will," and the worldwide #1 hit, "I Want To Know What Love Is," FOREIGNER continues to rock the charts forty years into the game with massive airplay and continued Billboard "Top 200 Albums" chart success. Learn more
July 21 – Tomball's 1907 Depot Museum – The City of Tomball is set to reveal a variety of new railroad related exhibits at its historic 1907 Depot Museum beginning Saturday, July 21. Tomball's historic 1907 Depot is open weekends from noon to 5 p.m. with special weekday tours available by appointment. Admission is free. Learn more
July 21 – The Woodlands Family YMCA Kid's Triathlon 2018 – The Woodlands Family YMCA is hosting the Annual YMCA Kids Triathlon on Saturday, July 21, 7:30 am at the Branch Crossing location. Children, ages 6 – 12 are eligible to register and experience the fun and excitement of triathlon. It's a morning of friendly competition and physical activity that can lead to a lifetime of fitness. The event is designed for all levels. Previous triathlon experience is not required. Learn more
July 21 – The Woodlands Show Chorus Annual Show – The Woodlands Show Chorus proudly presents "The Woodlands Show Chorus on Parade" featuring the 2017 Region 10 Quartet Champions –  Essence. Guests will be treated to a spaghetti supper, bake sale, silent auction and more at 4:00 pm with show from 5:30 pm until 7:30 pm at Christ Church UMC. Tickets prices are: Adults $25, Reserved $30, and children/seniors $20. Learn more
Visit the Hello Woodlands Calendar for MORE events, event information, details, directions, and links!
Plan ahead for August! Visit our online calendar, subscribe to our Email Newsletter, follow us on social media at @HelloWoodlands, and check back for a list of 31 things to do in August 2018!
Contact us at info@hellowoodlands.com to tell us events, activities, locations, businesses, and non-profits we should feature and visit in July!