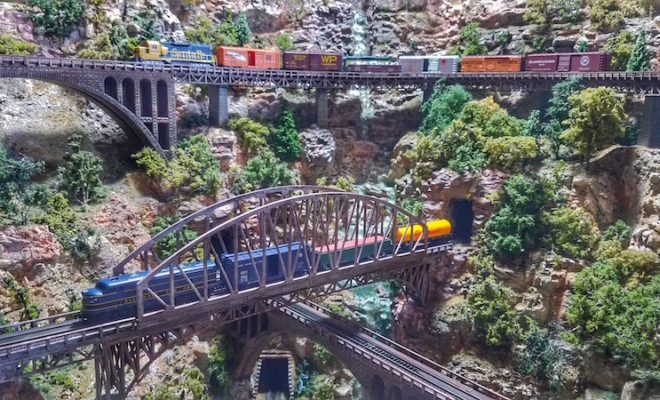 Events
Model Railroads and New Exhibits at Tomball's 1907 Depot
By |
The City of Tomball is set to reveal a variety of new railroad related exhibits at its historic 1907 Depot Museum beginning Saturday, July 21, 2018.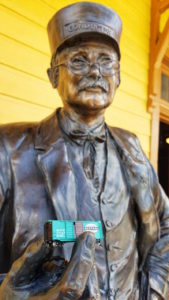 Mister Dave's Golden-Blackhawk & Central City Railroad and the Tomball & Walden Model Railway are the Depot's new highly detailed model railroad layouts on permanent display.  Covering more than 250-square feet, the GB&CC Railroad is an award winning Z scale display that fills the entire freight room of the old Depot with scenes spanning from the mountains of Colorado to the coast of New England.  The T&W Model Railway is a 150-square foot Lionel style layout constructed inside the old caboose adjacent to the Depot. The display loosely depicts the Tomball community from its oil fields and agriculture, to Main Street with iconic businesses from the past.
The new Speeder Maintenance Shed houses the Depot's motorized "speeder" car surrounded by tools and other memorabilia that would have been found in a trackside maintenance shed from the mid-1950s.  From authentic signage and clothing, to lanterns and items used for track repair and equipment maintenance, the display offers a look back at the blue collar side of railroading.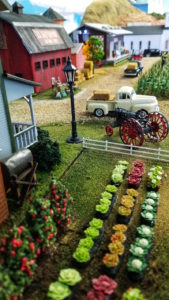 The Walden Waiting Room is the museum's new gallery of railroad illustrations drawn by Ken Walden, the Depot's original volunteer "Station Agent".  Since 2007 Walden's railroad themed drawings have been displayed throughout the building.  Now, three years after his death, all of his acclaimed works of art have been consolidated into a single gallery where they can be appreciated as a collection.
New pieces have been donated to the Depot in recent months and are now on display along with other railroad related items.  Memorabilia from Tomball's original railroad, the Trinity & Brazos Valley Railway, are exhibited with pieces from the Southern Pacific, Union Pacific, Frisco, BNSF and others.  From pocket watches, pins, model train kits from the 1950s and dinnerware, to date nails from the early 1900s, signal lights and a working telegraph system, the museum is filled with memorabilia from America's railroad past.
Tomball's historic 1907 Depot is open weekends from noon to 5 p.m. with special weekday tours available by appointment.  The new exhibits will be available for viewing beginning Saturday, July 21st. The Depot is at 201 South Elm Street in downtown Tomball along the tracks of the BNSF Railroad.  Admission is free.
Visit "Tomball Texan for Fun" on Facebook or visit tomballtx.gov for information.