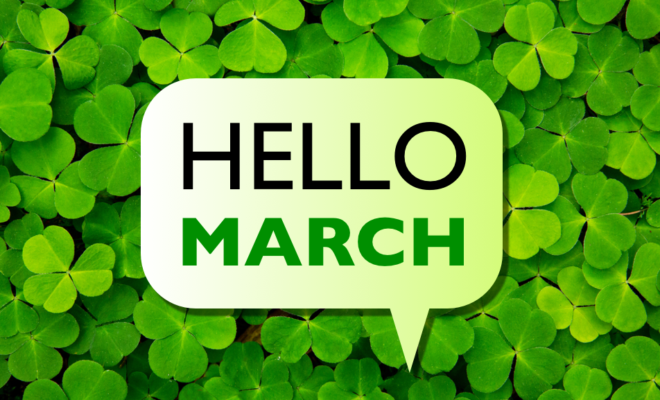 Calendar
31 Things To Do in March 2020
By |
Hello March! Discover what's happening with Hello Woodlands' "31 Things To Do" monthly guide featuring events, activities, locations, and ways to get involved in your community.
Join us this March by trying new activities and attending events in and around The Woodlands, Texas. Be sure to follow us on social media at @HelloWoodlands and subscribe to our email newsletter to stay updated for upcoming events, ticket giveaways, live videos, photos, and so much more!

31 THINGS TO DO – MARCH 2020
FEATURED EVENTS
March 6, 7 & 8 – Frozen Jr. – Join Class Act Productions for performances of Frozen Jr. on March 6-8, 2020 at the Nancy Bock Center for Performing Arts! Frozen Jr. is based on the 2018 Broadway musical, and brings Elsa, Anna, and the magical land of Arendelle to life, onstage. The show features all of the memorable songs from the animated film, with music and lyrics by Kristen Anderson-Lopez and Robert Lopez, plus five new songs written for the Broadway production. Purchase Tickets
March 7-23 – The Woodlands Resort Spring Break – In true Texas style, Spring Break will be bigger, better, and longer than ever this year at The Woodlands Resort, with two full weeks from March 7-23. The resort has announced a brand new lineup of engaging activities and special entertainment to ensure an unmatched getaway to remember. The seasonal celebration will highlight the magical comedy of Curt Miller in a performance at The Woodlands Resort on Saturday, March 14. Daily activities include Scavenger Hunts, Corn Hole Contests, Karaoke, Relay Races, Limbo Action, Water Slide & Cardboard Boat Races, Face Painting & Balloon Animals, Family Obstacle Challenges, Ice Cream-Eating Contests, Poolside Dive-in Movies, and Private Cabanas, Bikes, Standup Paddleboards, Pedal Boats, and Kayaks for rent. Learn More
March 11 – Ask the Doctor – Join Canopy Cancer Survivorship Center every month for the "Ask the Doctor" series as the speaker will share valuable information and answer your questions from noon to 1:30 p.m. Lunch will be served. This month's topic is fertility preservation and post treatment fertility options with Dr. Parikh. Please RSVP to the Canopy front desk at 713.897.5939. As a caring community of hope, healing and empowerment, Canopy Cancer Survivorship Center enhances the quality of life for individuals affected by cancer and for those who support them during their journeys. Learn More
CANCELLED – March 12-21 – Rising Stars and Legends of Texas – The 4th Annual Rising Stars and Legends of Texas will be presented in various venues throughout Downtown Conroe beginning Thursday, March 12th through Saturday March 21st offering opportunities for the public to experience the arts organizations represented by the Greater Conroe Arts Alliance (GCAA). This year the event is highlighting the Best of Texas Art and Wines with legendary musicians, artists, and poets. Each member organization is invited to present their own unique fine art, poetry, theatrical presentations, cinematography, music compositions, instrumental music, choral performances, and Texas history through live performances during the event in Downtown Conroe venues.
Montopolis Concert rescheduled for May 31 View Events and Purchase Tickets
Visit the Hello Woodlands Calendar for MORE events, event information, details, directions, and links!
MARCH EVENTS
February 29 – March 1 – Montgomery County Home & Outdoor Living Show – Transform your home into a dream home or create the custom home of your dreams with the latest innovative products and fresh new trends at the Inaugural Montgomery County Home and Outdoor Living Show at the Lone Star Convention Center. Exhibitors and speakers will offer participants valuable information on home improvement, up to date trends in home décor and entertaining segments with education relevant to our Greater Montgomery County/North Houston area. Outdoor Living ideas featuring landscape designers, outdoor furniture, fencing, mosquito misting systems, barbeque pits, outdoor kitchens, and custom patios. Learn More
March 1, 8, 15, 22, 29 – Concert in the Park – Concert in the Park, produced by The Woodlands Township, is a popular family tradition of music and fun for all ages. Concerts are held on Sundays at beautiful Northshore Park from 5:30 to 7:30 p.m. Kona Ice will be available for purchase. On March 8, bring the kids out for an evening of sidewalk chalk coloring. Swing by The Woodlands Township tent to pick up some chalk, then let your imagination do the rest! On March 22, Hop on by The Woodlands Township tent and pick up a fun, spring time craft to do during the concert. Learn More
March 5-28 – 5th Annual Madeley National Art Show – Extraordinary artwork from across the United States will be shipped to Conroe and on display at the gallery, including paintings, pottery, 3D art and more from 700 entries, 39 states, 64 finalists. The art will be on display from March 5 – March 28. There will be an awards reception March 7th from 5:00 – 8:00 p.m. Learn More
March 6 – Silent Disco – Gather your crew and dance on the pool deck overlooking The Waterway at the Westin at The Woodlands. Tune in to the live DJ spinning different genres of music all night. When you arrive you'll receive a pair of special wireless headphones. Adjust the volume and choose your music channel. You can switch channels anytime and dance the night away to Today's Hits, the 80s, Techno or Country music! Each headset has a color LED that shows what channel you are listening to, so you can dance along with those listening to the same music as you! Must be 21 years or older. Learn More
March 7-14 – Spring BreaKation – Join The Woodlands Children's Museum for Spring BreaKation events March 7th through March 14th, 2020! Attend events and performances all week long such as: Sonny the Birdman, Ms. Frizzle – Special Reading The Magic School Bus, Safety Day, Tom's Fun Band, Musical Petting Zoo, Le Theatre de Marionette Silly Strings Puppet Shows, Donald Duck's Birthday celebration, and Science Palooza! ALL events are included in the price of admission, which is $7 for adults and children 1 year and older. Learn More
CANCELLED as of 3/12 – March 7 & 8, 14 & 15, 21 & 22 – The Woodlands Express Rodeo Service – Residents in and around The Woodlands Township have a new way to get to the Houston Livestock Show and Rodeo through The Woodlands Express Rodeo Service! The Woodlands Express Rodeo Service now offers an easy and convenient way to enjoy the Houston Livestock Show and Rodeo three weekends during the rodeo. Riders have the opportunity to enjoy all the festivities without driving and parking concerns. Beginning Saturday, March 7, 2020, The Woodlands Express Rodeo Service will leave the Sawdust Park and Ride location with return trips leaving NRG Stadium from the METRO/Rodeo Express pickup location throughout the afternoon and evening at scheduled intervals. Make Reservations
March 7 – The Woodlands Marathon, Half Marathon, and Marathon Relay – MARATHON: The Woodlands Marathon is a BOSTON QUALIFIER, the fastest course in Texas on average and one of the top 25 fastest courses in the country. HALF MARATHON: The Woodlands Half Marathon will traverse the streets of Town Center and the community on a single loop 13.1-mile flat and fast course. MARATHON RELAY: Two (2) – person and four (4) – person teams are invited to run the marathon course with specific exchange points along the racecourse! Learn More
March 7 – Homeschool Family Expo – The 7th annual Homeschool Family Expo will feature dozens of homeschool-related exhibitors, an engaging family social hour, Chick-fil-A concessions, and a Spring Break Jamboree with live entertainment, and activities. Admission is free and open to the public at the Klein ISD Multipurpose Center. Learn More
March 7 – Waterway Nights – Enjoy live music by local and regional performers in the picturesque setting of Waterway Square at Waterway Nights. Taking place in the spring and summer, Waterway Nights makes for an eventful night out in The Woodlands Town Center. Learn More
March 9 – Look Good, Feel Better: Support During Cancer Treatments – This monthly American Cancer Society program teaches women & men undergoing cancer treatments how to cope with the common cosmetic concerns & improve self-esteem. Registration required. This class meets the second Monday of every month from 11:00 a.m. – 1:00 p.m. at Canopy Cancer Survivorship Center. Learn More
CANCELLED as of 3/12 – March 12, 19, 26 – BINGO in the Bistro – Meet at the Bistro inside The Woodlands Resort from 7:00 – 8:00 p.m. every Thursday night for four rounds of free BINGO with a chance to win great prizes! Claim your free ticket on Eventbrite, grab a friend, and enjoy Thirsty Thursday! Learn More
CANCELLED as of 3/12 – March 13 & 14 – Tomball Art League Show & Sale – Twice a year Tomball Art League hosts a Judged Open Art Show and Sale featuring original fine art inside the LSC-Tomball Community Library. A portion of proceeds will go to the Friends of the Tomball Community Library to support library services. The show is free and open to the public. Learn More
CANCELLED as of 3/12 – March 14 – Creekwood Fishing Derby – Bring your fishing poles and head to the Creekwood Fishing Derby! T-shirts are given on first-come, first-served basis. Prizes will be awarded for longest, heaviest, and smallest fish caught. Bait will be provided. The 13th Annual Creekwood Fishing Derby is sponsored by the Woodlands Professional Firefighters Association. No registration required, open to all ages. Learn More
CANCELLED as of 3/12 – March 14 – Arts in the Park – Enjoy an afternoon with family and friends at Rob Fleming Park! Bring lawn chairs, grab a bite to eat at the food trucks and enjoy live stage performances. This free event features local vendors selling original artwork, children's activities and live entertainment. Artists 18 and younger are encouraged to create their very own masterpiece and enter the Youth Art Contest. Learn More
March 14 – A Salute to Frank Sinatra with Bryan Anthony – Cezanne Jazz Series at Glade Cultural Center brings the HCC Big Band to accompany Bryan Anthony in his salute to Frank Sinatra and American Songbook. Doors open at 7:00 p.m., concert starts at 8:00 p.m. A la Carte menu and handcrafted cocktails & sommelier curated wine list available. Learn More
March 20 – The Fab 5 at Como Social Club – Roll up for a Magical Mystery Tour through the 60s and beyond with the timeless hits of The FAB 5 performing all your favorite Beatles and 60s hits at Como Social Club at The Westin at The Woodlands. 21 and older only. Purchase Tickets
CANCELLED as of 3/12 – March 20 & 21 – Lone Star Jeep Invasion – Head to the Lone Star Convention Center for the biggest jeep only vendor event in Texas. Come to meet and purchase from many of your favorite merchandisers focusing solely on Jeeps of all varieties. Vendors will have merchandise available for sale and order, not just products for display. Learn More
CANCELLED as of 3/12 – March 21 – Earth Day GreenUp – Keep our community beautiful by cleaning litter from streets, pathways, and streams! Join us for the 10th annual community litter cleanup, Earth Day GreenUp on March 21, 2020. Please pre-register for the park of your choosing by March 9th to ensure equipment for your group. Connect with your community and the outdoors while bagging litter from streets, pathways and streams. Then join the celebration at Northshore Park after for food, music, and games from 11am to 1pm. Learn More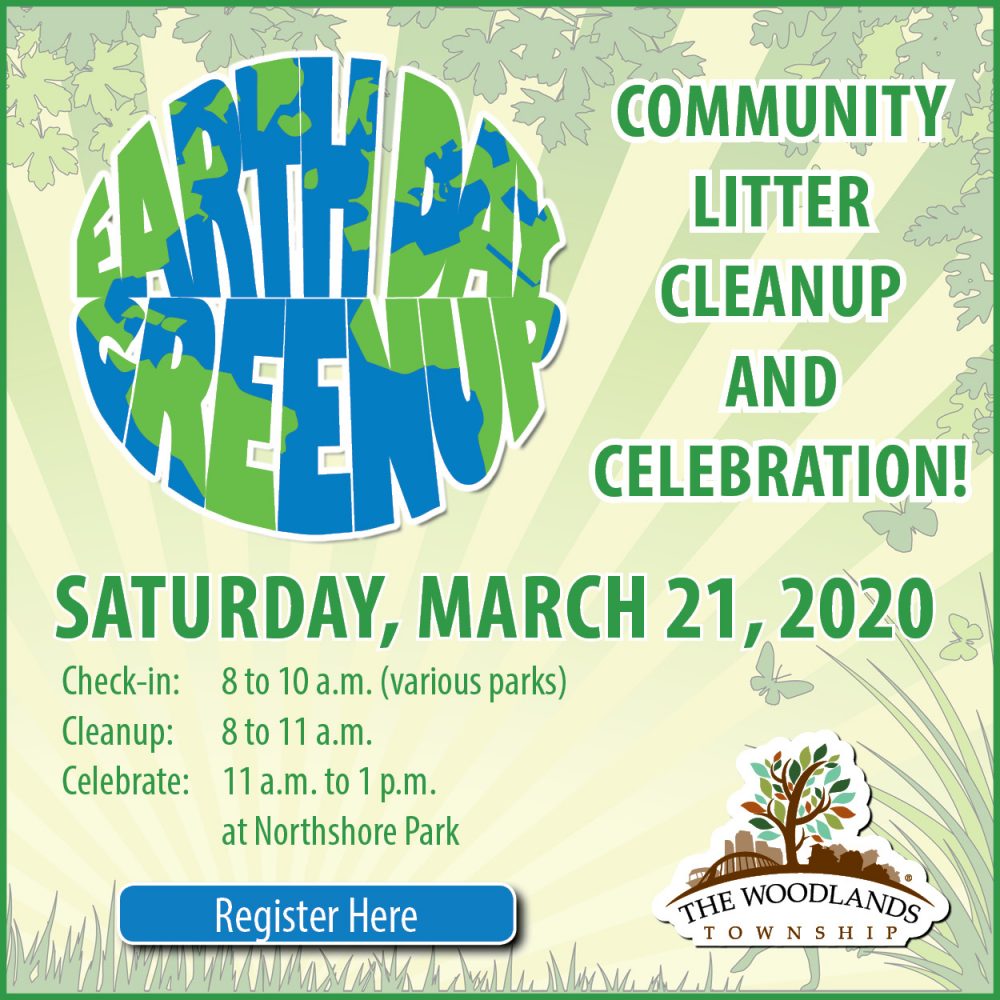 March 21 – Amazing Kindness Race – Come race with your family, colleagues, or friends serving multiple local nonprofits and having fun with different forms of fitness all in one morning. This is fun family-friendly team relay through a 5K and other fun fitness and service challenges! All race entries include a team shirt, custom pint glass and one beverage (beer or soda). Learn More
CANCELLED as of 3/12 – March 21 – Soggy Doggy Swim Day – Calling all dog lovers! Bring your dog to Creekwood Park for a splash in the pond, doggie activities, a trick competition, and a fetching game! All pets must be on a leash while not swimming, and must be up to date on shots. Pre-registration required. Learn More
CANCELLED as of 3/12 – March 21 – Honky Tonk Chili Challenge – Tomball's 9th annual Honky Tonk Chili Challenge will stir up some hot tunes and even hotter bowls of chili March 21st as the 9th annual music and food fest fills the downtown depot plaza.Old-style honky tonk tunes from the days of Patsy Cline and Hank Williams, Sr. will fill the air throughout the afternoon from award winning Country performer Lisa Layne, Nashville Stars' John Arthur Martinez, and local favorites Palomino Moon, and the Country All-Stars.Chili cooks from across southeast Texas will be competing in this Chili Appreciation Society International (CASI) sanctioned event. Learn More
March 22 – 21st Annual Wine Dinner and Auction – The 21st Annual Wine Dinner and Auction will be an evening of fine wine, delicious food courtesy of Fleming's Prime Steakhouse & Wine Bar, live entertainment, and good company. The evening will feature exciting raffle and auction items, an exclusive silent auction, complementary valet parking and a live performance from a current scholarship recipient. The Pavilion Partners, the official volunteer organization of The Cynthia Woods Mitchell Pavilion, hosts the event to fund scholarships for local students pursuing the fine arts in higher education. Learn More
CANCELLED as of 3/12 – March 26 – Young Makers STEAM Challenge – Each month, the South County Library features a different challenge that will encourage children to use their science, technology, engineering, arts and math skills to complete. No signup required. Intended for children age 6 to 12 years old. Learn More
CANCELLED as of 3/12 – March 27 – 29 – Tomball German Heritage Festival – Head to historic downtown Tomball for live music, German dancing, a petting zoo, carnival, great food, beer, wine, shopping, face painting, and more! Admission an parking are free. Learn More
CANCELLED as of 3/12 – March 28 – Warrior Color Run – With music and food trucks, the Color Run is a family-friendly activity where participants have the option of running a 5k or 1k, and are doused in a rainbow of colored powder throughout the course. The Woodlands Christian Academy's 2nd annual community-wide run starts on its our 40-acre campus and weaves through W. G. Jones State Forest. Last year, over 250 runners participated in this community-wide event. Net proceeds from the Color Run will benefit Warrior athletics and fine arts programs. Register Here
CANCELLED as of 3/12 – March 28 – The Woodlands Township Emergency Preparedness Event – Join us for this FREE event from 10am to 1pm at The Woodlands Township and hear special guest speaker, Dan Reilly, Warning Coordination Meteorologist, National Weather Service speak about hurricane predictions and the weather for 2020.  Interact with multiple public safety agencies, utility companies and organizations along with The Woodlands Township Neighborhood Watch to help you prepare for a hurricane or other emergency.  There will be emergency vehicles on display along with demonstrations, handouts, drawings and preparedness promotional items, while they last! Learn more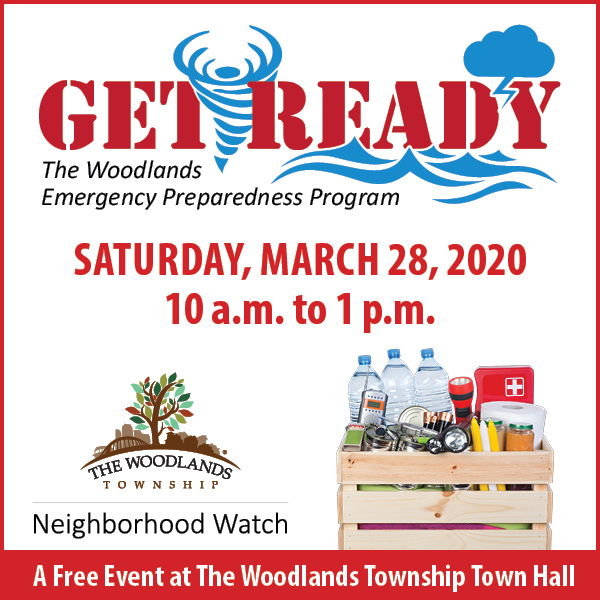 CANCELLED as of 3/12 – March 28 – Montgomery County Safety Expo– Local first responders will be sharing information about their agencies and their jobs at Woodforest Bank Stadium. Join the fun, watching demonstrations and learning about safety in the county. Learn More

POSTPONED as of 3/12 – April 4 & 5 – Come see The Woodlands Waterway transformed into an outdoor art gallery at the 15th Annual Woodlands Waterway Arts Festival on Saturday, April 4 & Sunday, April 5, 2020. This juried fine art show, presented by The Woodlands Arts Council, takes place along the scenic banks of The Waterway and in Town Green Park in Town Center. Purchase tickets today at https://bit.ly/WWAF2020
Plan ahead for April! Visit our online calendar, subscribe to our Email Newsletter, follow us on social media at @HelloWoodlands, and check back for a list of 31 things to do in April 2020! Contact us at info@hellowoodlands.com to tell us events, activities, locations, businesses, and nonprofits we should feature and visit in April!