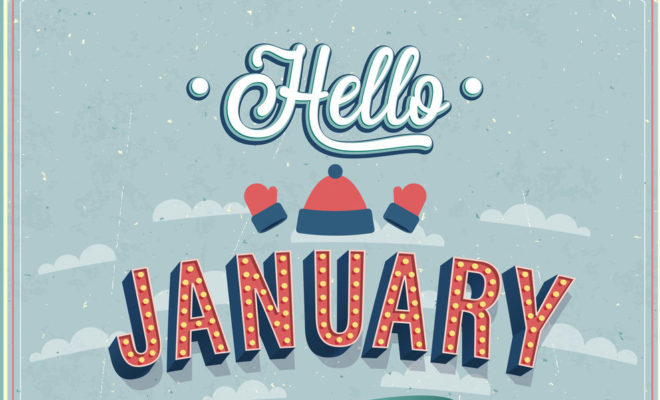 Calendar
Hello January! 31 Things To Do in The Woodlands
By |
Happy New Year and Hello January! Kick off an exciting 2018 with Hello Woodlands' new monthly guide called "31 Things To Do in The Woodlands" featuring events, activities, locations, and ways to get involved in your community.
Join us this January by visiting local favorites, trying new activities, and attending events in The Woodlands, Texas. Be sure to follow us on social media at @HelloWoodlands and subscribe to our email newsletter to stay updated for upcoming events, live videos and photos, ticket giveaways and so much more!
31 Things To Do in The Woodlands – January 2018
This Month:
Register for Upcoming Races. Check off your new year's resolution of getting more active in 2018! Registration for many local races as of January 1 are now open and can be purchased online – often at an early bird discount. View our Calendar

February 17 – Out of the Darkness Walk in Town Green Park
February 17 – Miles for Meals 5K
March 3 – The Woodlands Marathon
April 7 – Muddy Trails Bash
May 12 – The Woodlands Triathlon

Visit the Art Benches. Take a stroll around The Woodlands Waterway and view the 14 one-of-a-kind art benches. It's a great way to get your steps in and view public art for FREE in your community! View map
ARTFEEL. On your walk, be sure to stop by and visit the Art Bench of the month! Share how the art made you feel on The Woodlands Arts Council's Facebook page and at the monthly gathering (see ARTFEEL Live below). ArtFeel founder Nickole Bobley shares the story behind each bench every month here.
Ice Skating. The Ice Rink at the The Woodlands Town Center, a 21,000-square-foot permanent multipurpose facility, is open until January 15, 2018. The new facility features ice skating in a main room with lighting, a state-of-the-art sound system, tables for parties and concessions. Learn more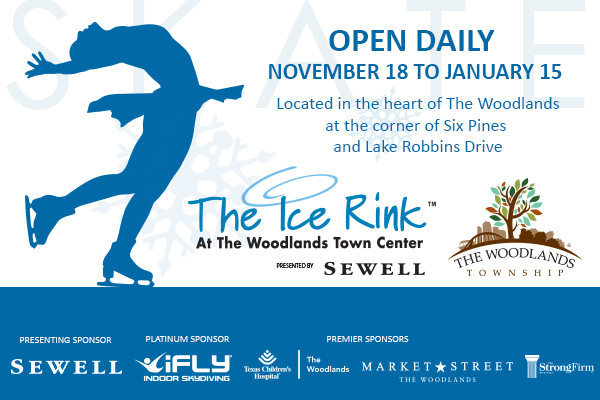 Try Fencing! Ready to try something new? Alliance Fencing Academy of The Woodlands has individual classes, group classes, camps and birthday parties – for all ages and levels. Learn more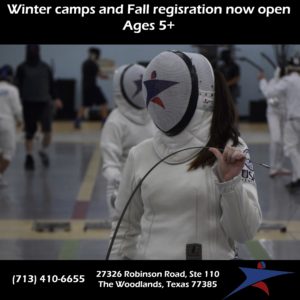 FREE Events – Recurring:
The Woodlands Farmer's Market at Grogan's Mill – Visit the local year-round farmer's market in the Grogan's Mill Village Center every Saturday from 8 a.m. to 12 p.m. with fresh produce, local vendors, food trucks, live music and more.
ARTFEEL Live – On the last Wednesday of every month at 7 p.m. an ARTFEEL event is held at Crush Wine Lounge on The Woodlands Waterway where a mic is offered to residents to express how the featured public work makes them feel. Learn more
The Woodlands Car Club's Cars & Coffee for a Cause – On January 7 from 7 to 11 a.m. in Market Street and every first Sunday of the month. A morning gathering of TWCC's cars to raise money and give back to the community for Charity.
FREE Events – Date Specific:
January 2 – Adult Zen Coloring from 5:30 to 7:30 p.m. at the South Regional Library at 2101 Lake Robbins Dr. 18 and up only, materials provided. Just relax and let the creativity flow! Walk-ins welcome.
January 5 – Let's Mobike! The world's largest smart bike sharing company, Mobike, is celebrating its launch in The Woodlands featuring speakers and demos at 12 p.m. in Town Green Park. Stay tuned for more information! 
January 6 – Compost Class from 10-11 a.m. at 8203 Millennium Forest Dr. Learn how to turn kitchen waste, yard trimmings and leaves into rich, hand-made compost.
January 6 – Introduction to Yoga for Absolute Beginners Class from 1-2:15 p.m. at The Woodlands Yoga Studio at 25126 Grogans Park Dr. Class also available January 13 and 20.
January 13 – Gardening 101: Sage Tips at Whole Foods Market from 9 a.m. to 12 p.m. Discover techniques to grow a greener landscape, featuring local experts discussing how to manage and improve your yard. Registration required.
January 14 – Masterpieces of Classical Music at 7 p.m. at The Woodlands Christian Church. Free Admission, Love offering for Interfaith Ministries, $5 Supper at 6 p.m.
January 17 – "Ordinary People Doing The Extraordinary" Breakthrough Art Exhibit at Crush Wine Lounge on The Woodlands Waterway from 7 to 9 p.m. The art exhibit features Maria Renaud, a portraits and currencies artist known for her drawing of Benjamin Franklin on the $100 bill.
January 20 – Arbor Day – Celebrate Arbor Day from 10 a.m. to 2 p.m. in Hughes Landing free tree seedlings, a birthday party for Puffy Pine Cone and his mascot friends, inflatables, games, face painters, balloon artists, music, and more.
January 27 – School Expo from 11 a.m. to 2 p.m. at VillaSport The Woodlands. Parents and children of all ages are invited toto find the school that best fits your child's needs. Talk to area schools, preschools, and after school enrichment providers. Kids can enjoy a Kids Adventure Land Carnival with bouncing castles, exciting games and surprises, superheroes and fun activities.
Ticketed Events:
January 4 – Storytime with Elsa at The Woodlands Children's Museum at 4775 W Panther Creek Dr #280 at 10:30 a.m., 11:30 a.m., 12:30 p.m. and 1:30 p.m. Museum Admission $6 adults and children 1 year and older.
January 12 – Family Game Night from 6:30 to 8:30 p.m. at The Recreation Center at Rob Fleming Park. A monthly game night playing bingo, bunko, and board games with snacks and water provided. Tickets $5 per person.
January 16 – Small Business University: Business Plan Basics from 9 to 11 a.m. at The Woodlands Chamber of Commerce. Receive quick and easy tips for writing your business plan and recommendations from an expert on how to use your plan to obtain financing, focus ideas, identify specific business objectives, and chart and manage growth. $25 for members, $35 for non-members.
January 16 – Sarah Kelly Music School performs at Dosey Doe Big Barn at 25911 I‐45 N. Doors open at 5:00 PM, Show starts at 6:30 PM. $12/ticket. Dinner served between 5:-7:30 p.m. Learn more
January 18 – Taste of the Town. Thursday, January 18th is the 32nd Annual Taste of the Town at The Woodlands Waterway Marriott where you can sample mouth-watering appetizers, entrees, desserts, pastries, and beverages from some of the area's finest restaurants, caterers, bakeries, deli's and beverage companies. Buy Tickets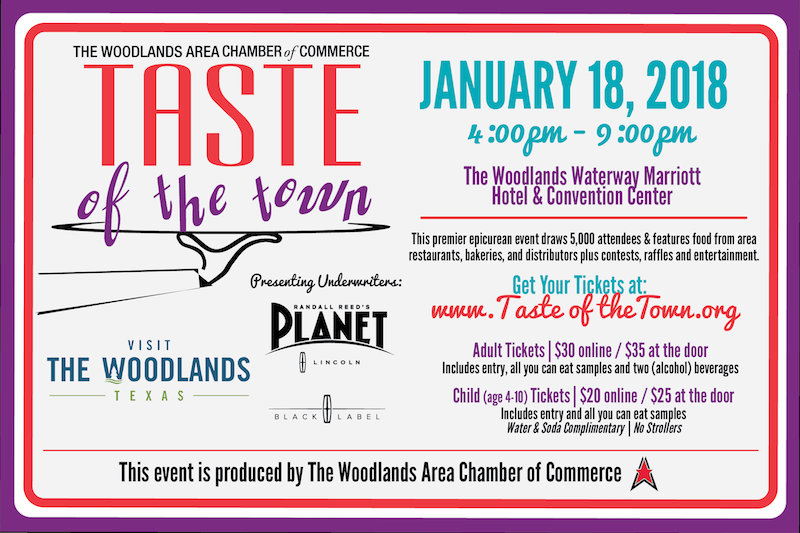 January 19 – Comedy Night at The Westin from 8 to 10 p.m. Start the night off at SideBar The Woodlands with happy hour drink specials or CURRENT restaurant for a 3-course pre-show dinner, then head downstairs for an evening of laughs by Erik Knowles with opening act Ben Jackson. Cash Bar available during the show. Tickets are $15.
January 21 – Unicorn and Dragon Cupcakes Class – Take the class from 1-3 p.m. at Over The Top Cake Supplies The Woodlands at 453 Sawdust Rd #102. Class is $25 per person, must register 48 hours before event.
January 23 – Winter Golf League starts at Swing Zone Golf. Every Tuesday from 7-9 p.m. starting January 23rd for 6 weeks, enjoy some week night competition and fun. The league is a 9 hole stroke handicap play with 12 teams of two players.$40 Team entry fee, $20 weekly player fee. Learn more
January 26 – Mother-Son Date Night at The Recreation Center at Bear Branch from 6:30 – 8:30 p.m. Enjoy a fun night out other mother/son teams in Minute to Win It games and challenges. Pizza and refreshments will be provided. Casual attire, All ages. $40/pair; $10 each additional sibling.
January 27 – St. Jude Miracle in The Woodlands Gala from 6:30 to 11 p.m. at The Woodlands Waterway Marriott benefiting St. Jude Children's Research Hospital. Ticket $150.
Visit the Hello Woodlands Calendar for more events, event information, details, directions, and links!
Plan ahead for February! Visit our online calendar, subscribe to our Email Newsletter, follow us on social media at @HelloWoodlands, and check back on Sunday, January 28th for a list of 31 things to do in February 2018 in The Woodlands!
Tell us events, activities, locations, businesses, and non-profits we should feature and visit in February! Please let us know by completing and submitting the form below before January 15, 2018.