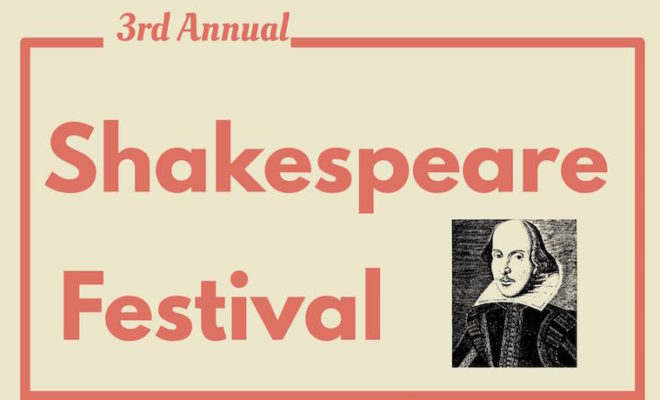 Calendar
3rd Annual Conroe Shakespeare Festival on March 24
By |
MONTGOMERY COUNTY, TX – The 3rd annual Conroe Shakespeare Festival, presented by the Conroe Downtown Area Association, will take place on Saturday, March 24. The event opens at 9:00 a.m. and ends that evening at 6:00 p.m. The central part of downtown Conroe will be transformed into a multi-block outdoor venue featuring booths, food trucks, vendors, local artisans, traveling Elizabethan characters, and several acts presented on the Founders Plaza Stage next door to the Owen Theatre on Metcalf Street. Admission to the festival is free and open to the public.
"We have grown the festivities even more this year with expanded vendor space, a reserved area for food trucks, and nonstop excitement on the stage and streets," said Sean K. Thompson, festival director for the 2018 festival. "The past two years have brought whole new patrons to the downtown Conroe area, and we are excited to see this year's interaction between our festivalgoers and the local businesses that help make downtown the gem that it is."
Events planned on the stage will include interactive swordfighting demonstrations by Texas Renaissance Festival member Jonny Ringo, a family-friendly performance by award-winning ventriloquist Phil Nichols, a "Battle of the Bards" competition, performances by Texas Brass Ensemble, a special song-and-dance exerpt from the Owen's upcoming production of "Kiss Me, Kate," and two Shakespearean productions: "Romeo and Juliet" at 2:00 p.m. and the showcased "The Merry Wives of Windsor" at 4:00 p.m. There will also be a dedicated children's area with photo booth, storytime, and other activities.
Current organizations involved in the festival include the Conroe Downtown Area Association, the Conroe Convention & Visitors Bureau, the City of Conroe Parks & Recreation Department, UpStage Theatre, Lone Star Community Radio, Dempsey Event Promotions, and Taylorized PR. Sponsorship opportunities are available and a few vendor slots are open at this time. To learn more about these opportunities, visit www.ExperienceDowntownConroe.com or email conroeshakespearefestival2018@gmail.com.