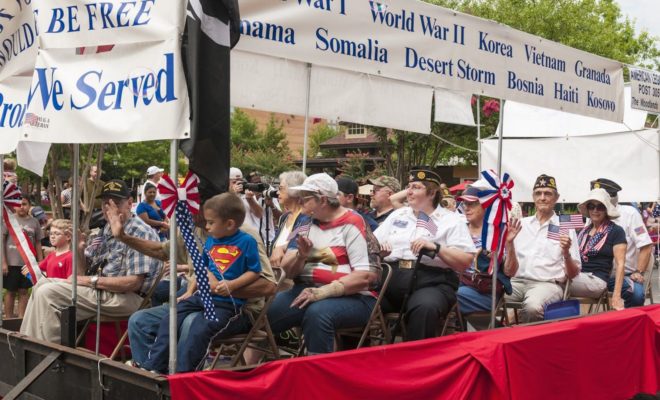 Calendar
South County 4th of July Parade Schedule and Route
By |
The South County 4th of July Parade Committee's 42nd Annual 4th of July Parade will take place July 4 starting at 9:00 a.m. in The Woodlands Town Center. The coveted Parade Grand Marshal honor has been awarded to Dana Tyson of Sunny 99.1.
"We are excited to have Dana as the 2017 Grand Marshal, as she and her family have been part of this community for almost 20 years," said Kelly Dietrich, President of the South County 4th of July Committee.
More than 20,000 spectators will line the streets in the Town Center to watch over 100 parade entries including 40+ dignitaries and five high school marching bands.
Before the parade starts, 26 street performers – jugglers, clowns, superheroes, magicians, and other fun entertainment, mingle with the crowd. At 9:00 a.m. on July 4th The Woodlands Fire Department officially leads off the parade. Family members of all ages will enjoy the fire engines, military, floats, horses and much more. The parade route is approximately 1.3 miles long and meanders through the Town Center area, through Market Street, beginning and ending at The Woodlands United Methodist Church. Parade entry judging will occur on the parade route just above the North Commons in Market Street with twelve award categories. Two new categories were added this year: Facebook Fan Favourite and Best Go Live Entry.
There are four announcer areas along the parade route:
1. Town Green Park
2. Cynthia Woods Mitchell Pavilion
3. Market Street
4. 24 Hour Fitness on Lake Woodlands Drive. The color guard and presentation of colors is Dekaney High School Navy JROTC.
In Market Street, announcers include Nick Wolda, President of the CVB, and Ramon Torres, a local entertainer. At 8 a.m. The Woodlands Concert Band directed by Paul Worosello will play patriotic music prior to the parade.
To start the parade, Kelley Peters will sing the National Anthem. Kelley is a Woodlands native, graduating from The Woodlands High School in 2008 and then going on to receive her BFA in Musical Theatre from Sam Houston State University in 2012. Upon finishing her schooling in TX, she went to work with Royal Caribbean International as a lead singer for their cruise lines. She now works as a singer and actress in the Houston area and has just opened the show "Always…Patsy Cline" in her biggest role yet, Patsy Cline, at Stages Repertory Theatre until August 20th.
Prior to the parade kick off, for the 4th year, the Declaration of Independence will be read at Town Green Park by Ryan Elkins. Lauren Moore will sing the National Anthem, a new tradition this year. Lauren is 10 years old and a resident in this community since birth. She takes part in many service projects with American Heritage Girls and Homewood Homeschool group as well as Classical Conversations coop. She enjoys art, playing outside and listening to KSBJ radio.
The parade supports our Military Troops and Veterans through Military Service Branch entries and has been said to feature "the most Military presence of any parade in the Region." The Texas Army National Guard and the U. S. Army Reserves have been participating in the parade since 2009. Again this year, the Seventy-second Infantry Brigade Combat Team, 453rd Inland Cargo Transfer Company (U.S. Army Reserves) and 1-133D Field Artillery will participate. The three units are based out of Houston.
The committee hosts an annual Marching Band Scholarship Program. This year five marching bands will be in the parade: Hempstead High School – Hempstead ISD, Willis High School – Willis ISD, The Woodlands High School – Conroe ISD and College Park High School – Conroe ISD, and the Greater Houston All Star Band.
Parade Judges include John Powers, Bret Strong, Steven Hummer, Bob Milner, Josh Urban, Ted Oberg, Kim Morgan, Jim Raney, and Kelly Dietrich.
PARADE SCHEDULE
Market Street Stage (Above North Commons on the balcony)
8:00 a.m. – Woodlands Concert band starts
8:00 a.m. – Pre-parade entertainment begins with strolling performers
8:30 a.m. – Judges begin to arrive
8:45 a.m. – Nick Wolda, CVB President, and Ramon Torres, local entertainer, begin announcing
9:15 a.m. – National Anthem by Kelley Peters
Town Green Park Stage:
8:00 a.m. – Pre-parade entertainment begins with strolling performers
8:15 a.m. – Music begins
8:40 a.m. – Declaration of Independence read by Ryan Elkins
8:55 a.m. – National Anthem by Lauren Moore
9-10:30 a.m. – Announcer Miguel Lopez, Executive Director of SBDC, Lonestar College, announces the dignitaries and entries.
The parade and surrounding activities will take place rain or shine. For more information about the event, visit www.4thofjuly.org.
Please follow the parking plan for the Red, Hot and Blue Festival. The parade and surrounding activities will take place rain or shine.
Source: South County 4th of July Committee