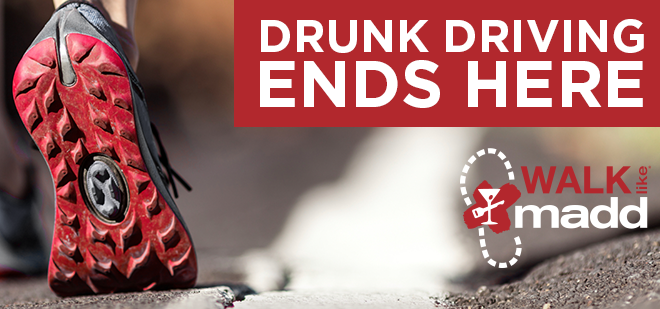 Calendar
6th Annual Walk Like MADD Fundraiser at Northshore Park
By |
Mercedes-Benz of The Woodlands is proud to be the Presenting Sponsor for Walk Like MADD and MADD Dash 2016 in The Woodlands. Walk Like MADD is the primary fundraiser for Mothers Against Drunk Driving (MADD). The event will be held on Saturday, October 15 from 8:00 a.m. to 12:00 p.m. at Northshore Park.
Bob Milner, general manager and co-owner of Mercedes-Benz of The Woodlands (MBOTW), feels that safety on the roads is a top priority and is happy to support MADD in the fight to end drunk driving. "There are three things we want everyone who purchases a car from us to come away with: a sense of luxury, a sense of comfort, and a sense of safety," said Milner. "We are our own most precious commodities; it is my personal and professional goal that all families make it safely home each time they drive. This is why we are committed to outstanding organizations such as MADD, and we want to do everything in our power to support them." As the Presenting Sponsor for Walk Like MADD 2016 in Southeast Texas, MBOTW will receive special recognition from law enforcement at the event.
Walk Like MADD is a family-friendly 5K walk that provides an opportunity to take action against drunk driving in the community. In the U.S., an average of 27 people die every day as a result of drunk driving crashes. Heather Smith, Special Events Manager for MADD's Southeast Texas Affiliate, said, "We are so pleased to partner with Mercedes Benz of The Woodlands in our mission is to end drunk driving, fight against drugged driving and to support victims and their families."
Registration is open for Walk Like MADD 2016 at www.walklikemadd.org/thewoodlands. Individuals can sign up to walk, participate in a walking team, volunteer at the event, or make a donation. The fundraising goal for 2016 is $60,000. "We are already halfway to our goal," Smith said, "but we need your help."
Funds raised are used locally to assist victims of drunk driving crashes with emotional support as well as medical and legal struggles, to conduct programs that increase awareness and prevent drunk driving and underage drinking, and to support law enforcement in their work to keep roads safe.
For more information on Mercedes-Benz of The Woodlands, call 936-206-7500 or view their website at https://www.mbotw.com.