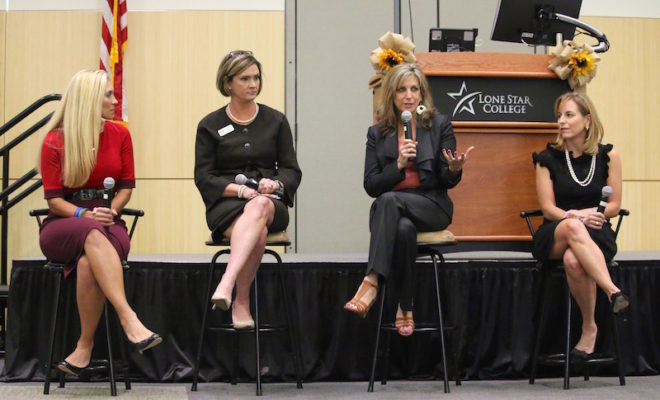 Business
A Day of Knowledge and Empowerment at WISE
By |
The fourth annual WISE Conference on Wednesday, September 28th was said to "Empower Women With Knowledge" at Lone Star Corporate College. The one-day business conference for women included an executive panelist questions-and-answer session, breakout sessions on Health & Wellness, Social Media and Leadership Development as well as motiving speeches from the presenting sponsor and panelists.
Congressman Kevin Brady opened the day via satellite video and told guests to "never stop learning and mentoring" and shared how he is working toward building a new "Tax Reform Blueprint" that he believes delivers a tax code built for growth. The Executive Panelists Discussion followed including a question and answer session with Missy Herndon, CEO of Interfaith of The Woodlands, Amy Milstead, President of Milstead Automotive, Linda Head, Associate Vice Chancellor of Lone Star College, and Debra Sukin, Regional SVP and CEO of Houston Methodist.
Presenting sponsor Dawniel Winningham with Simply Winning spoke about investing in your business and yourself saying "if you're not investing and growing your business, it's a hobby." Indrani Goradia, founder of Indrani's Light Foundation and the WISE Conference's keynote speaker, shared "If there's something out there waiting for you to do, you must never give up." Goradia told her heart-wrenching, painfully violent story of how her childhood upbringing led her to choose a path of non-violent parenthood, which inspired her to take chances in life and ultimately begin her foundation, and her quest to end gender violence in the world.
A new element added to this year's conference was a scholarship program, which was announced at the conference by scholarship team leader, Carolyn Gray with Zircon Consulting, and scholarship sponsor, Donna Wick with DWPR-Wicked Publicity. Carla Jans with Carla's Home Care, Julie Coy Manier with Grant's Eco Art, and Chelsea Williams with Chelsea Williams Photography were each awarded $1000 WISE Scholarship in addition to six months of coaching with Indrani Goradia, and three months of Marketing & PR support with DWPR-Wicked Publicity totaling more than $40,000. A portion of the proceeds raised for this year's conference will benefit Special Needs Sibs and Focus Academy.
About the WISE Conference:
The WISE Conference is a cooperative effort between The Woodlands Chapter of WOAMTEC, MCABW and Business Women's Forum. WISE—Women Inspiring Supporting Empowering caters to professionals with a desire to learn more about work-life balance. WISE is committed to the empowerment of women through personal and professional development. WISE is also focused on giving back to local charity organizations in our community. For more information about the WISE Conference, please visit
thewiseconference.com