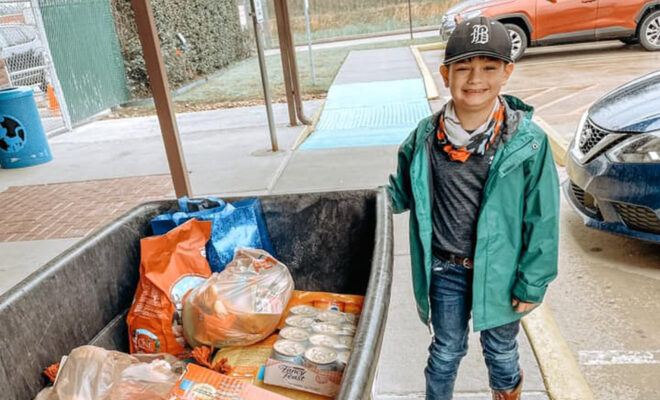 Lifestyle
8 Year Old Gifts MCAS Ahead of Winter Storm
By |
THE WOODLANDS, TX — On Saturday, February 13th, Blaze Burke celebrated his 8th birthday and instead of handing his parents a list of gifts, he requested donations for the Montgomery County Animal Shelter (MCAS).
His love for animals started at a young age being raised with dogs all around him and being able to vacation up to North Texas to visit his grandparents on their ranch. From cows, to goats to chickens and even a donkey, his love for animals became apparent through the years. Now on his birthday, he never realized how much his request for donations would impact these animals at the shelter. Upon drop off on February 14th, the winter storm was at Texas' heels and no one knew the impact it would have on let alone the state, or Montgomery County. For this little boy, it was just a sweet gesture but for the animals & staff at MCAS…it would be just the help they needed to pull through the winter storm.
"His birthday falls a little after Christmas so each year it's a struggle to get a list together when he's already gotten most of everything," says Leana, Blaze's mom, "so when he wanted to do donations in lieu of gifts, it was such a proud parent moment. Then he chose the animal shelter and didn't even shock us, his love for animals has always been big…plus both of our dogs are rescues."
As far as the timing for his donations, "You know we didn't know how bad the winter storm would be and honestly, we all thought it wouldn't even snow. But when we dropped off the donations, the temperatures had already fallen so we knew it was going to be a little worse than we thought. We're just happy that we were able to drop it all off ahead of the storm so they had food to supply them at least for a couple of days while we were all snowed in. We prayed heavily that night over the animals, the volunteers and our community."
"We're both very proud of our Blaze, thankful to all his loved ones who helped us exceed his goal and hope his gesture helps motivate others to extend a helping hand to the animal shelter," MCAS Assistant Director, Mark Wysocki commented. "Blaze's kindness warmed our hearts during this once-in-a-lifetime (hopefully) cold weather." MCAS Volunteer Coordinator, Jill Becker also applauded Blaze's gesture and thanked him in a kind post to MCASaves Facebook page. 
For more information on how to help or donate, visit www.mcaspets.org, or contact Jill Becker, MCAS Volunteer Coordinator, at volunteer.coordinator@mctx.org.