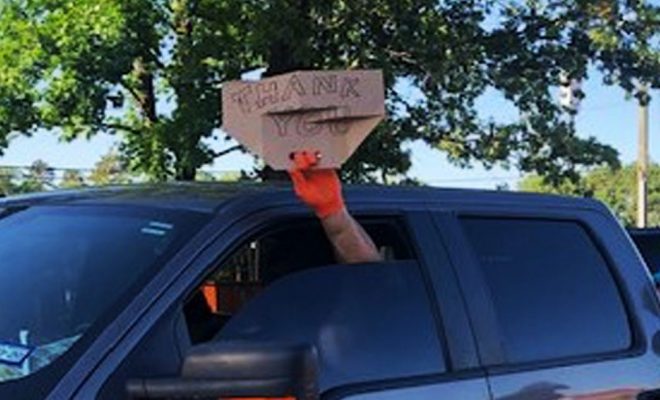 Lifestyle
A Sign of Hope in a Time of Uncertainty
By |
MONTGOMERY COUNTY, TX – A piece of cardboard with two simple words written on it, waved out a driver side window on a bright Saturday morning, brought on a swell of emotions and filled the hearts of the Community Assistance Center staff. Those two simple words – Thank You.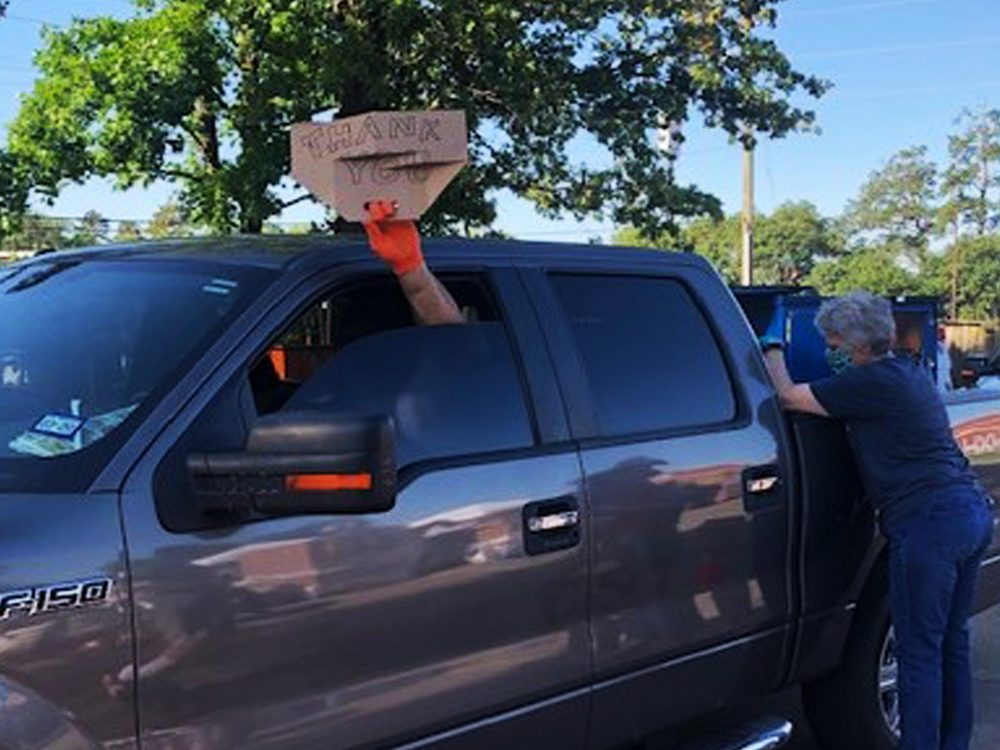 Kathy Rifaat, Director of Development at Community Assistance Center (CAC), shared her experience working in the local nonprofit sector providing essential services during COVID-19.
"This family was one of many who have expressed deep appreciation for the assistance they are receiving," Rifaat said. "It is a perfect reminder representing the importance of the work we do at CAC, and it is such an honor to live in a community that provides such sincere, heartfelt support. I am blessed to be a part of an incredible team of staff and volunteers who work tirelessly to serve others."
The image of gratitude was captured during one of several Mobile Markets coordinated by the agency to distribute grocery items to families in Montgomery County. CAC has been hosting Mobile Markets every week since the beginning of April with the help of volunteers and various community partners, serving between 300 and 500 families with each event.
During times of great uncertainty, like natural disasters and now a global pandemic, nonprofits like CAC have served as pillars of support for our communities, holding on to our humanity through service to others.
"For many in our community, they are part of a whole new group of people asking for help that have never experienced a need before," shared Rifaat. While she has been in nonprofits for several years, Rifaat expressed that this has been one of the most uniquely difficult times for countless numbers of people in the county, including the physical and emotional toll it has on those on the front lines. "[Seeing that sign] I was filled with hope. I was reminded of the compassion and generosity from individuals, businesses, members of the faith community, our county leaders, and our nonprofit partners. What we do truly makes a difference."
CAC has been a part of Montgomery County since 1981 providing basic needs assistance and case management services for individuals and families experiencing a financial crisis. CAC serves Montgomery County residents year-round outside of the current global emergency with services such as rent and mortgage assistance, utility assistance, emergency shelter vouchers, prescription services, back to school assistance, transportation vouchers, ID restoration, food, clothing, education, and disaster recovery.
Many in the community who turn to CAC are either working one or more jobs but still struggle to make ends meet, temporarily out of work, disabled, and even homeless. CAC provides assistance for residents in response to a short-term financial crisis and for those in need of wrap-around support services to achieve long term solutions. The organization provided over 15,700 services to Montgomery County residents in 2019, and now in 2020 with Coronavirus impacting daily life for almost everyone, CAC continues to serve the community as the need has grown exponentially during the first few months of the year. The agency has witnessed an increase of almost 500% in the needs for services, and while the team at CAC is optimistic that the current dramatic increase in need is temporary, the agency will continue to serve Montgomery County residents for as long as it takes for individuals and families to achieve stability and financial independence.
The photo serves as a visual reminder of thankfulness from those in need, but it also echoes the sentiment of the proverb "It Takes a Village" regarding the individuals and organizations serving during a difficult time. Without community support from volunteers, donors, and various partners, agencies like CAC would be unable to meet the demands of the community. "We could not do what we do without the help and support of the community," Rifaat said. "We are in it for the long haul. This is what we do and it is who we are. We will get through this together."
To learn more about Community Assistance Center including how you can get involved to support the agency's efforts, please visit CAC's website at www.cac-mctx.org.


Community Assistance Center is a nonprofit, social service agency that provides resources to meet basic needs and improve the quality of life for our neighbors in Montgomery County. CAC provides case management and assistance services such as food, clothing, shelter, utilities, and education. During its last fiscal year, CAC provided over 15,700 services to residents of Montgomery County through its various programs and services.