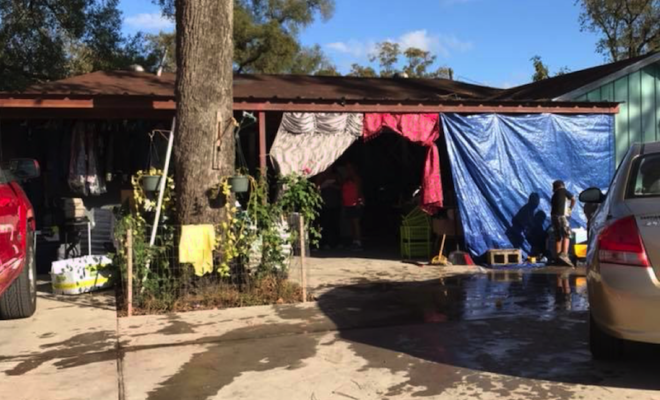 Photo Courtesy of Christine Palmer Clinkenbeard
Hurricane Harvey
Alden Bridge Neighbor Mobilized Community To Support Harvey Survivors
By |
The Woodlands, Texas – "You should see me running this pallet jack," laughed a multi-tasking Alden Bridge resident Christine Palmer Clinkenbeard. "I didn't know what a pallet jack was before Hurricane Harvey hit."
Christine Palmer Clinkenbeard proves that passionate individuals can mobilize a community. On August 25, 2017, as Harvey's historic decimation began, Clinkenbeard and her 15-year-old daughter started making sandwiches.
"We knew people would be hungry," she explained. "It was something we could do."
Clinkenbeard invited friends on social media to help. The next day, she estimates they made and delivered 200 sandwiches a day to survivors in neighborhoods they knew had been hit.
"We made 3,000 sandwiches by the end of the week," she added that a local church allowed them to use kitchen space. "We were going all over Houston, to Kingwood, anywhere we thought needed help." Neighbors on Facebook nicknamed her troop the "Clinkenbeard Brigade."
From Faith Bible Church to Momentum Karate and Fitness, organizations throughout The Woodlands supported her efforts. Neighbors too.
"People started dropping off donations outside the church—diapers, blankets. We had to rent a storage unit."
Friends and relatives from her hometown in Indiana asked her to set up a PayPal account. "I've moved almost $60,000 through that PayPal account since September," said Clinkenbeard. Soon, the Brigade was going door to door in some of Houston's worst-hit neighborhoods.
Her Facebook feed is full of photos of truckloads of diapers, food, furniture and sass.
Without 501(c)3 status, she found money for sheetrock and insulation, for an apartment deposit for a single mother of four who could afford her new rent—but not the deposit—after the landlord refused to repair her flooded and moldy home. The only presents under the Clinkenbeard 2017 Christmas tree were for Harvey survivors—and even those were wrapped by her daughter.
Like many organizations and non-profits, Clinkenbeard used a triage process to sort through the greatest needs. "I put them out on social media, and people just started dropping things at my door," she said. "I had to rent two warehouses, there was so much stuff to organize before we could take it downtown."
Clinkenbeard explained the decimation still facing many residents of Houston's Fifth Ward.
"A lot of these people could barely pay their bills as it was," her voice cracked as she outlined the hazardous living environments for many families. "It's so important to muck out a flooded home right away before mold sets in, but many people couldn't afford to muck out or left the cabinets and floors because they can't afford to replace them."
Clinkenbeard found the entire experience eye-opening, helping her appreciate having a home where her daughter wasn't developing asthma. "It's been a painful lesson," she reflected. "I've driven past some of these places a hundred times not realizing there was a whole community I knew nothing about."
After losing a daughter to suicide in 2016 and dealing with health complications for her now-15-year-old, serving others has helped her realize how much she can continue to contribute, and she's interested in working at a nonprofit. 
On February 22, six months after Hurricane Harvey hit, Clinkenbeard was approached by United Way, the well-known nonprofit, who agreed to take on her mission.
She wrote on Facebook, "I passed the torch. I handed him over 100 intake sheets of those in need, and he vowed to take care of each and every one. With tears streaming down my face, I asked, 'Are you sure? It's just been us out there since day one. No one else is helping.' He responded, 'Those are days of the past. It's a new day.' "
By Sarah Greer Bartnick. Sarah Greer Bartnick covers businesses and events in The Woodlands and provides communication strategy services to local clients. After attending Baylor University, Sarah spent a decade in Washington, DC, as an aide at the White House and U.S. Capitol and as a strategic communication consultant to government clients through a large consulting firm. She lives in The Woodlands with her husband, two young children and Havanese puppy.