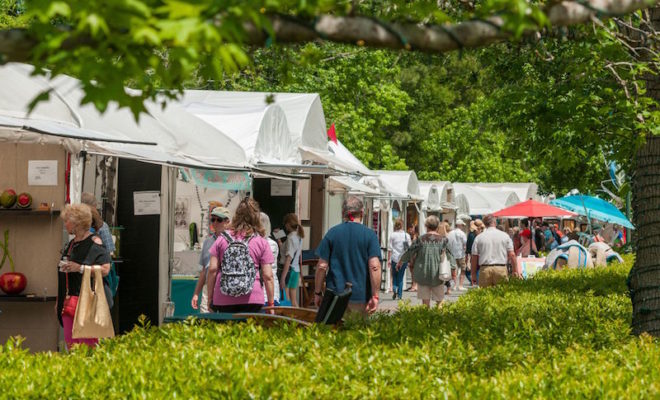 Art & Culture
The Woodlands Waterway Arts Festival Schedule and Ticket Giveaway
By |
The Woodlands Arts Council presents the 13th annual Woodlands Waterway Arts Festival, set for Saturday, April 7 from 10 am to 6 pm and Sunday, April 8 from 10 am to 5 pm in Town Green Park and along the scenic banks of The Woodlands Waterway.
Approximately 15,000 guests of all ages enjoy the annual festival that features over 200 juried artists, live musical performances on four stages, children's hands-on arts activities at Artopoly, culinary demonstrations at the Art of Food, the Student Art Scholarship Exhibit, plus food and beverages from a variety of popular restaurants.
"This festival presents an amazing opportunity for families and individuals with an appreciation for ALL of the arts to see and hear many various mediums from local, regional and national areas. We are honored to work with such gifted artists and performers." – Angela Colton, Executive Director of The Woodlands Children's Museum and ARTopoly co-chair and Performing Arts Director for the Woodlands Waterway Arts Festival
Tickets are now available online at www.thewoodlandsartscouncil.org.
TICKET GIVEAWAY
Hello Woodlands is giving away 4 Tickets to the The Woodlands Waterway Arts Festival! Enter to WIN 4 Tickets by simply entering your name and email address below and click "Enter" by Thursday, March 8, 2018 at 11:59pm CST. One winner will be selected, contacted by email, and receive 4 tickets to the festival to be held on April 7 and 8. Good luck!
***The WWAF Ticket Giveaway Contest is now CLOSED. Stay tuned for more giveaways and exciting event information!***
Congratulations to Lorraine R, Ken M, and Mashaya B – you are our winners of The Woodlands Waterway Arts Festival Ticket Giveaway!
Art
The festival features over 200 juried national and regional artist exhibits, with Erin Hanson at the 2018 featured artist. The art represents a diverse mix of painting, drawing, fiber art, sculpture, jewelry, glass, woodworking, photography, mixed media, clayworks and digital art. The spectrum of fine art appeals to a wide range of tastes and budgets.
Performing Arts
Patrons enjoy music and entertainment throughout the Festival weekend on 4 stages; Arts & Culture Stage, Palette Café Stage, Watercolor Terrace Stage and Craft Beer Garden Stage. The Art of Food is a stage that highlights local celebrity chefs demonstrating their culinary skills and providing the audience with tasty samples.
Main stage performers Palette Cafe include:
Saturday, April 7th

Jacqui-Sutton and the Frontier Jazz Orchestra
Sarah Sharp
Texas Gypsies
George Navarro
Smooth Hound Smith

Sunday, April 8

Eddie Moore and The Outer Circle
The Winterlings
Slaid Cleaves
Caleb and the Homegrown Tomatoes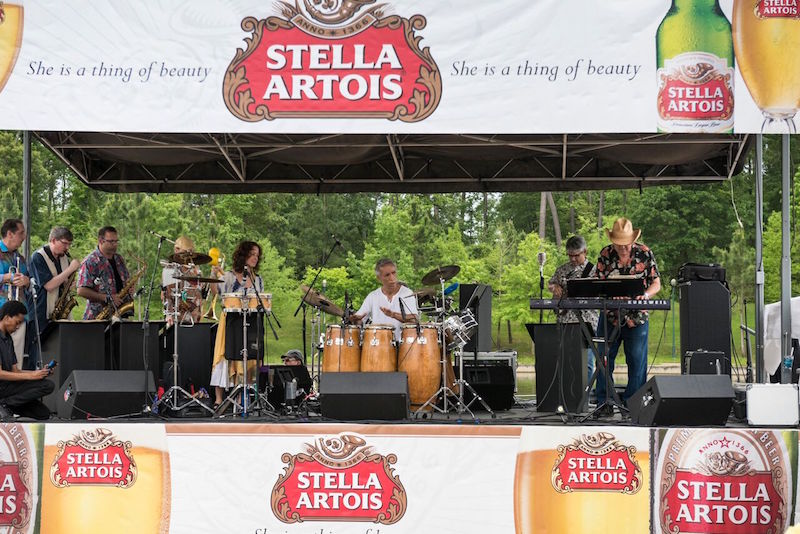 Food & Beverage
A variety of food from some of The Woodlands most popular restaurants are offered at the Palette Café, Watercolor Terrace, Town Green Park and the Craft Beer Garden as well as some popular food trucks. Patrons can enjoy a variety of beer, wine and soft drinks throughout the site.
ARTopoly
ARTopoly is a lively family area dedicated to art and music discovery where visitors will experience an array of interactive learning activities and demonstrations through the arts. Early Inspiration and Student Art Scholarship art galleries, Various local non-profits, Student Art Scholarship winners, Woodlands Art League's "Painting on the Pod," The Woodlands Children's Museum, Drumming interaction with Dan Egger-Belandria are featured in this area.
The Woodlands Children's Museum's art projects and activities for children will include Face Painting, Matisse collages, Marionette puppets koi fish made from recycled toilet paper tubes, KOI fish made from recycled toilet paper tubes, Watermelon paper plate fan, Mini rainbow garland, and a collaborative art piece reflecting artwork by featured artist Erin Hanson.
The Art and Culture Stage, located in ARTopoly, will feature performances by local cultural performance groups that will include traditional Irish dancers, folk dances from India, Bollywood dancing, Marionette Puppet Show, traditional Chinese children's choir and dancing, high school orchestra and jazz performances and more.
Tickets and more information are available online at www.thewoodlandsartscouncil.org. Weekend passes are $15 online, or $17 at the gate. Seniors may purchase discounted tickets, and children 12 and under are admitted free.

The Woodlands Arts Council provides regional cultural and educational enrichment opportunities that encourage, support and promote the performing and visual arts in our community. From the award-winning Woodlands Waterway Arts Festival to the year-round community and educational outreach programs of Because Art Matters, the council has one primary goal….making our community better, Because Art Matters! Learn more at www.thewoodlandsartscouncil.org