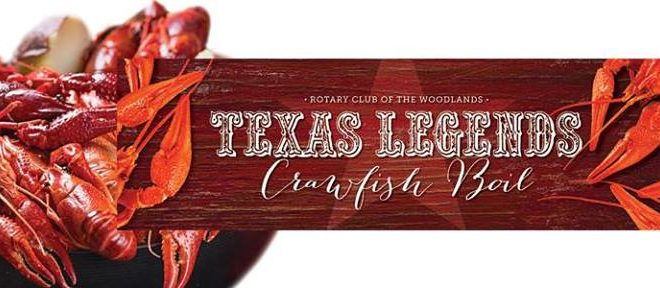 Calendar
Crawfish Boil to benefit Local College Scholarships
By |
CONROE, TX —The Rotary Club of The Woodlands, together with Stillwater, a Gracepoint Community in Conroe, will jointly host The Legends Crawfish Boil on Sunday, April 22 from 2:00 to 7:00 pm at Stillwater's Back Porch, an open recreational and social gathering space located in the heart of the community. The crawfish event is designed as a fundraiser to support the Texas Legends Scholarship Fund, which will award college scholarships to students attending South Montgomery County High Schools and Lone Star College.
"We are thrilled to invite the public to this exciting springtime event honoring the original founders of The Rotary Club of The Woodlands, including pioneer and Texas Legend George Mitchell. Guests will enjoy a Sunday afternoon of great food, games and festivities, and experience the many family-friendly amenities Stillwater offers its residents," said Tom Cox, Co-Founder and President of Gracepoint Homes and Rotary club member.
Along with typical crawfish fare, the event will also feature two food trucks: The Waffle Bus and Sweetride, which offers a wide assortment of ice cream, Italian ice and signature chocolate truffle creations. Musical entertainment will be provided by CMA recording artist Craig Carter, whose music has "created melodies that ring with authenticity and match the beauty of his home in the Big Bend Country of Texas." Planned kids' activities include: lawn games, face painting, free kites and remote control boat races.
Entry for the event is $25 and covers one meal and two drink tickets (beer, wine and margaritas available); they are available now at StillwaterTX.com.
Texas Legends is the group of original founders of the Rotary Club of The Woodlands. The main objective of Rotary is SERVICE – in the community and throughout the world. Rotarians build goodwill and peace, provide humanitarian service and encourage high ethical standards in all vocations. The Rotary motto is "Service Above Self." Learn more about the Rotary Club of The Woodlands at www.woodlandsrotary.org.
Source: Jeffrey Block