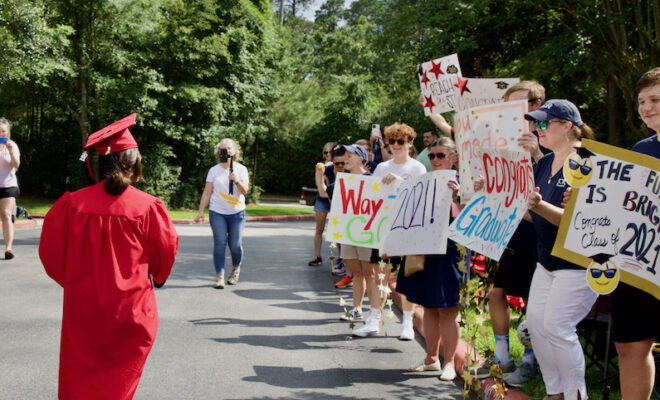 Photo by Rod Prado, Hello Woodlands
Events
Angel Reach 11th Annual "Always Pursue" Graduation Drive-Thru Celebration Parade
By |
Angel Reach held their 11th Annual "Always Pursue" Graduation Drive-Thru Celebration Parade on Sunday, June 6, 2021 in the Harvest parking lot of The Woodlands United Methodist Church located at 2200 Lake Woodlands Dr. in The Woodlands. Sponsored by Angel Reach and its community partners CASA, Love Fosters Hope, and Texas Department of Family and Protective Services, the event featured a graduate friendly environment including photo opportunities in cap and gown, graduate recognition, and gifts/scholarships awarded.
View photos from the event on the Hello Woodlands Facebook page here.
Angel Reach is a faith based, non-profit in Conroe that is committed to help serve our communities' foster/kinship families and youth who have aged out of the foster care system, as well as homeless and at risk youth. Angel Reach helps them transition to better lives by providing assistance with benefits assessments, counseling, mentoring, tutoring, resources and support groups.
Graduating from high school should be an exciting time filled with hope and encouragement from friends and family, and a sense of a wide open future full of adventure and ready to be conquered. For kids in foster care, this is not always the case. Graduation for them can be a time of fear and trepidation. The statistics tell their story: Less than 50% of foster youth graduate from high school and less than 2% of foster youth graduate from college. The twenty teens beat the odds and Angel Reach celebrated the students with their annual Graduation Parade.
For the past 10 years, Angel Reach has strived to address this issue for each teen in foster care in Montgomery County. Due to COVID-19, this year Angel Reach continued the graduate recognition and celebration by way of the "Always Pursue" Drive-Thru Parade. The Class of 2021 High School graduates who have been in foster care, living with Kinship families and GED Certificate graduates who are in the Angel Reach program were recognized and celebrated at the event.
As of June 1, Angel Reach is fully open and will begin to offer on-site volunteer opportunities. To learn more about Angel Reach, how to volunteer, and/or get involved, visit their website at angelreach.org and complete the Volunteer Application at angelreach.org/volunteering/.