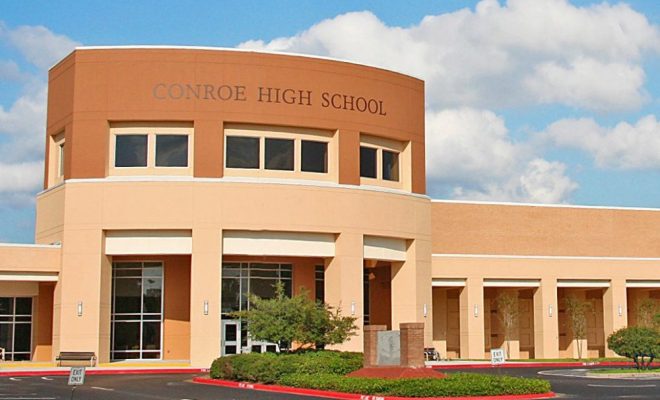 News
Anonymous Conroe High School Alum Pays Lunch Debt at Schools
By |
CONROE, TX – A graduate from Conroe High School, who attended Conroe ISD from elementary through high school, has graciously donated funds to pay off the lunch debts of both Washington Jr. High and Conroe High School – totaling over $7,000. The donor, who wishes to remain anonymous, wanted to extend a challenge to others in our community to make a difference in the lives of our students this Holiday season.
Drawing from his own experience in Conroe ISD, the donor relayed "there is so much I owe to the teachers, coaches, students, and parents I grew up with in Conroe. It was and continues to be a close, supportive community, where you learn to take care of your neighbors." He mentioned that his former coach, Buddy Moorhead, lived by those words every day and taught them well. "This donation is just a very small token of thanks and payback during this Christmas Season, and I hope there are others that can pay it forward at other schools in this city and county."
Conroe ISD Board Trustee Scott Kidd mentioned that he personally knows this alumnus's heart and spirit, and agreed Buddy Moorhead would be very proud. He emphasized, "All of us at Conroe ISD are so thankful for this kind and generous donation from our fellow Conroe High School alum!"
Mr. Kidd and his wife, Shannon, worked with Conroe ISD staff to start a program that would allow community members to provide assistance for families in need. He believes the donor's contribution to our schools is an example of the generosity that our community can display.
Recently, Conroe ISD's Community Outreach department learned about a new app, Purposity, which allows community members to receive weekly notifications about students in need. Those who subscribe to the app on a mobile device can purchase the needed items and have them shipped directly to the student's school. Mr. Kidd stated, "If you are interested in paying it forward and meeting the challenge of this alum, there is now an easy way to make a difference. Download the app and follow Conroe ISD to help us launch this tool for our students and their families."
To learn more about the app, please visit the Purposity website.