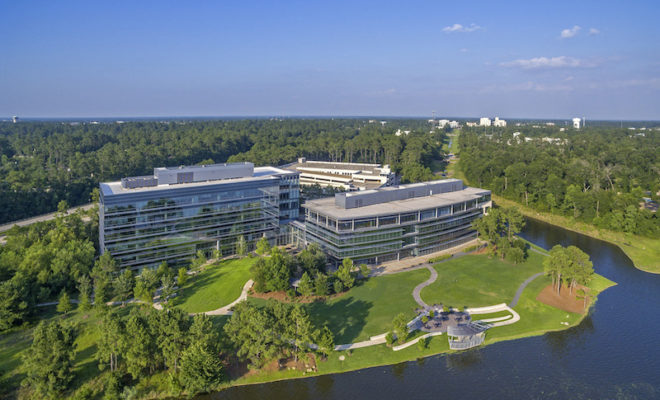 Business
Arena Energy moving to Lake Front North in Hughes Landing
By |
THE WOODLANDS, TX – (December 17, 2018) – The Howard Hughes Corporation® (NYSE:HHC) announced today that Arena Energy has signed a new 87,231-square-foot lease in Hughes Landing®, the award-winning mixed-use development in The Woodlands, Texas. Situated on almost 13 acres on the east side of Lake Woodlands, Arena Energy's new headquarters is located at Lake Front North, the campus recently formed by HHC's recent acquisition of two former Chicago Bridge & Iron Company (CB&I) Class-A office buildings totaling 258,058 of rentable square feet in a spectacular lakefront setting.
Arena Energy, a privately-held independent oil and gas producer focused on pursuing lower-risk drilling opportunities on the Gulf of Mexico shelf, has been exclusively housed in The Woodlands since the company's inception in 1999. The company's move to Lake Front North will accommodate its growing demand for space and will establish a new headquarters for Arena Energy and its affiliate Arena Offshore. Providing tenants with convenient access to I-45 and George Bush Intercontinental Airport, Arena Energy is leasing floors 2-4 of Building 1 at Lake Front North, the four-floor building, offering panoramic lake views.
"Arena is eager to start a new chapter at Lake Front North. We view this move as a stepping stone to recommit to our employees in our long-term Gulf of Mexico perspective. We are looking forward to creating an environment for collaboration in a newly designed space and taking advantage of the amenities that Hughes Landing has to offer. Holding true to our principles and disciplined approach to safely drilling high-yield wells; we will raise up a younger layer of talented leadership to continue the Gulf of Mexico business plan into the future," said Michael J. Minarovic, Managing Director of Arena Energy, LP.
"Today's announcement and the speed at which space is leasing at Lake Front North demonstrates the strong market demand for premium office space in The Woodlands," said Paul Layne, President of the Central Region for The Howard Hughes Corporation. "We have an exciting opportunity to expand the potential for commercial development in Hughes Landing and to attract businesses considering a strategic relocation to one of Houston's best-performing submarkets."
The Lake Front North campus includes a serene waterfront park with access points from Research Forest Drive and Grogan's Mill Road. Both Class-A office buildings feature stunning views of the natural setting of Lake Woodlands. Building 1 is four-stories, complete with a fitness center and locker rooms on the first floor. Building 2 is a six-story building, which features a multi-purpose conference room, executive conference room and a data center. The campus features 1,035 parking spaces within a covered garage. Along with the acquisition of the two buildings, the Lake Front North campus includes approximately 4.2 acres of the nearly 13 acres, designated for future development opportunity.
Arena Energy has set a target move-in date of September 15, 2019.