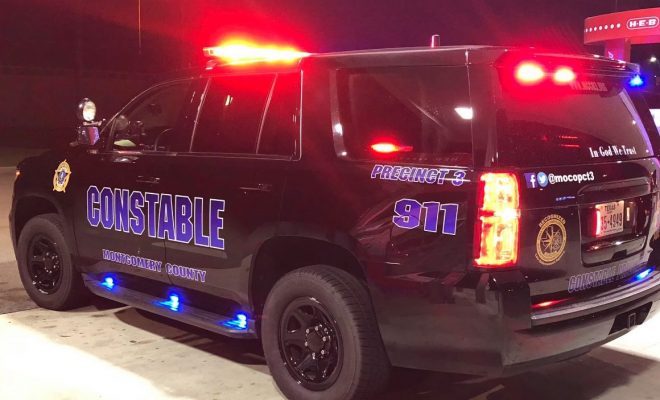 News
Arrest for Possession of Controlled Substance involving Taser on Rayford Rd
By |
On May 15th, 2020, at approximately 1:40 a.m., Montgomery County Precinct 3 Constables arrived at a Valero at Rayford Road and Oakhurst.
The clerk advised a male had been in the restroom for an extended period. A female that was with the male banged on the door, and both exited the store. On exiting, deputies found fresh tobacco in the trash and a strong marijuana smell. The clerk confirmed that the male purchased the cigars that the unburnt tobacco was from before entering the bathroom. Deputies drove in the direction that the male and female were walking and found them walking behind a business strip. Deputies spoke to the female and male individually.
27 year old Demarcus Brown was identified and stated that he was walking back to a nearby bar. During the conversation, Demarcus admitted to smoking marijuana recently and that he had some in his pocket. Demarcus stated he also had a knife in his pocket. The deputy then removed from Demarcus pocket a knife, a phone, a baggie of marijuana and a baggie of cocaine and placed it on the patrol vehicle.
Demarcus then grabbed the items and started to run when the deputy grabbed Demarcus. Demarcus was able to break free and run. Demarcus was then running towards the female and other deputy.
The deputy yelled for Demarcus to stop and then deployed his taser. The probes made contact, and Demarcus fell to the ground striking his head, injuring his face and knocking some teeth loose. EMS was immediately called, and officers provided medical care until EMS arrived. Demarcus Brown was transported to Memorial Herman Hospital and admitted into ICU in stable condition as a precaution due to the head injury. Demarcus has since been released from the hospital.
The case will be presented to the District Attorney for criminal charges. The use of force incident is being reviewed as normal procedure anytime a taser is used or injury occurs.
Source: Captain Dan Zientek, Montgomery County Precinct 3 Constable's Office