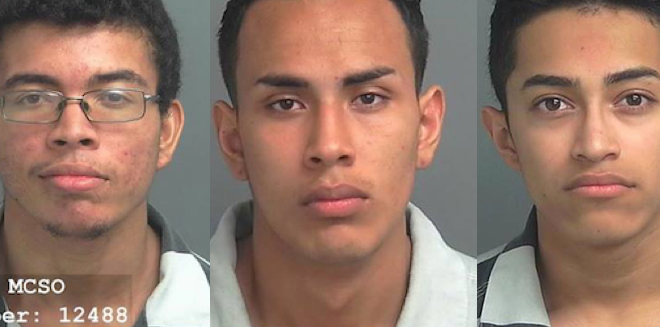 News
Four Arrested for Aggravated Robbery of Pizza Delivery Driver
By |
On April 6, 2018, at 10:00 a.m., Detectives with the Montgomery County Sheriff's Office Homicide / Violent Crimes Unit arrested Jonathan Gomez for the Aggravated Robbery of the Pizza Hut delivery driver in Magnolia, TX on April 3, 2018.
Read the original news story and learn more about the case here
Based on the investigation, Detectives were able to identify and arrest the remaining three suspects as Brandon Ramirez, Miguel Mares and a 16 year old juvenile male. The black Chevrolet Tahoe belongs to Jonathan Gomez. All four suspects are from the Magnolia area.
During the investigation, Detectives learned that the males all admitted that the purpose of the delivery call was to commit an aggravated robbery of the driver. The suspects originally called a Dominos, but the delivery time was too long so they decided to call a closer Pizza Hut.
Arrested:
Jonathan Gomez (H/M) DOB-7-10-98 (19)
Brandon Ramirez (H/M) DOB-9-15-98 (19)
Miguel Marez (H/M) DOB-07-06-99 (18)
16-year old (H/M) juvenile
Source: Lieutenant Scott Spencer, Montgomery County Sheriff's Office, Executive Division