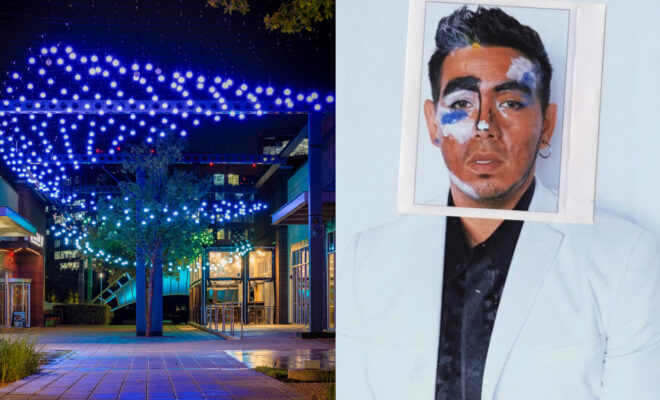 Art & Culture
Artfeel Returns with Show Honoring Shoal Public Art Located in Hughes Landing
By |
THE WOODLANDS, TX — Don a warm jacket, bring your portable chairs or blankets, and head down to Hughes Landing for the 7:00pm Saturday, December 2nd, Artfeel celebration of Shoal. Shoal, a public artwork, is located in the walkway between Del Frisco's and Fogo de Chao restaurants overlooking beautiful Lake Woodlands. This Artfeel is produced by The Woodlands Arts Council (TWAC) and sponsored by Howard Hughes.
Created by Squidsoup, an international company known for making award-winning digital media experiences, Shoal is the latest public art gift from Howard Hughes to our community. This massive artwork contains 750 individual orbs that are choreographed as a collective, inspired by movement patterns of shoals—large groups of fish swimming together in captivating patterns. Hundreds of speakers and LEDs work harmoniously together to create this symbolic art.
"Shoal is the newest interactive art piece in The Woodlands, complementing the expansive and diverse art collection in our community," said Jim Carman, President, Houston Region for Howard Hughes. "We welcome residents and art enthusiasts to join The Woodlands Arts Council at Artfeel in Hughes Landing and experience Shoal."
Inspired by the artwork, Gideon Bustamante, Artfeel's artist-in-residence, is leading a creative collective, a Shoal of songwriters, in the production of an original song that will debut during the show. "Our songwriters took inspiration from several sensory elements of Shoal and have been writing and producing from these notes of inspiration," explains Bustamante.
Other performers include show co-host David Deveau, poet Dede Fox, singer/songwriter Kurt Vatland, painter/mime Olimpia Petzold Rodriguez, storyteller Teresa Kenney, singer/songwriter Pilar Victoria, modern dancer Nicola DeVries, cosplay artist Takanae Mae, and storyteller Amanda Kenworthy Van Dusen.
Sign up to share your artfeel of Shoal by registering your performance at www.thewoodlandsartscouncil.org/events/2023/artfeel.
Hurry! These coveted last few spots will go fast!
"Artfeel is an excellent way for our community to interact and immerse themselves with a piece of public art. We are glad to be in a community like The Woodlands that values public art and grateful to Howard Hughes for their contribution of Shoal," says Jenny Carattini-Wright, Executive Director of TWAC.
What is Artfeel?
For over five years, Artfeel has offered up to 2 minutes of microphone time to area residents who brave the stage and share how a selected public artwork makes them feel— their artfeel. Some people sing, some dance, some play instruments, some story-tell, some show-and-tell their own art or share sentimental objects, and some say just one word—the emotion the art has evoked in them. The rules are…there are no rules…and that is the fun!
"This upcoming show is the perfect way to kick off the holiday season, and, like the public art we celebrate, Artfeel is always free and open to the public," says Nickole Kerner Bobley, creator and co-host of Artfeel.
The Woodlands Arts Council, Inc. (TWAC) is a 501(c)(3) not-for-profit corporation and hosts the annual The Woodlands Waterway Arts Festival to raise funds to support art outreach locally to the community. www.thewoodlandsartscouncil.org.