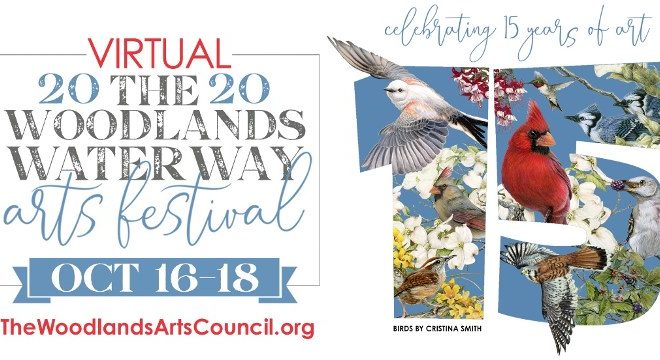 Art & Culture
Arts for All Ages at Virtual Woodlands Waterway Arts Festival October 16–18
By |
THE WOODLANDS, TX – SHOP. ENGAGE. ENJOY! This weekend, beginning Friday, October 16 through Sunday, October 18, you and your family can enjoy watching and engaging in a variety of arts activities at the 2020 Virtual Woodlands Waterway Arts Festival. Inspired by the work of Featured Artist and Naturalist, Christina Smith, the program is centered around using natural elements to create art.
"The power of nature inspires many artists," said Jenny Carattini-Wright, Executive Director of The Woodlands Arts Council (TWAC). "This year, in addition to annual salutes to dance, music, culinary arts, and children's crafts, our Arts Festival proudly offers up complimentary nature conservation programming that is both important to our Featured Artist and The Woodlands community.
"In recognition of The Woodlands Waterway Arts Festival's 15th Anniversary, we wanted to highlight the natural theme and create a lively, educational and fast-paced program that will keep people of all ages 'glued' to their computers – not to complete a work or homework assignment – but to just have some FUN!" Wright said.
Get a jump on the festivities by visiting the Silent Auction, which opens on October 14. Visit https://www.thewoodlandsartscouncil.org/p/festival to register for the Preview Party, Drawing, and Silent Auction, where you can bid on some fantastic items, including original art donated by Festival artists, weekend getaways, a YETI cooler filled with delicious wines, tickets to special events, and much more.
The Festival program kicks off Friday, October 16 at 6pm with a festive Preview Party, and you're invited. Grab your favorite beverage and get comfortable (formal "gala dressing" not required!) The party will be an ode to the ever-popular Art Dash, featuring interesting artsy folks in the community, visits with talented young artists, and some fun surprises. The winner of the drawing for an original work by Christina Smith, "Hidden in the Pines – Summer Tanagers," valued at $4,000, will also be announced at the end of the party. Raffle tickets are $100 and are available for purchase at https://www.betterunite.com/thewoodlandsartscouncil-wwaf2020previewpartysilentauction
Then comes the highlight of the weekend, the Festival! Grab your phone, tablet, or computer and from 10 am to 6 pm on Saturday, October 17 and Sunday, October 18, you can SHOP, ENGAGE and ENJOY visiting with over 100 fine artists in their virtual booths. Message, chat, or ZOOM call with your favorites! View the festival at https://www.eventeny.com/events/the-woodlands-waterway-arts-festival-online-edition-694/
In addition to fine art, there will be hands-on activities, panel discussions, and performances for everyone all weekend, just as if you were at the Festival LIVE. Some of the highlights include:
Panel discussions with artists, interior designers, and local experts
Kids' activities presented by The Woodlands Children's Museum
Hands-on demonstrations in cooking and creative arts
Musical performances from six local groups – visit www.thewoodlandsartscouncil.org/p/festival/virtual-performances to read more about them!
Artist Spotlights
Silent Auction closes Sunday at 6 pm
"With this varied interactive format, we hope everyone will find their special niche of artistic interest and learn more about it," said Dr. Maria Holmes, President of TWAC Board. "But most of all, we hope everyone will engage with our exceptional artists and find a special treasure to purchase. Our artists are generously contributing 10% of their sales during the Festival, which will help us continue our educational outreach in the community. We also appreciate your support of the Silent Auction and the Raffle for a Christina Smith original. Please join us for this one-of-a-kind event."
Major sponsors of the 2020 Woodlands Waterway Arts Festival include The Howard Hughes Corporation, Stella Artois, The Woodlands Compounding Pharmacy, Bayway Cadillac, MD Anderson The Woodlands, The Woodlands Township, America's ER & Urgent Care, and La Costena.
For a complete listing of all events in the Festival Program, visit www.thewoodlandsartscouncil.org/festival.
The Woodlands Arts Council provides regional, cultural and educational enrichment opportunities that encourage, support and promote the performing and visual arts in our community. From the award-winning Woodlands Waterway Arts Festival to public art installations and the year-round community and educational outreach programs of Because Art Matters, the council has one primary goal…. making our community better, Because Art Matters!
Source: The Woodlands Arts Council