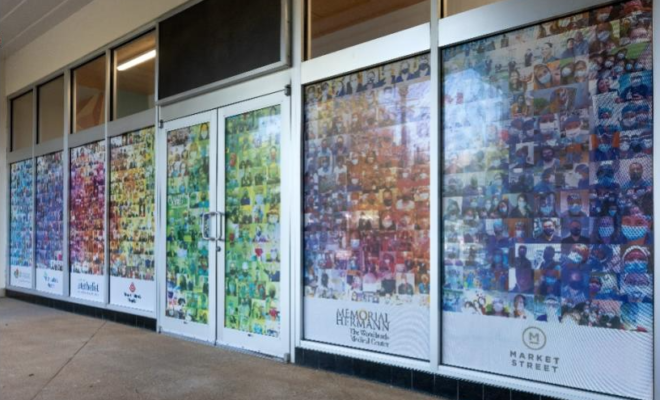 Art & Culture
TWAC Partners with Local Hospitals to Honor Healthcare Heroes
By |
THE WOODLANDS, TX – The Woodlands Arts Council (TWAC) is excited to present a fun, collaborative project with Market Street honoring our Healthcare Heroes. TWAC partnered with all four hospitals in The Woodlands – Memorial Hermann The Woodlands Hospital, Methodist Hospital The Woodlands, CHI St. Luke's Hospital, and Texas Children's Hospital – to gather 935 selfies of doctors, nurses, and other healthcare providers who serve our community so bravely.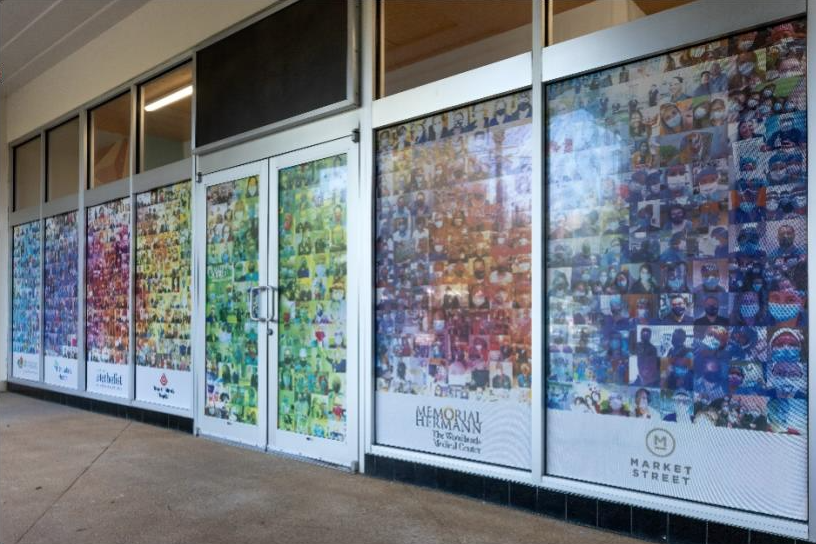 TWAC's "Because Art Matters" Committee Chairman, Brittany Sloan, worked with a graphic designer, Hunter Lee Strong, to create an art installation with the selfies. The art piece has been installed on the windows of Cos Bar in Market Street below the Cinemark Theatre.
"We wanted to honor our Healthcare Heroes with an artistic display that communicates the power of togetherness and hope during this challenging time," said Dr. Maria Holmes, TWAC Board President. "The selfies are combined into a rainbow collage that conveys the healing power of the arts to connect our community and foster creativity, innovation, and beauty in good times and bad. We look forward to continued collaborations with our hospitals in bringing arts programming to those who need it most." The art piece recognizes the healthcare workers on the front-lines of the pandemic and helps convey through art that we are all in this together, that they matter, and that art matters.
Keeping that theme in mind, TWAC is also hosting its 2020 Woodlands Waterway Arts Festival, which has been transformed into an interactive, online format so that everyone may enjoy the festival for FREE from the safety and comfort of their own homes. The festival is set for October 17 and 18, with a pre-festival happy hour and celebration on Friday evening, October 16.
"We are looking forward to sharing the original works of over 100 juried fine artists in this new way, along with musical performances, hands-on activities for children, interviews with artists, panel discussions and demonstrations, and much more," said Jenny Carattini-Wright, Executive Director of TWAC. "Festival viewers will have the opportunity to engage online with the artists in their virtual booths, learn about their art, and find that special piece for purchase." Join the festival, shop, engage with artists, see performances, and more at TheWoodlandsArtsCouncil.org/p/Festival.
Like all non-profits during this challenging time, donations and sponsorships are needed to continue The Arts Council's events and community programs. To join Friends of the Arts Council or make an individual donation, visit the website at TheWoodlandsArtsCouncil.org.
The Woodlands Arts Council provides regional, cultural, and educational enrichment opportunities that encourage, support and promote the performing and visual arts in our community. From the award-winning Woodlands Waterway Arts Festival to public art installations and the year-round community and educational outreach programs of Because Art Matters, the council has one primary goal….making our community better, Because Art Matters! For more information, visit TheWoodlandsArtsCouncil.org.