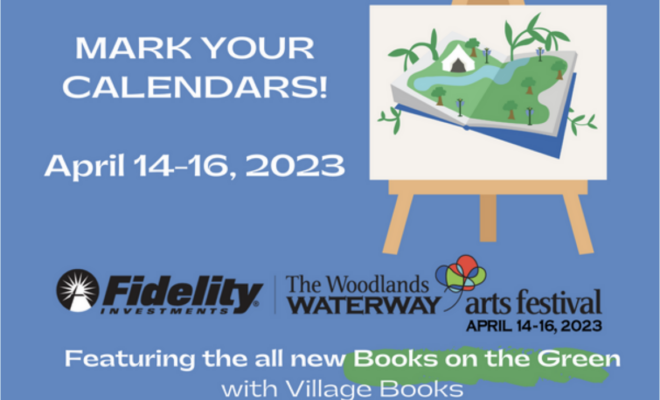 Events
Author Laura Spence-Ash to participate in The Woodlands Waterway Arts Festival
Fidelity Investments The Woodlands Waterway Arts Festival is delighted to announce that author Laura Spence-Ash has been added to its new Books on the Green schedule of participating authors. Spence-Ash will take the literary stage on Saturday, April 15 at 3:30 p.m. Her debut novel, "Beyond That, The Sea," was published March 21, 2023, and has been called a "magnetic debut" by Publishers Weekly, and "quietly stunning, with finely drawn characters and vivid descriptions," by Shelf Awareness. And Booklist notes, "Readers will feel the pull of new fictional friends from the first to the last page, and long afterward."
A celebration of the art of words, Books on the Green is a literary festival within the larger arts festival. Held at the same time, in the same location and with the same ticket holders, Books on the Green will feature the works of local, regional and national authors, and will include readings and signings and immersive activities and games. The festival ranks among the top fine arts festivals in the country and takes place April 14-16. Last year, the event drew more than 23,000 people over the weekend, and this coming year, the festival is expanding to include Friday.
The independent, neighborhood bookshop Village Books is presenting "Books on the Green." In addition to Spence-Ash, the impressive line-up of authors includes Katherine Center (The Bodyguard), Kimberly Garza (The Last Karankawas), Katharine McGee (the American Royals series), Meagan Church (The Last Carolina Girl), Ashley Winstead (The Last Housewife), Michael Hurd (Thursday Night Lights), Rachel Magee (The Beach Escape), Montgomery County Poet Laureate Dede Fox, and Alda Dobbs (Barefoot Dreams of Petra Luna).
Stop by Village Books (9955 Woodlands Parkway, Suite F) to receive a code for 15% off weekend tickets purchased online. Ticket holders can then show proof of their purchase to Village Books and receive an additional 10% off a book from one of the Books on the Green featured authors (10% book discount is available through April 12). Purchase tickets at thewoodlandsartscouncil.org/p/buytickets.
Source: Village Books, The Woodlands Arts Council
Correction made on 4/4 5:06pm: Ashley Winstead's book is titled "The Last Housewife."