Calendar
Awareness Benefit for Assistant Deputy Chief Clint Greenwood
By |
Tewbeleaux's Sports Bar & Grill will be hosting an Awareness Benefit for Precinct 3 Assistant Deputy Chief Clint Greenwood on Sunday, April 23 with proceeds benefiting the 100 Club.
Clint Greenwood spent 20 years as an attorney before becoming an officer in the Harris County Sheriff's Office, and finally, as Assistant Chief Deputy Constable in Precinct 3. On Monday, April 3, 2017 Greenwood was ambushed, shot and killed after parking his car at work at the Baytown Courthouse Annex. Baytown police said they believed 64-year-old William Kenny was the gunman who shot and killed himself on Tuesday, April 4, the day after the murder. Greenwood leaves behind a wife and children.
The Awareness Benefit will take place on Sunday, April 23 from 11 a.m. to 2 p.m. and raise money for the 100 Club, an organization that supports law enforcement. The event will feature a silent auction, fire trucks, patrol cars, and more. Tewbeleaux's Sports Bar & Grill is located at 2907 Rayford Rd., Suite 101, Spring, Texas 77386. View the Facebook event.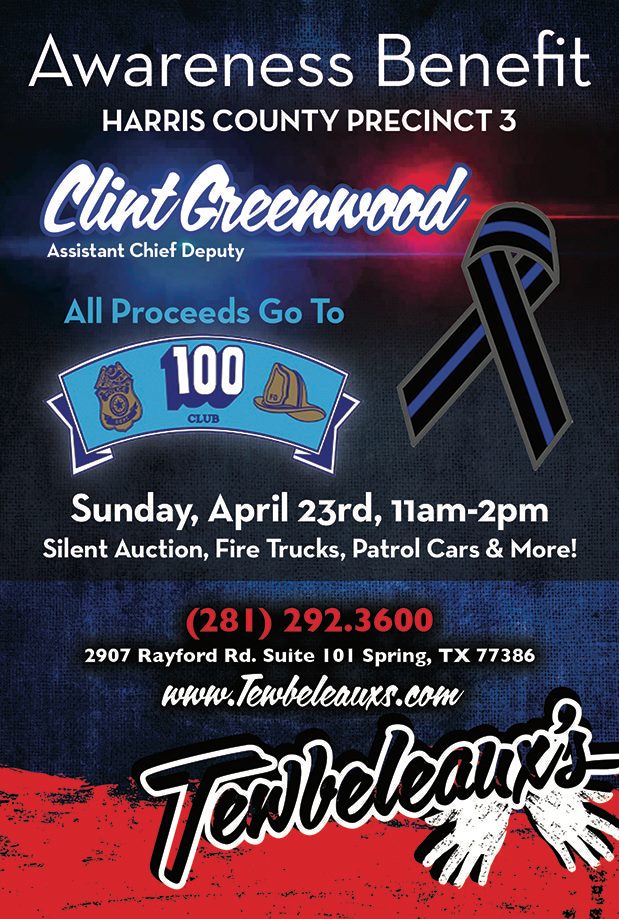 To learn more, participate with donations or items for the silent auction, contact Tewbeleaux's at megan@tewbeleauxs.com.