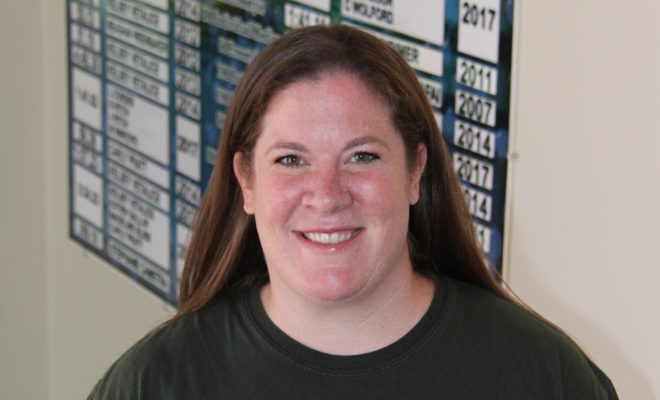 Fitness & Sports
Bany Named Cooper's Head Swimming and Diving Coach  
By |
THE WOODLANDS, TX – The John Cooper School Department of Athletics has announced the appointment of Sara Bany as the new head coach for Dragon Swimming and Diving.
Bany served as an assistant coach for the Dragons last season and has been a member of Cooper's Upper School Math Department since 2014, teaching calculus and upper level algebra courses.
Bany enjoys the connection with students as a teacher and looks forward to the enhanced connection as a coach.
"In coaching and teaching you really get to know them," she said. "A student/teacher relationship is one way we connect, but there is a different relationship that you have with a team. Having taught many of the athletes in class, I was fortunate enough to develop an early bond with the team last season and it's amazing to be able to work with such talented student-athletes."
Bany brings personal swim experience as well as coaching experience to the team. She swam collegiately at Sewanee: The University of the South in Sewanee, Tennessee, where she specialized in freestyle and backstroke, while setting school and pool records in the 200 Free Relay (a pool record that still stands), the 200 Medley Relay, the 400 Free Relay and the 400 Medley Relay. She has worked as a club coach with Dad's Club Swim Team and The Woodlands Masters Swim Team. She also served as the Head Swim Coach for College Park High School from 2007-2009.
Originally from Kingwood, Bany currently lives in The Woodlands with her husband Tony, and three sons, ages 9, 5 and 3.
Bany inherits a successful team with many returning swimmers. Last year's boys' team set four school records and came in third the at the Southwest Preparatory Conference (SPC) championships while the girls placed fourth. The team returns eight All-SPC individual swimmers and two teams recognized for relays.
"My goal is to unite them as one team. I want the club swimmers and the non-club swimmers to feel like they are united as one team with one goal," said Bany. "I also hope they learn to love the sport, if they don't already."
Athletic Director John Hoye said he is confident Bany will continue the successful swimming and diving program at Cooper.
"We are extremely excited to have Sara as our program head for Dragon Swimming and Diving," Hoye said. "After serving as an assistant last season, she clearly displays expertise and is an instant asset to the Department of Athletics."
Advertisement