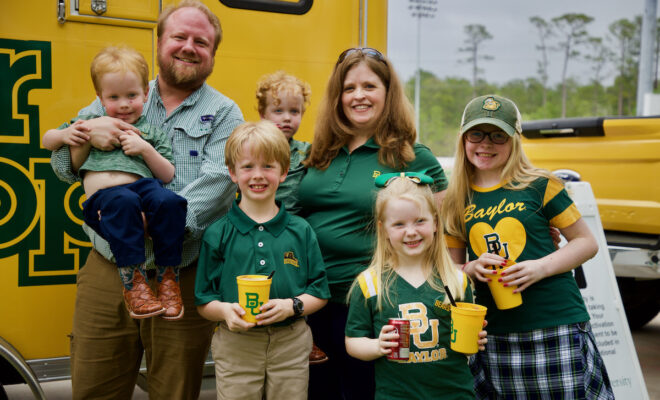 Photo Credit: Rod Prado, Hello Woodlands
News
Baylor's Dr. Pepper Hour Tour stops by The Woodlands Christian Academy
By |
Baylor's Dr. Pepper Hour Tour visited The Woodlands Christian Academy campus on Monday, April 4 – a tradition at that Baylor University has been holding since 1953.
Baylor University is currently making stops on their eight-week tour, March 21-May 15, and hosting the "Dr Pepper Hour" to deliver the sweet experience of Dr Pepper floats alongside the excitement of being a part of the Baylor Family to high schools across Texas and Colorado.
View photos from the event on the Hello Woodlands Facebook page:
"We wanted to extend the Baylor campus experience across the state and beyond by sharing this legendary Baylor treat with prospective students," said Jason Cook, Baylor's vice president for marketing and communications and chief marketing officer. "It's such a unique tradition; where else do students enjoy free ice cream with their friends every week of their college experience?"
The custom Baylor and Dr Pepper-branded truck and trailer will stop at high schools in Waco, Houston, Dallas-Fort Worth, Austin, San Antonio, Tyler, Longview and Midland and the eight-week tour will conclude in Colorado.
On Monday, April 4, the trailer stopped at The Woodlands Christian Academy and created a Baylor experience that included tents and Baylor signage, Baylor Admissions counselors and Dr Pepper float kits for the first 300 students. Each student was provided a Baylor-branded cup, ice cream and a can of Dr Pepper to help recreate one of the University's most beloved on-campus traditions.
For more information about the Dr. Pepper Hour Tour, visit their website at DrPepperHourTour.com.
Advertisement
The Woodlands Christian Academy is an independent, Christ-centered college preparatory school that integrates learning with Biblical faith and spiritual growth, and challenges students to reach their highest potential – intellectually, creatively, physically and socially – for the glory of Jesus Christ. For more information visit www.twca.net.
Source: The Woodlands Christian Academy, Baylor University